I had the opportunity to fly out to New Jersey, for a two week work trip, last month. Even though work was in New Jersey, I ended up visiting New York almost every day and throughout the weekends. It was awesome! I love New York! There's so much to do and the food options are fantastic. I did not have a bad meal while I was there.
Since work was busy during the week, we spent our weekends exploring the city. Surprisingly, we were able to cover a lot of ground. My husband flew in that first weekend. From the Newark Airport, we took the train to Penn Station and grabbed a cab to our hotel. We stayed at the Millennium Hilton Hotel that first weekend. It was in a fantastic location, right across from Ground Zero. My only complaint about this hotel is that you have to pay to have WI-FI in your room unless you are a Hilton Honors member, which we aren't. I had work to do that night and didn't want to have to go to the lobby to do it and ended up having to pay for WI-FI in the room. Bleh. However, we did get an upgrade when we checked in and got a room on one of the top floors with a view of the One World Trade Center and one of the fountains at Ground Zero.
For dinner, my husband and I went to Eataly. We've never been to the one in Chicago and figured it was a good time to finally check it out. The umbrella decor inside was pretty!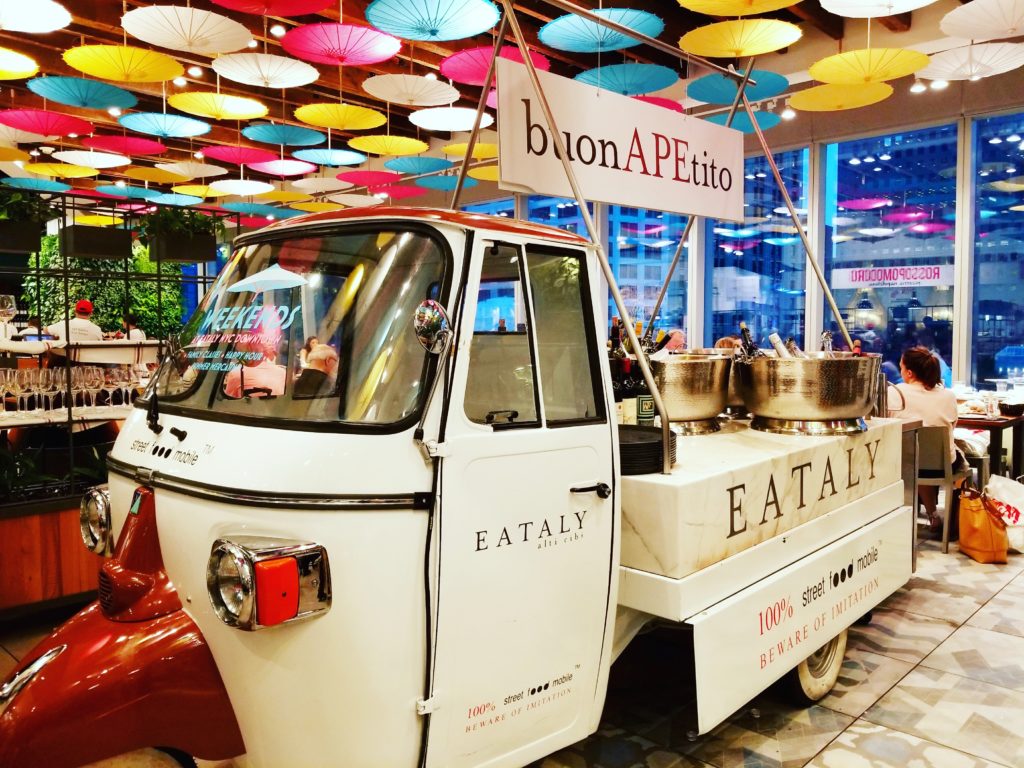 After dinner, I took my husband to the Oculus. I came across this spot earlier in the week, with my co-workers, and wanted him to see it. The interior reminded me a lot of the Milwaukee Modern Art `Museum. This place was also right across the street from our hotel lobby, which was super convenient.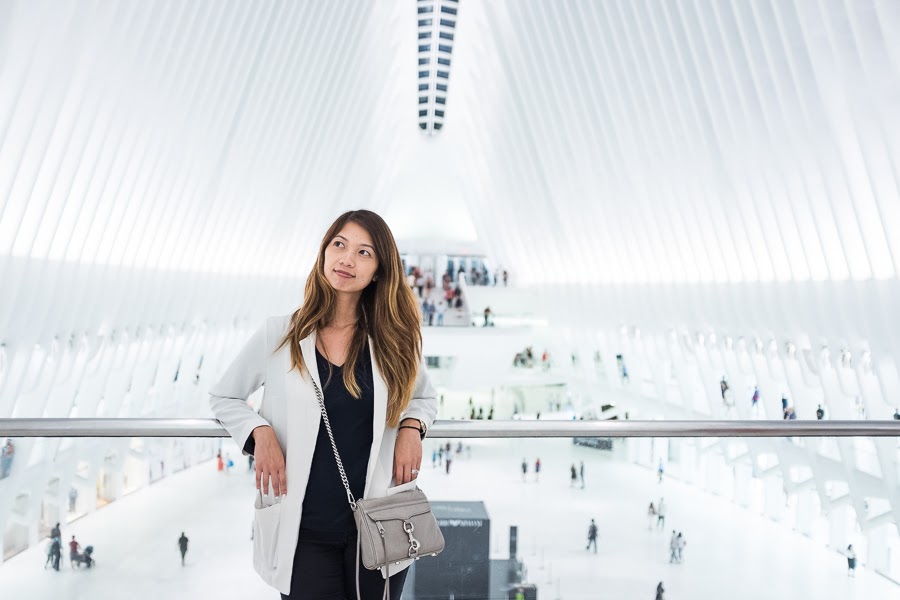 After walking around the Oculus, we headed to Ground Zero. The crowd had already dispersed by the time we arrived. It had also just stormed and the sky looked beautiful. It is such a beautiful and peaceful memorial.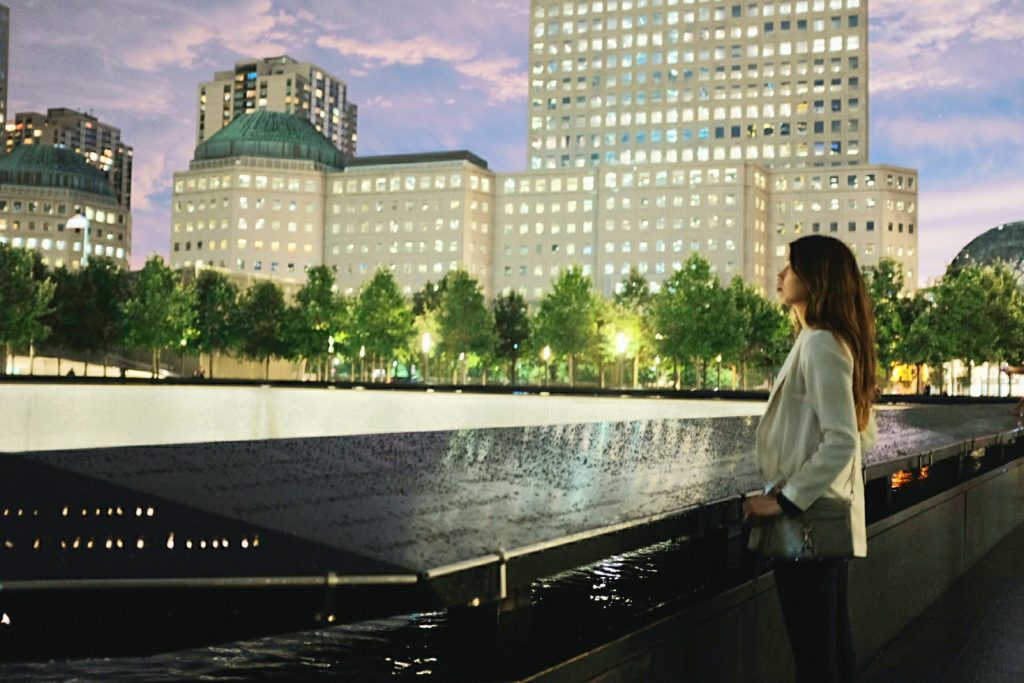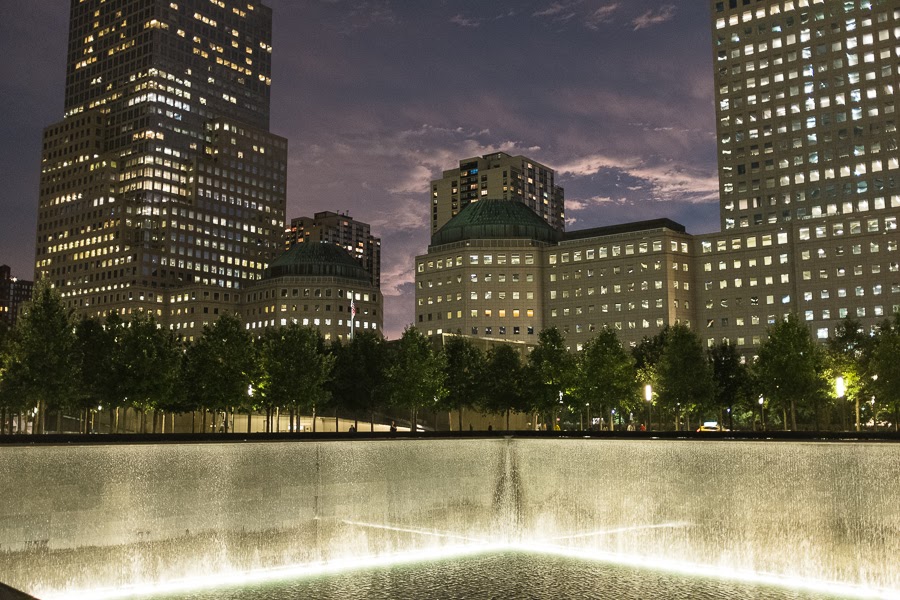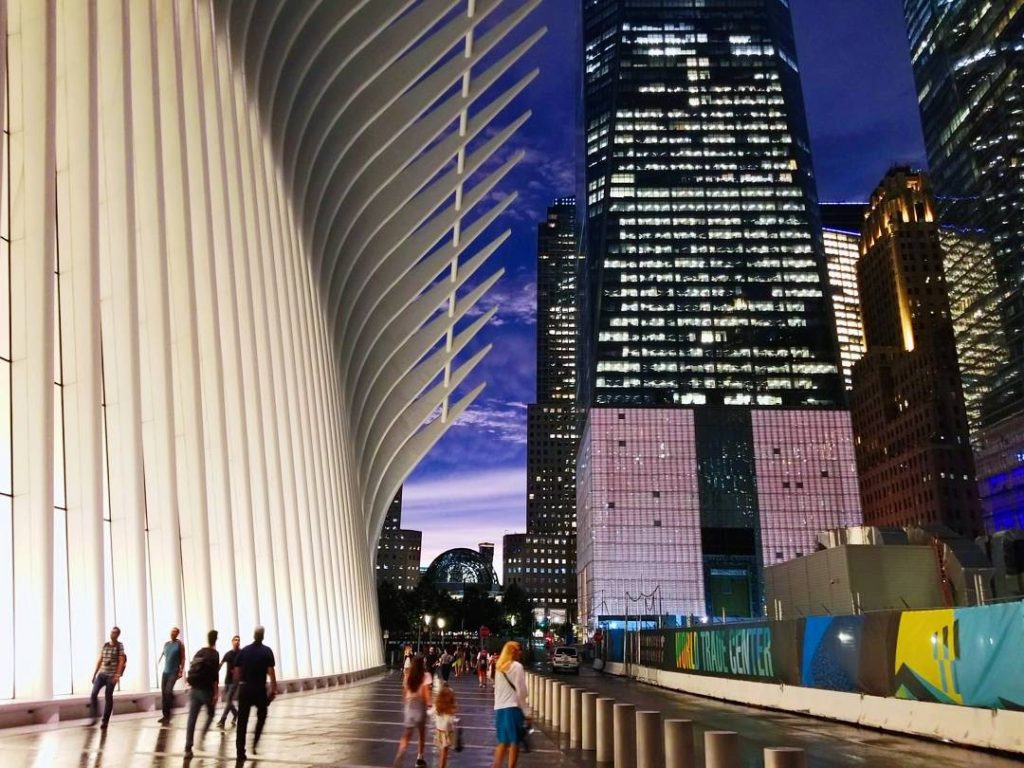 Afterwards, we headed back to our room. This was the view from our room earlier that evening.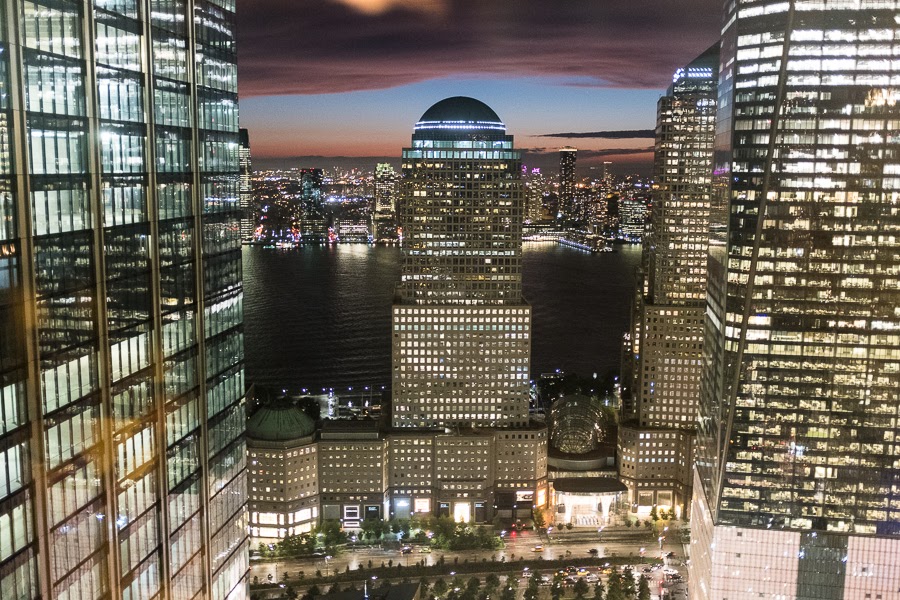 The next morning, we headed out for breakfast and ate at a really cute brunch spot, called Hole in the Wall. On the way to the restaurant, we made a few stops. One of them was at the Charging Bull. It's not easy to get a photo with this bull but, somehow, my husband was able to capture one of me! Yay!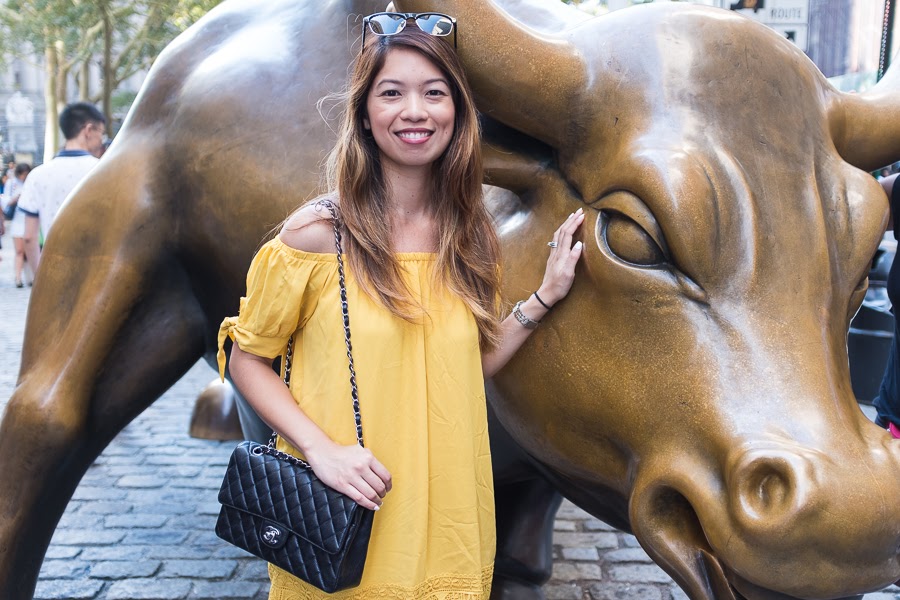 We also stopped by Trinity Church to have a look since it was very close to our hotel.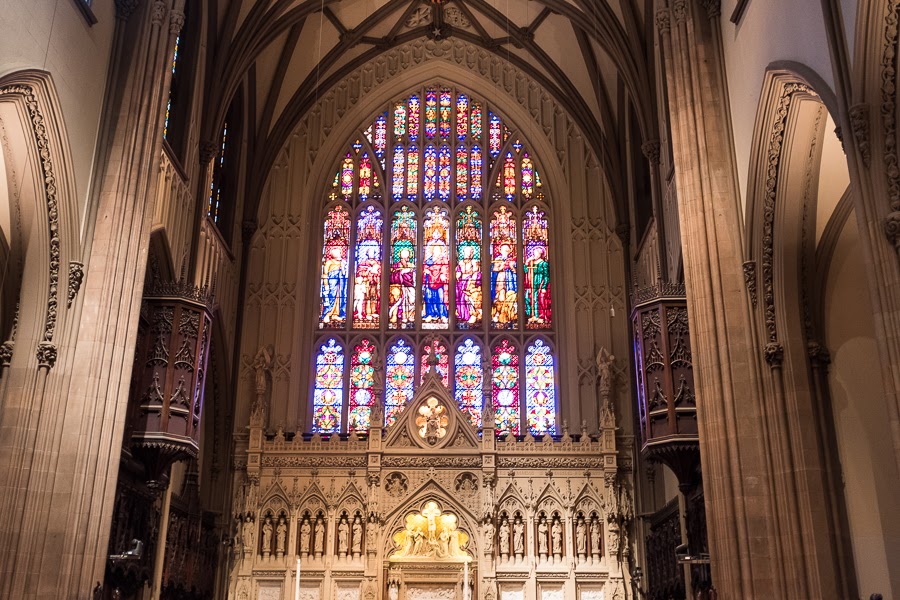 After brunch, we headed to Battery Park to take the ferry to see the Statue of Liberty. I pre-purchased our tickets online. I didn't buy tickets to go up to the crown since those tickets had to be bought several weeks in advance and I just didn't plan that far ahead. I did buy tickets to the pedestal though. It was a quick ferry ride to the island.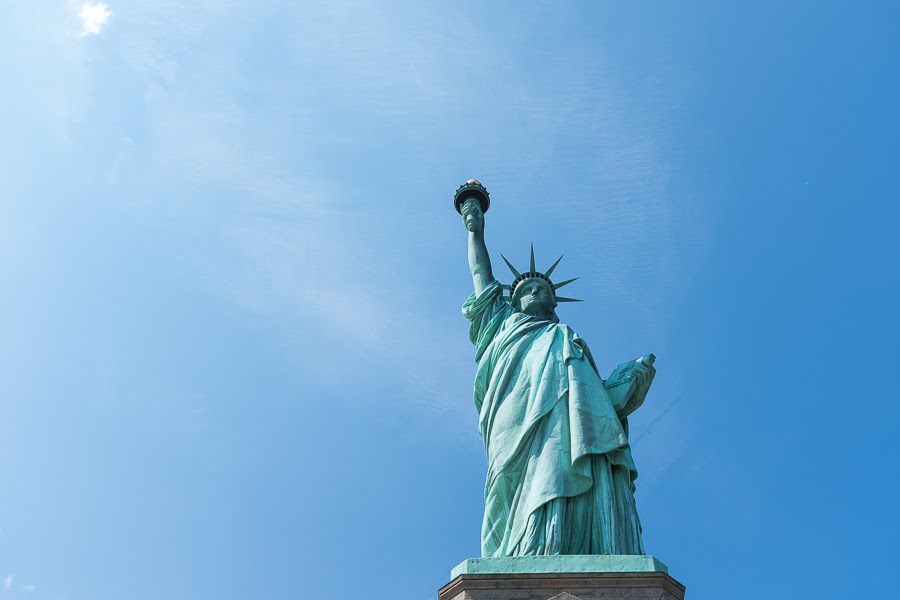 Views of the city from the island. So pretty!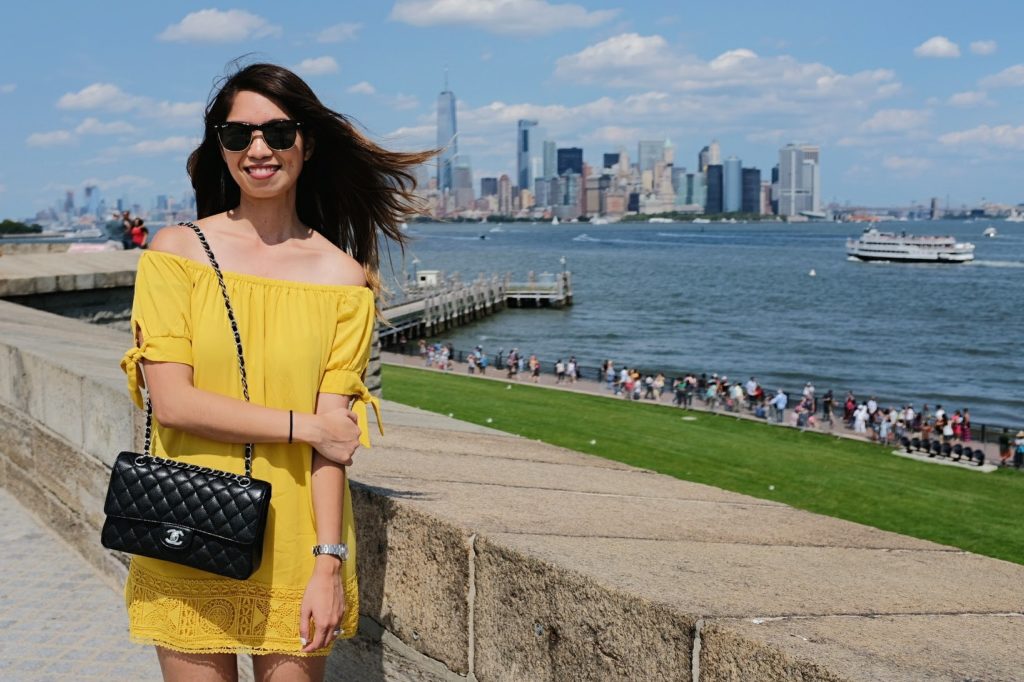 We ended up not going to Ellis Island, even though the ferry stopped there on its way back to New York. For dinner, we walked to Little Italy. I was craving pasta and figured this was the place to get it.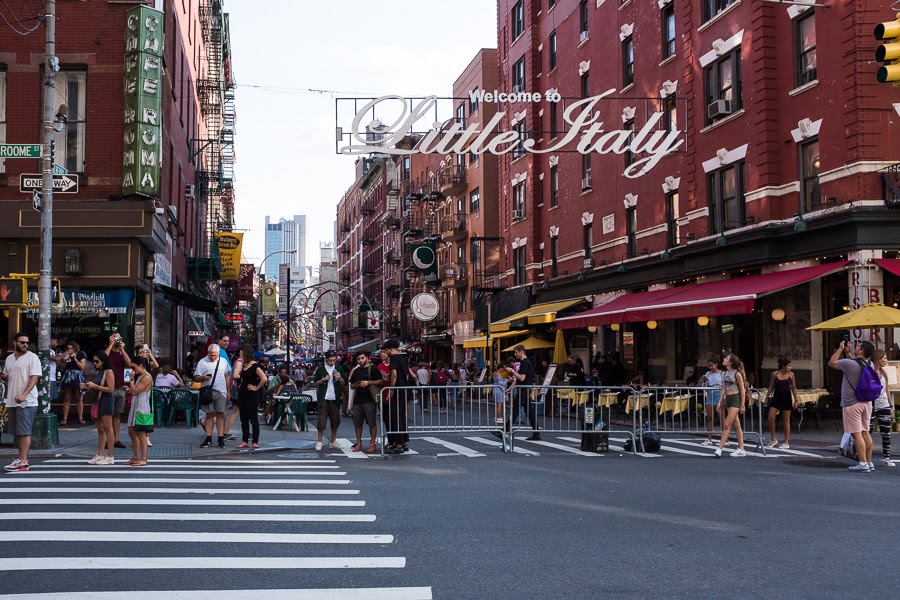 It was such a cute little neighborhood. I loved it! It reminded me so much of Europe in such a small space. There was a lot of cool street art as well.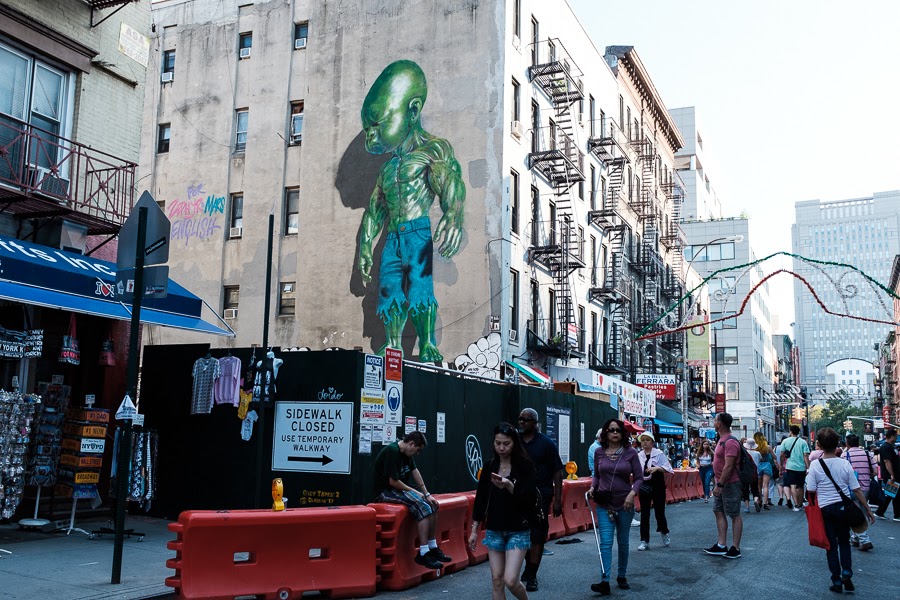 From there, we headed to SoHo to do a bit of window shopping. On our walk back to our hotel, we spotted a Laduree! We couldn't resist. This is the 4th Laduree we have visited so far. We've been to one in London, Paris, Vancouver, and now here!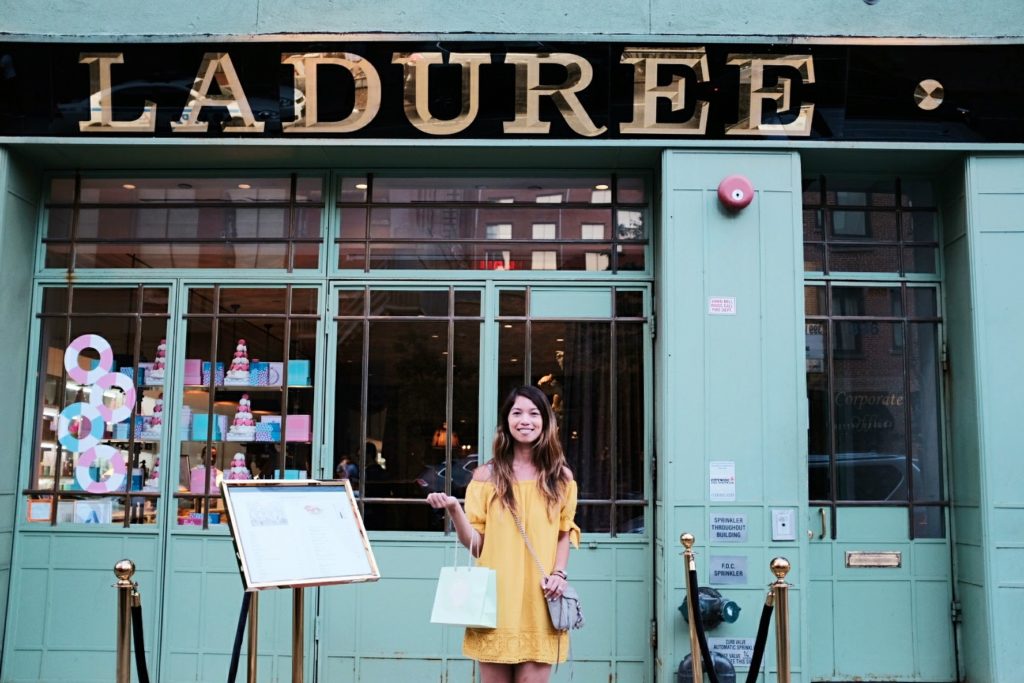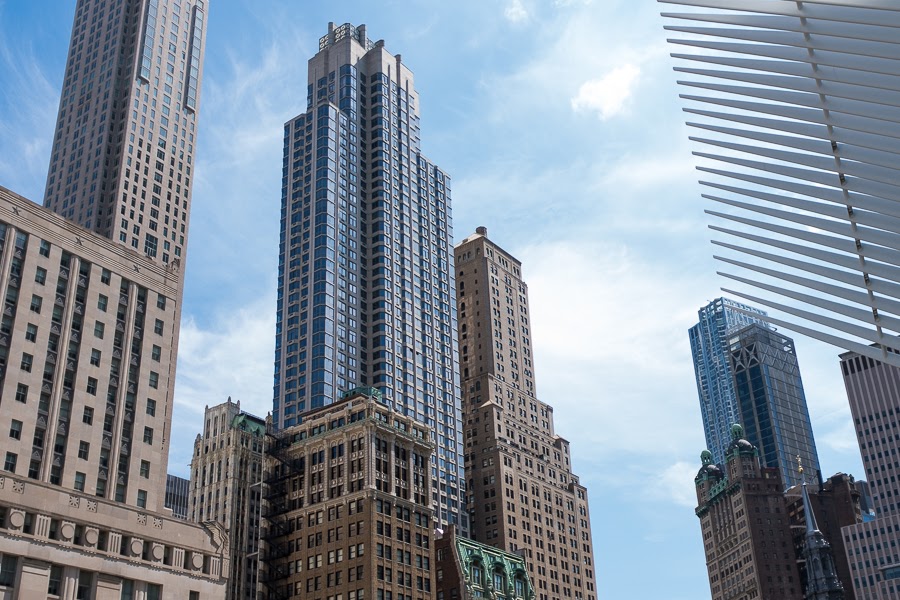 I had a bit of work to do that evening, so we ended our full day of exploring for some R&R at the hotel. The next morning was Sunday. We started our day with a walk across the Brooklyn Bridge. It was awesome! The views were lovely! I did get a bit of sunburn from this walk since I didn't put any sunscreen on. I didn't realize it would be that hot.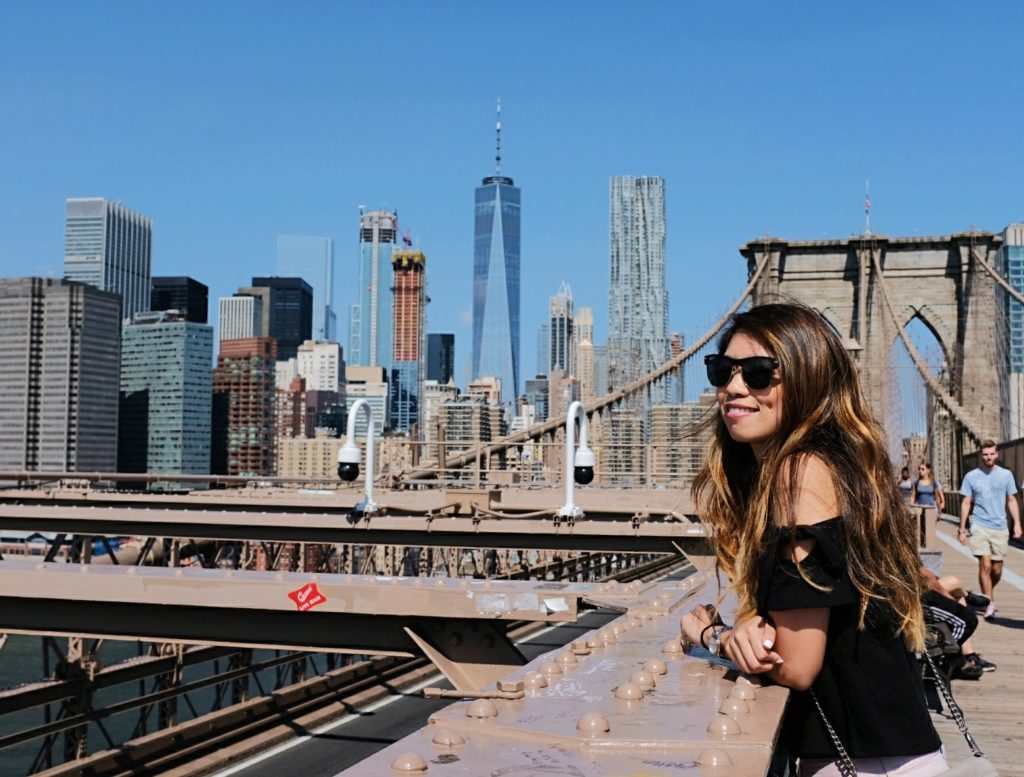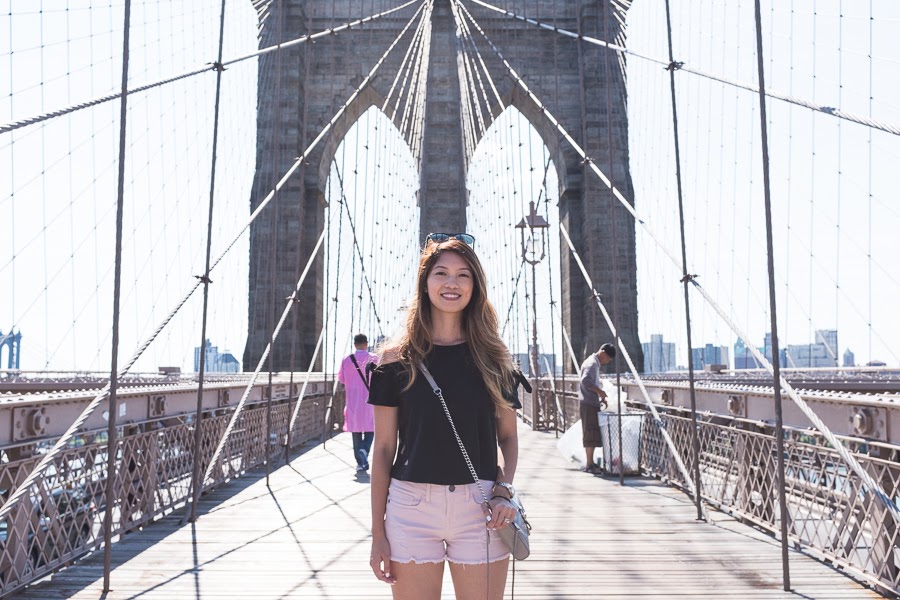 After the walk across, our first stop was the Dumbo area to take a photo at the most popular photo spot in Dumbo! 🙂
At this point, my husband and I were starving. We headed to the Dekalb Market Hall for lunch. For dessert, we got ourselves a cake pop. It was so good, but so bad health-wise. Haha!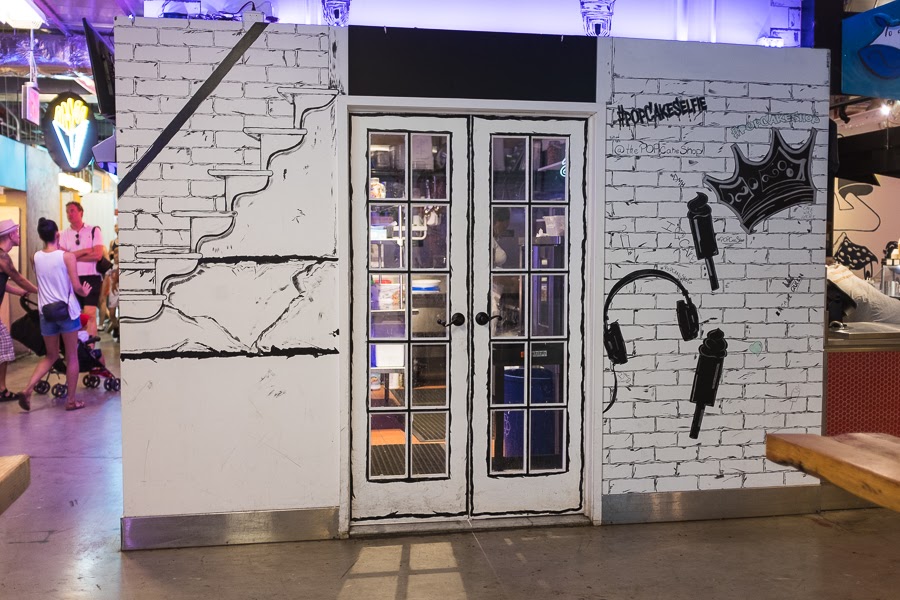 Afterwards, we explored a bit of the downtown shopping area before walking across the bridge again to get back. Later that day, we headed to Central Park. Since I am a huge Gossip Girl fan, I had to check out Bethesda Fountain, in Central Park, to see the spot where Chuck and Blair got married. 😛 There were jazz musicians performing when we got there and they were really good!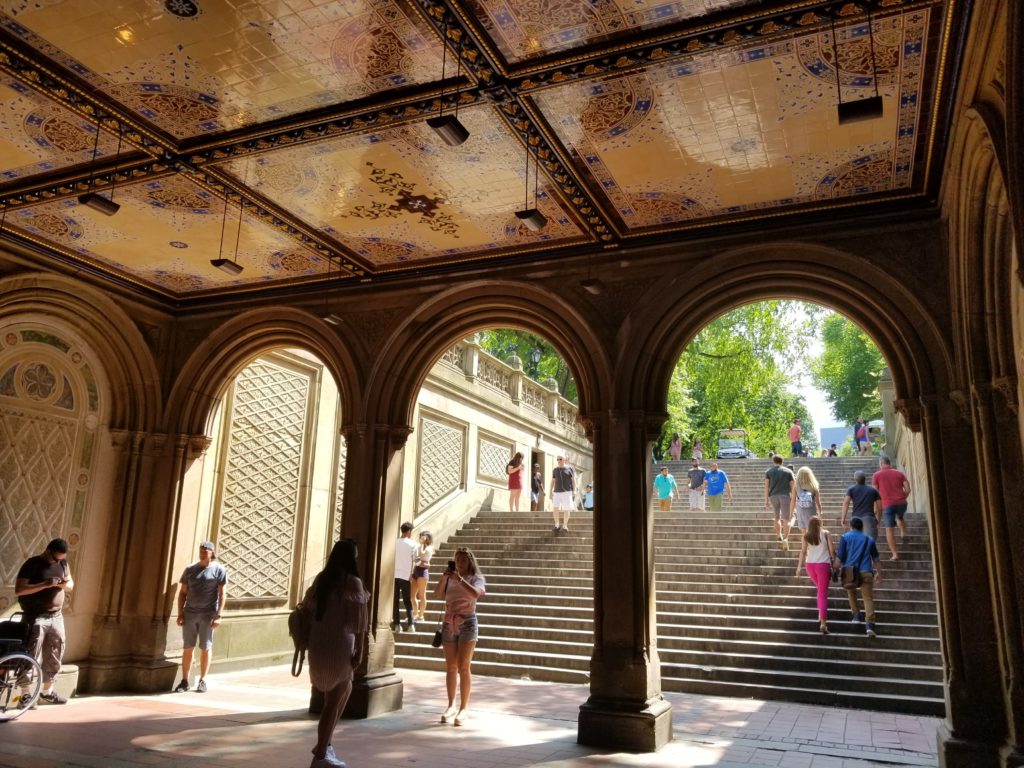 Afterwards, we headed to Belvedere Castle, which is also in Central Park. It's a very tiny building and you can go through it rather quickly. The views aren't too bad either.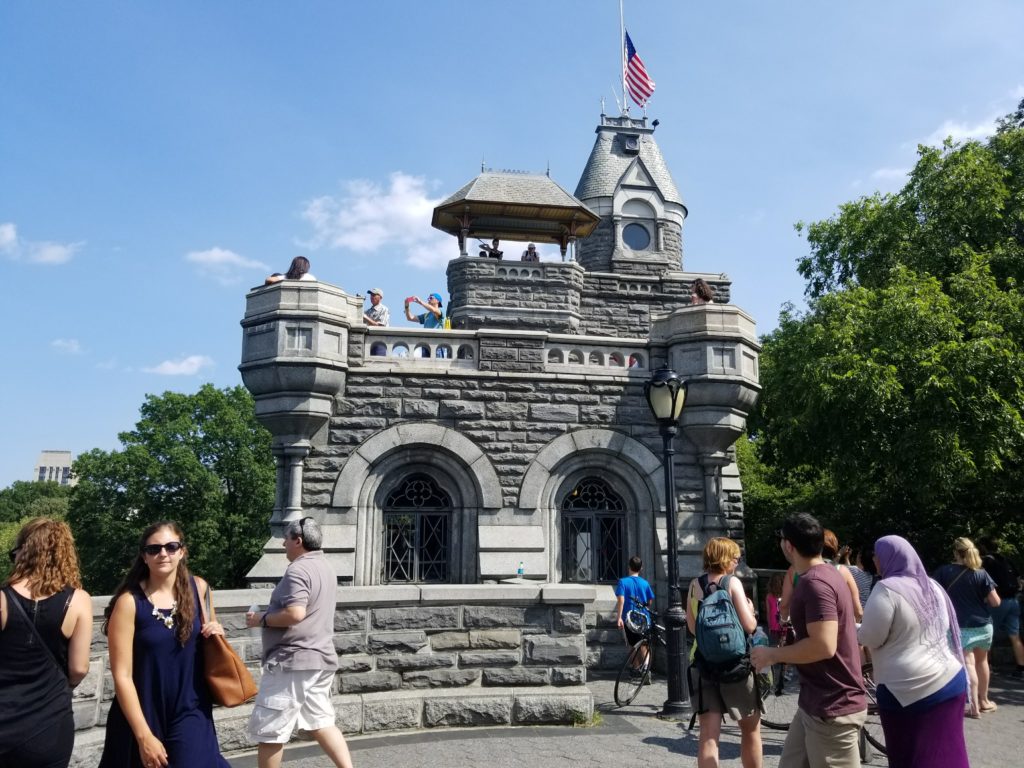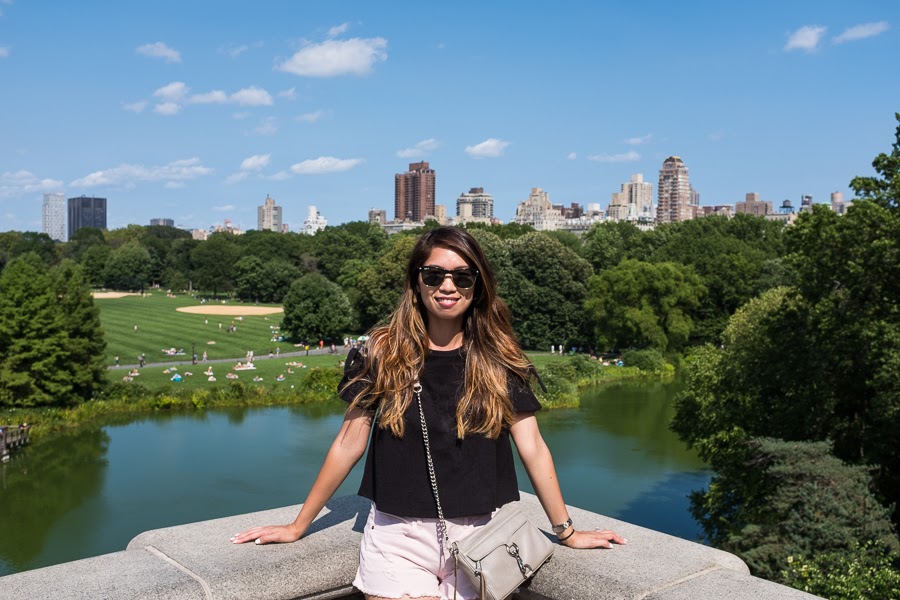 Afterwards, we went back to our hotel to pick up our luggage and then headed to Jersey City for my 2nd work week. On Monday, my husband and I headed back to the city after work to walk a bit of the High Line, explore the Meatpacking District, and to have some dinner.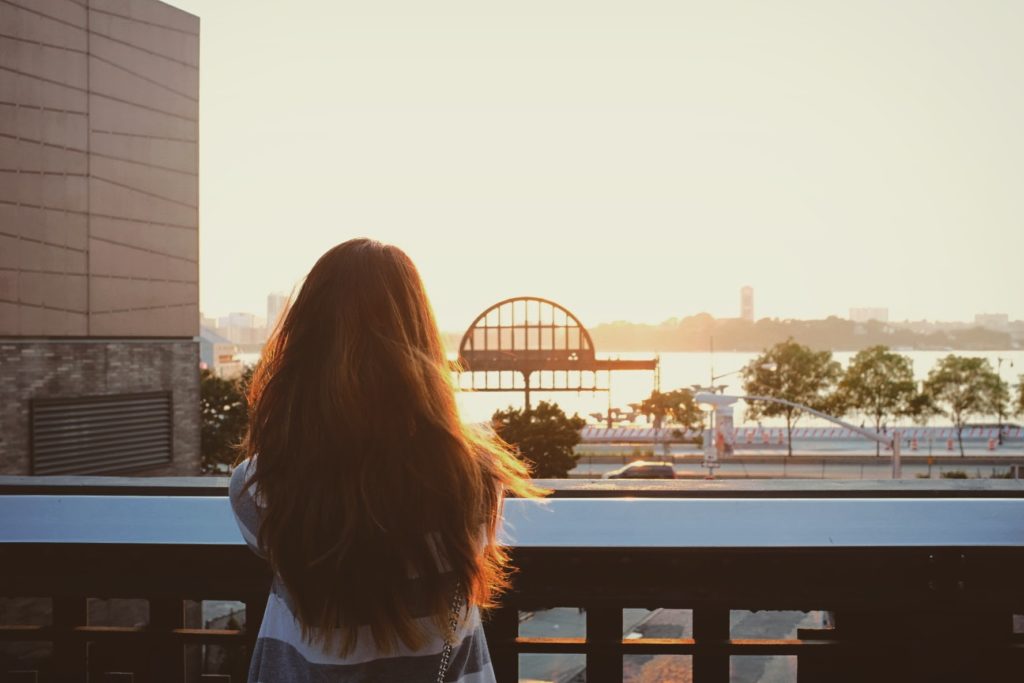 On Tuesday night, we all went out to see a Colin Quinn show at the Village Underground. It was a good laugh. We also got ice cream at Milk Bar afterwards.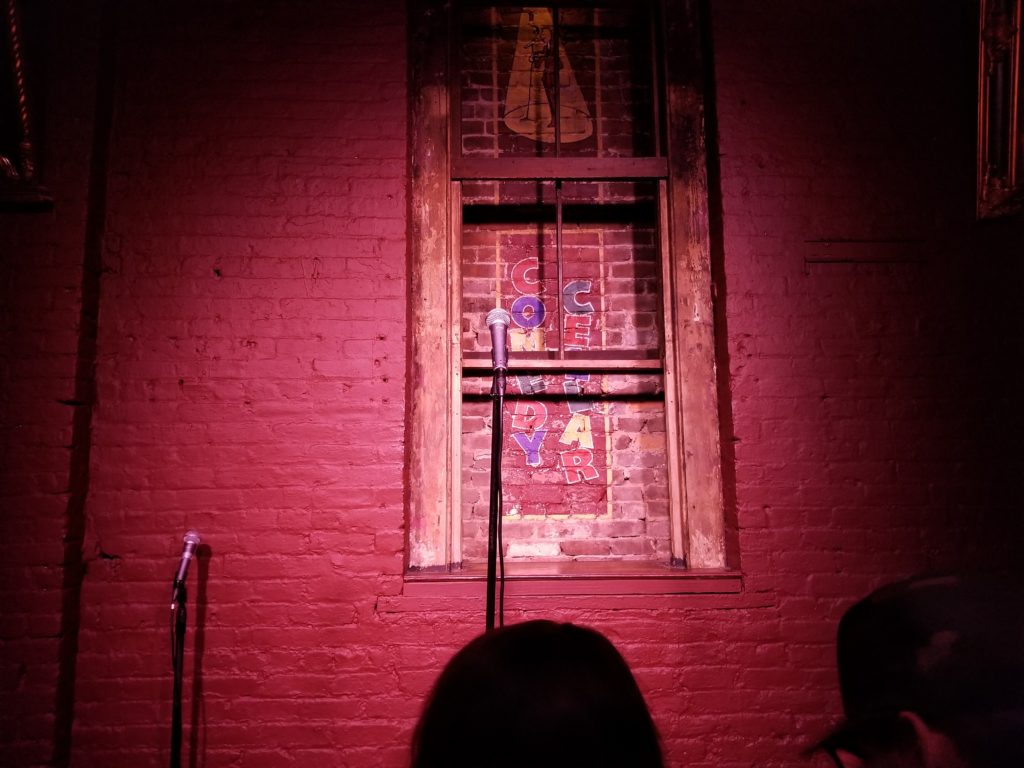 Fast forward to Thursday, which was my last day working. Instead of flying back home to the Bay, my husband and I decided to extend our stay until Sunday. I took the same train from Newark Airport to Penn Station and walked to our hotel to meet up with my husband. Since we already explored the Financial District, I wanted a hotel near Times Square and more central New York, so we stayed at the Executive Hotel LeSoleil. It was a much smaller room, but it was a nice hotel. After getting all checked in, we headed to a pizza spot to try out NY pizza. It was good, but I still prefer my Chicago deep dish. 🙂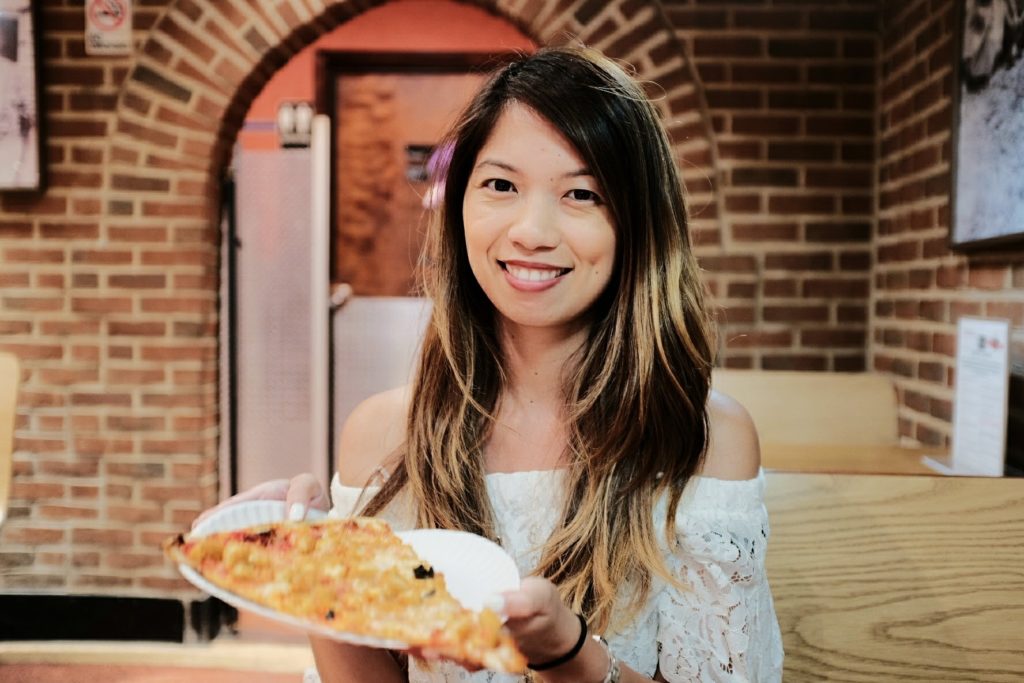 After dinner, we headed towards Times Square.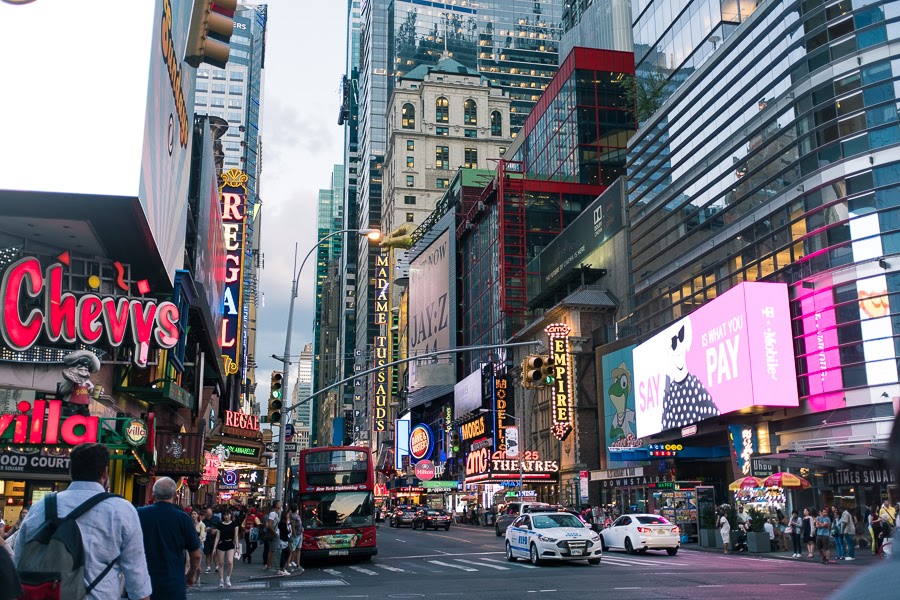 And it was just as I expected! Although it was crowded, the atmosphere was great! It sort of reminded me of Tokyo. We didn't linger too long since there wasn't too much to do unless you wanted to shop or people watch.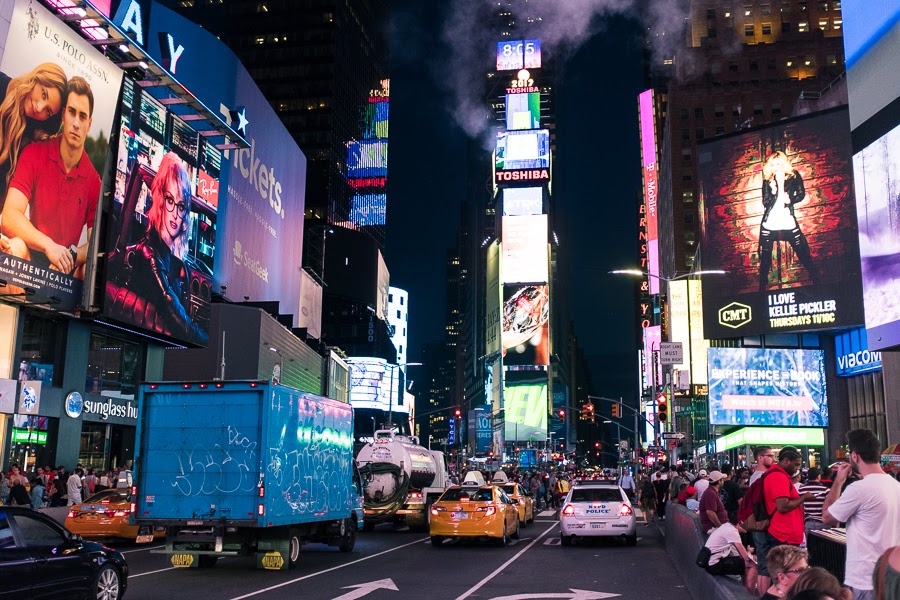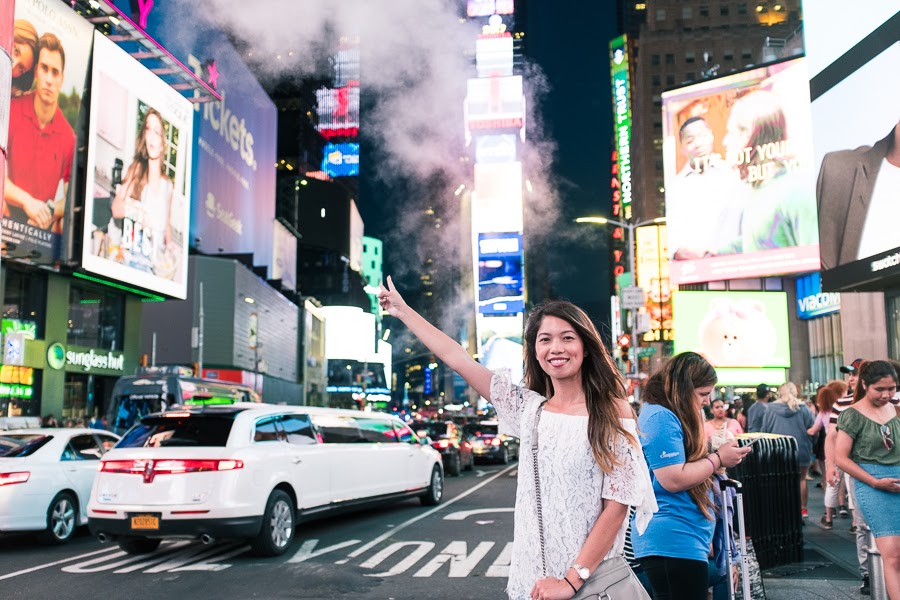 That night, we headed to the Empire State Building, which was a short walk from our hotel. Prior to our trip, I pre-purchased tickets to go to the top, which saved us some time. I've read stories on how wait times can be up to 2 hours here and didn't want to have to deal with it. I figured going up on a Thursday night around 9 PM would be the best time to do it. And I was right! We were at the top in under 30 minutes! I am so glad we went up here at night versus during the day. The views were awesome!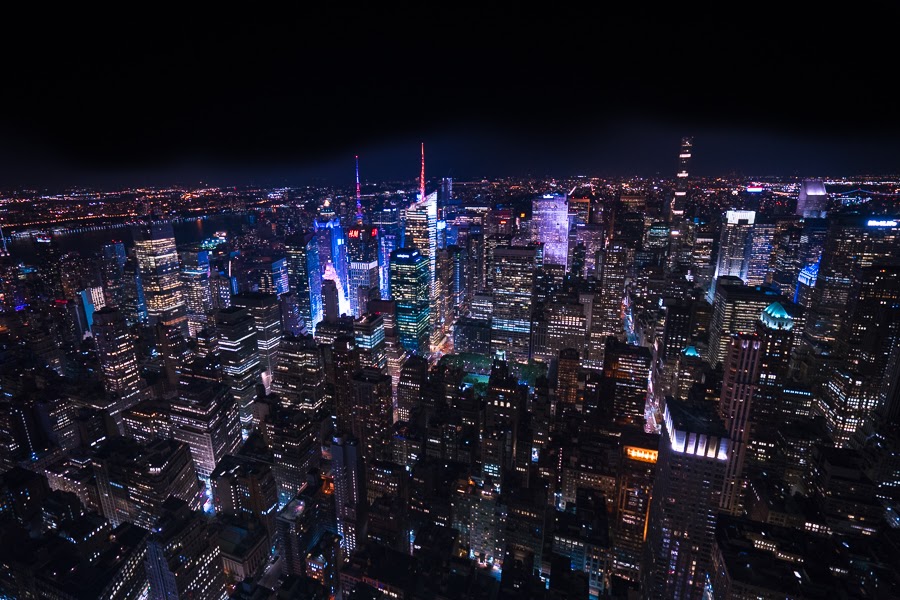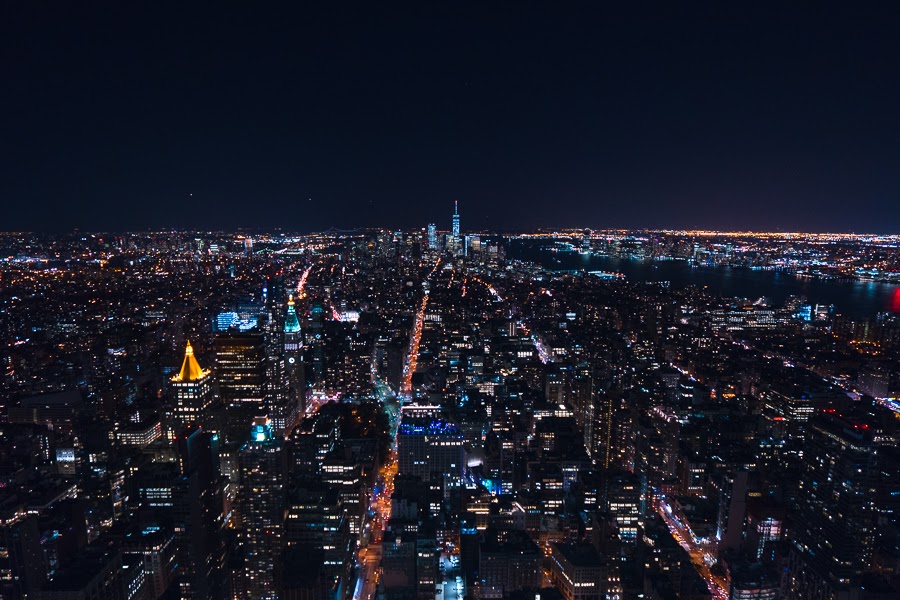 The next day, we walked the High Line to get to Chelsea Market.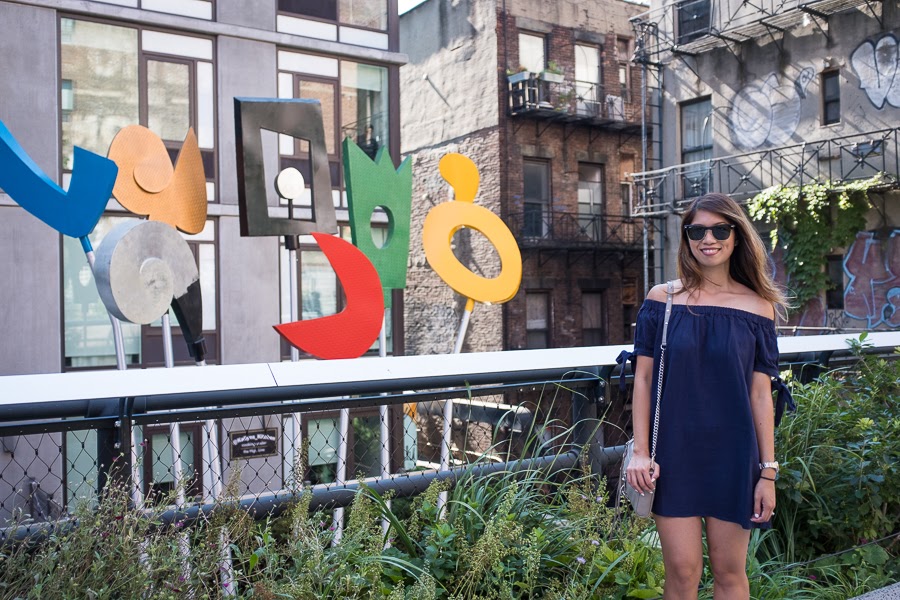 I really wanted to try Doughnuttery, so that was our first stop at Chelsea Market before having lunch at one of the restaurants.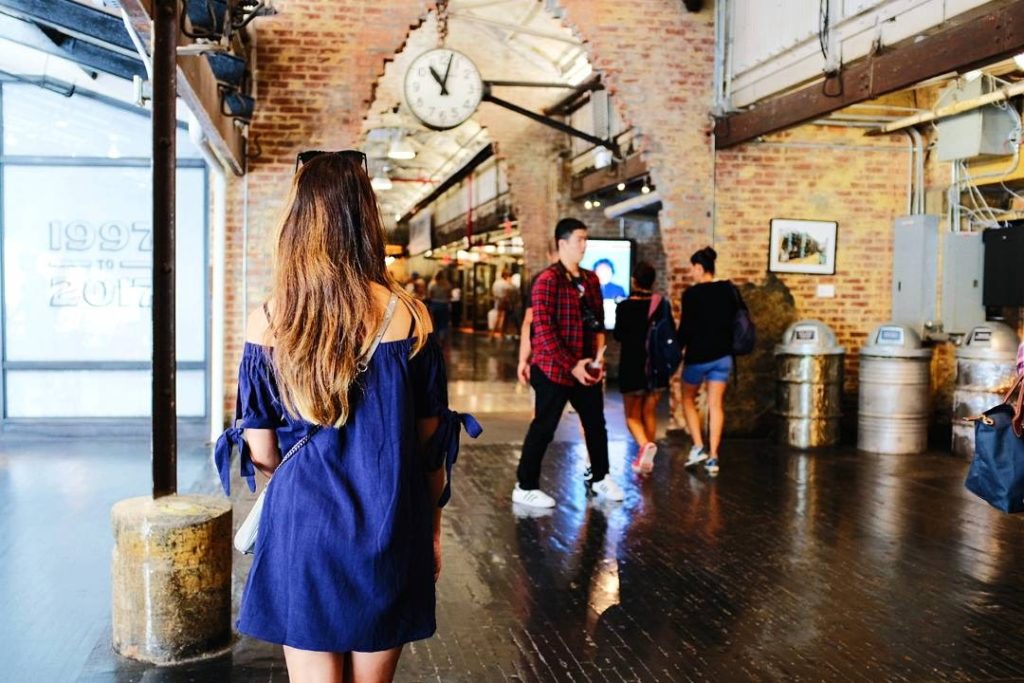 The rest of the day, my husband and I had to work, so we were in our hotel. Finally, that evening, we got dressed up to see Anastasia on Broadway!!! During the planning stage of this trip, I made sure to book tickets to see a show on Broadway. When in New York, why not?! It was a bit tough trying to pick a show because these shows are not cheap. Ultimately, we decided on Anastasia because it IS my all-time favorite animated classic movie. Haha!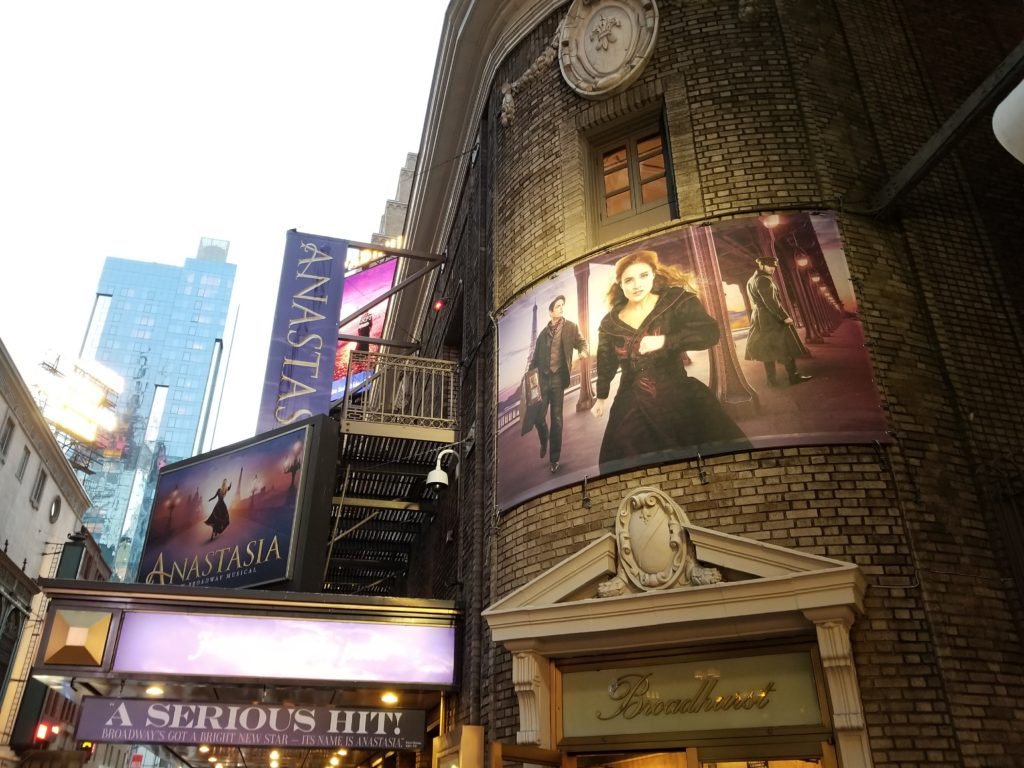 The show was beautiful!! The singing, the production, and the orchestra were amazing! I enjoyed every minute of it. Surprisingly, my husband enjoyed it too. This show was definitely one of the highlights of this trip for me.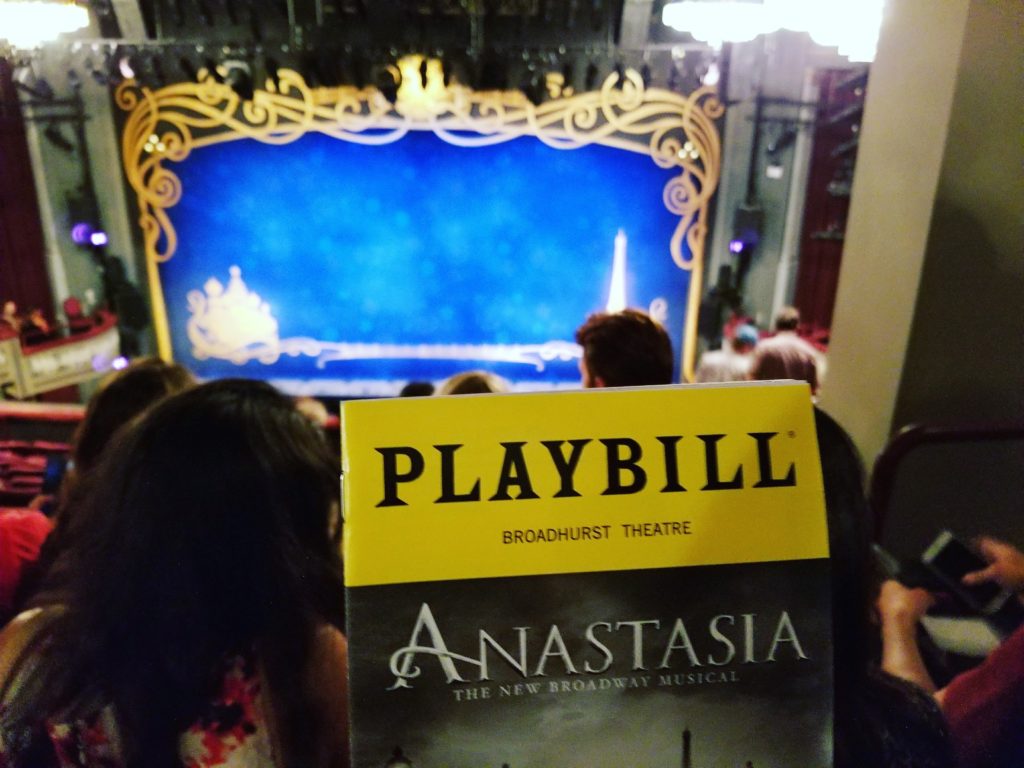 The next morning, we slept in a bit and headed out for brunch. From there, we headed to Grand Central Station to take a peek and to people watch.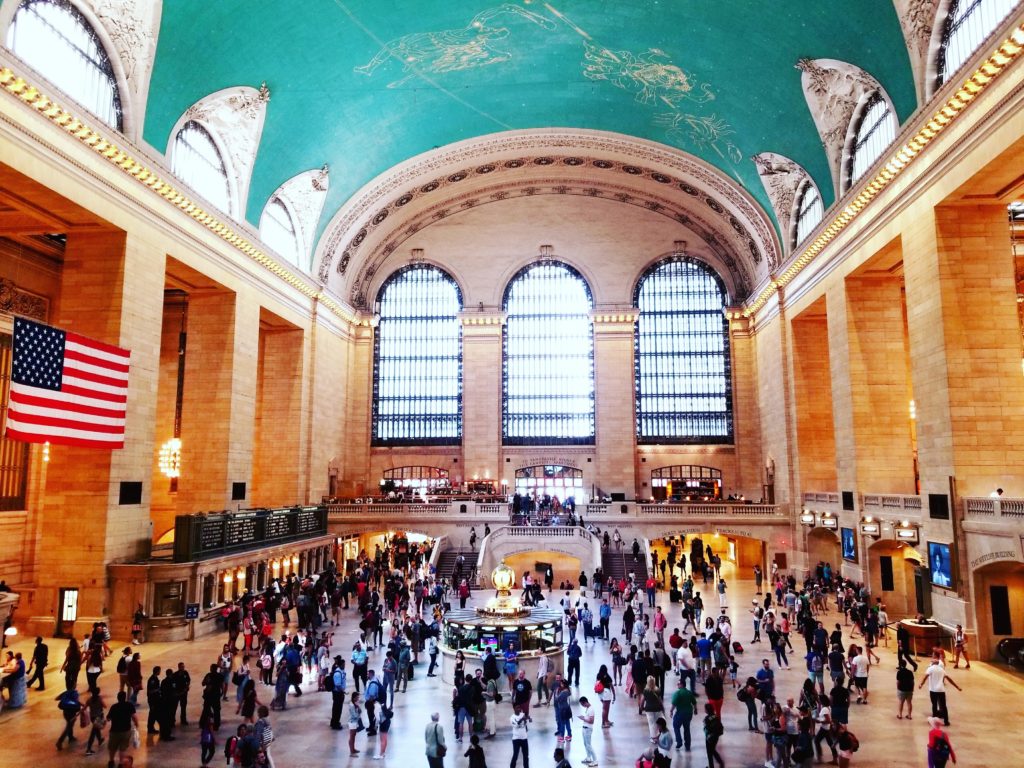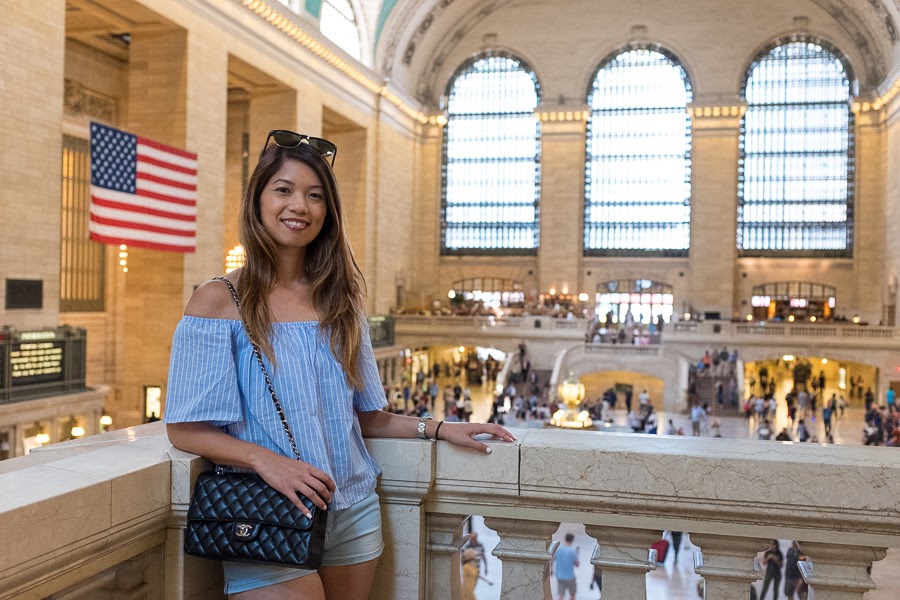 Then we headed to 5th avenue to do a little bit of window shopping. While we were there, we stopped by St. Patrick's Cathedral to have a look inside. The architecture was beautiful.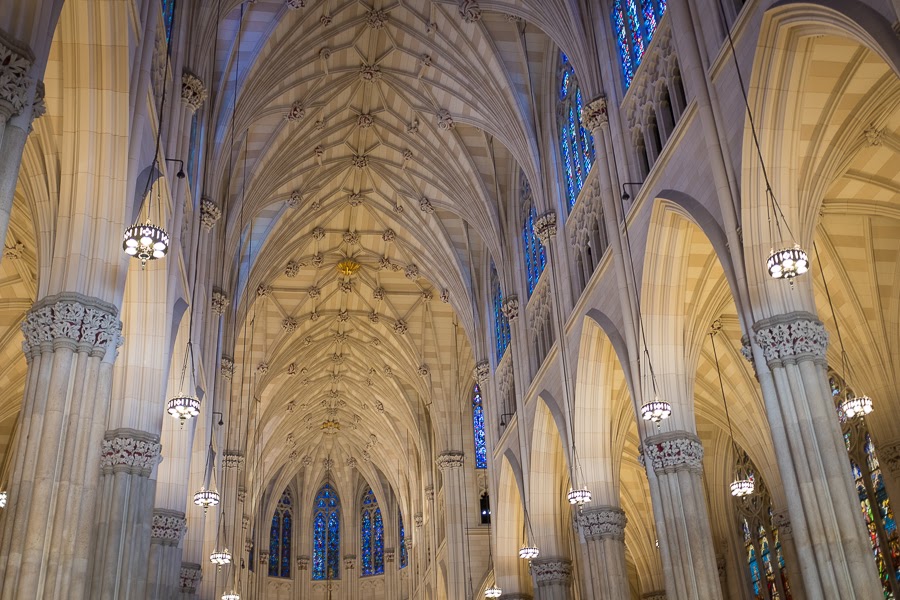 We also did a bit of shopping at the Macy's and I got myself some Lady M. Then, we headed to the Rockefeller Center to go to the Top of the Rock. Top of the Rock wasn't really on my list, but we really didn't have anything else to do. Wait time here was also very short. We were up in less than 30 minutes, which was awesome! You get a great view of Central Park, which you don't get at the Empire State Building.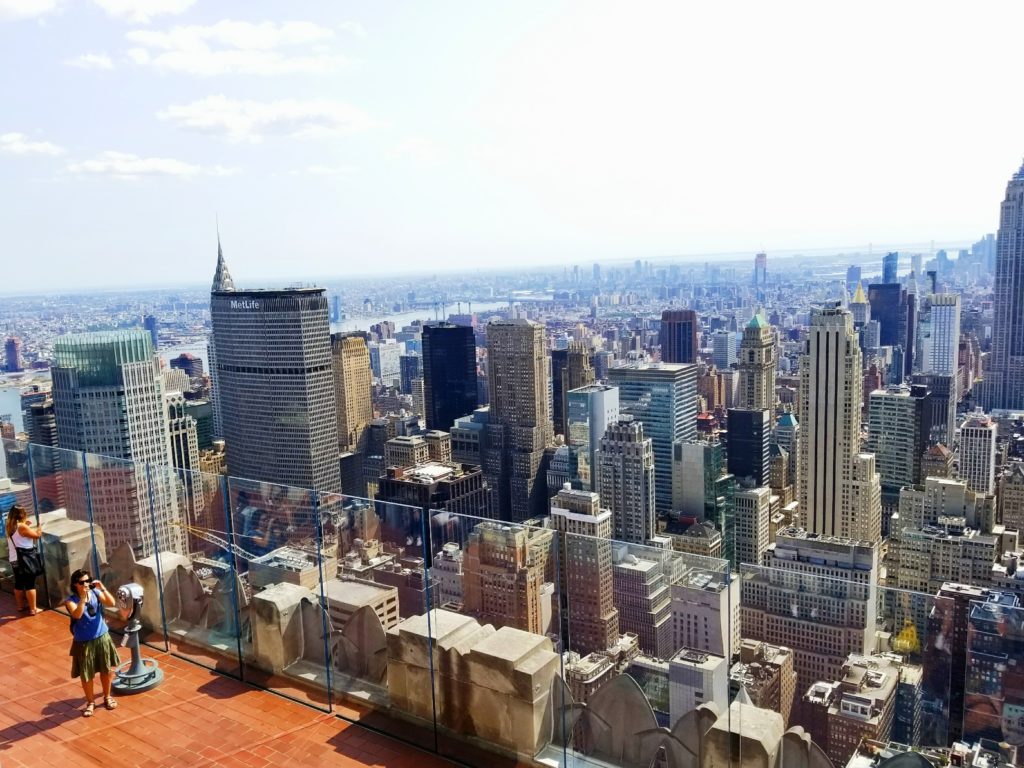 If I were to make a recommendation, I would do Top of the Rock during the day and Empire State Building at night.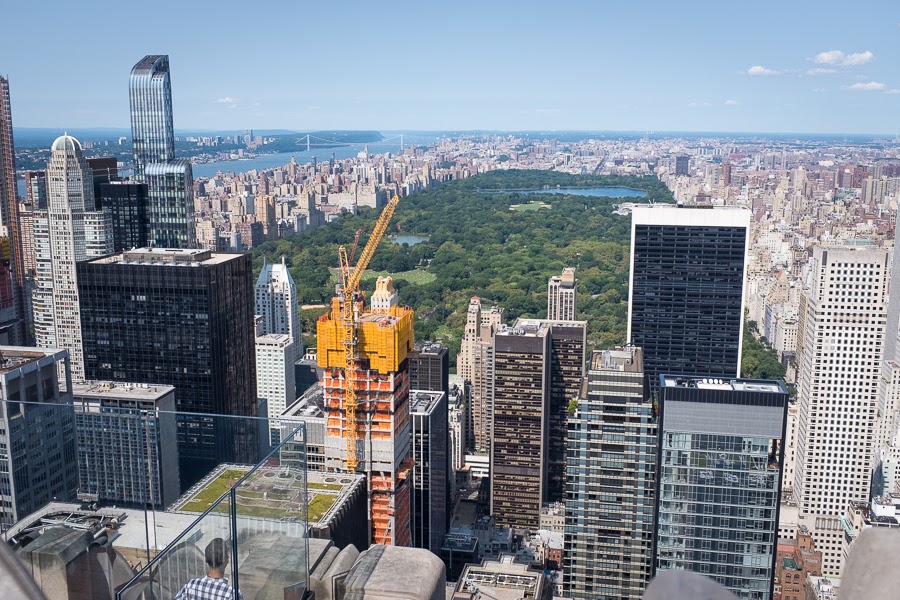 After Top of the Rock, we headed to the New York Public Library. This also wasn't on our list of places to see, but we had time to spare and figured it would be cool to see. It definitely did not disappoint!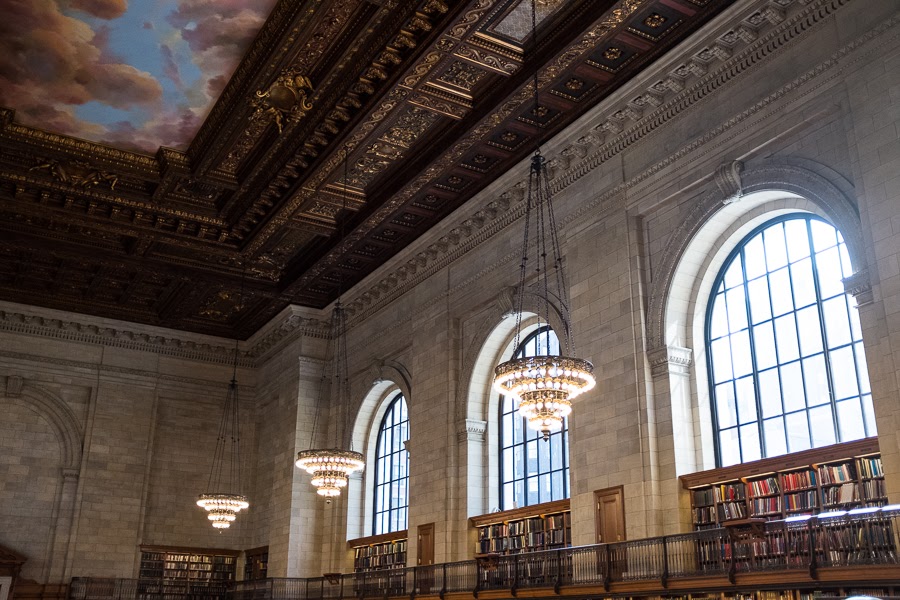 Definitely one of the prettiest libraries I've been to.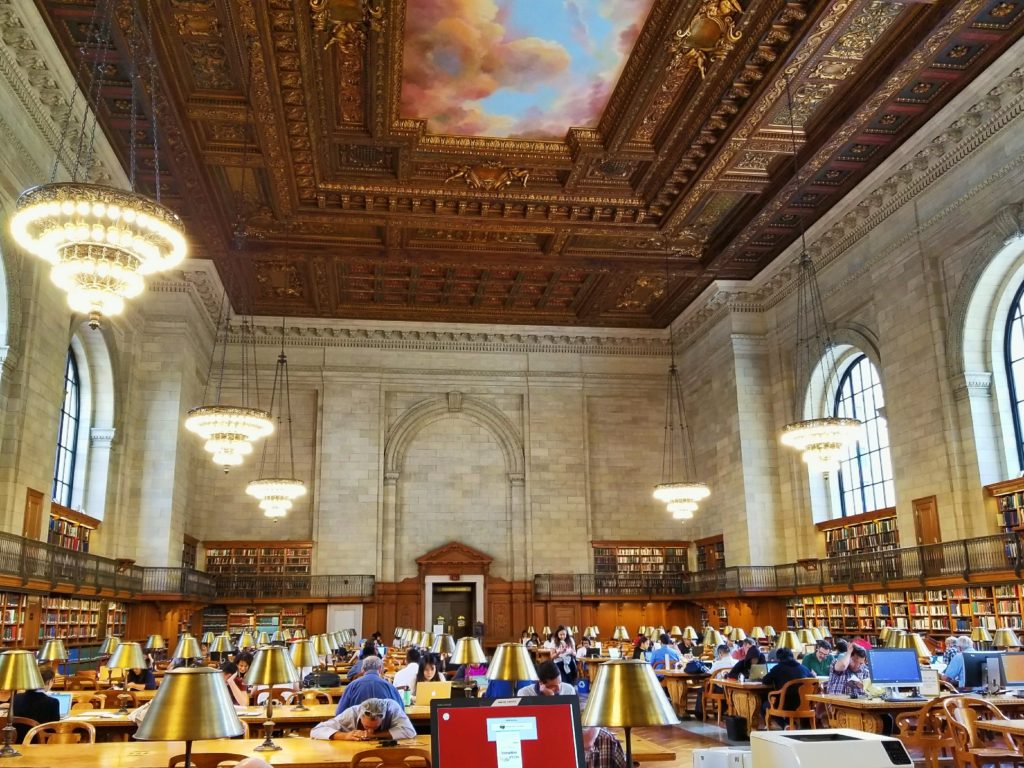 The library pretty much ends our New York trip. That night, we headed back to our hotel to pick up our luggage and took an Uber to the Holiday Inn, near the Newark airport, to stay for the night since we had an early flight back the next day. Overall, we had such a fantastic time in New York and will definitely be coming back!
-Gretch