During the early days of planning, our friend suggested that we add Marrakech to our travel plans since it is only a 2-hour flight from Madrid. We were hesitant at first because we weren't sure if we had time to see another country, since Spain offered so much. However, the chance to visit Northern Africa and experience a completely different culture was appealing to us so we ended up agreeing to it.
We flew out of Madrid at night and landed in Marrakech at 10:50 PM. We booked our flight through Ryanair and paid about $200 for a one way fair for two. Prior to our trip, I set up an airport shuttle pickup with our riad (hotel). I am really glad I did because it was simple to find him amongst the crowd of drivers at the airport exit and he walked us right up to the front door of our riad. I don't know how we would've found our riad had we been on our own.
We stayed at Riad Pachavana in the old Medina throughout our time in Marrakech. When looking for a hotel, we wanted to stay at a traditional Moroccan place and went the riad route. A riad is a traditional Moroccan house/inn with an interior courtyard or garden. When we arrived, we were greeted warmly by one of the staff members. He sat us down and served us tea and biscuits while he worked on checking us in. We chose the turquoise room when we booked and ended up being on the second floor. The riad has about 11 or so rooms and each room has its own unique style. After we were checked in, we all went to bed.
The next morning, I went outside to take a shot of our riad from our floor level. Our room is on the right with the single door opened. It was pretty chilly that morning so we decided to have breakfast inside the dining area instead of the courtyard. Breakfast was delicious. We were served so much food, which was much needed with everything we had planned for the day. We were going to be in Marrakech for 2 full days and wanted to make the most of it. Before we headed out, the manager of the riad sat us down and walked us through a map of Marrakech and gave us tips on how to navigate. It was super helpful. We really didn't know what we were getting ourselves into.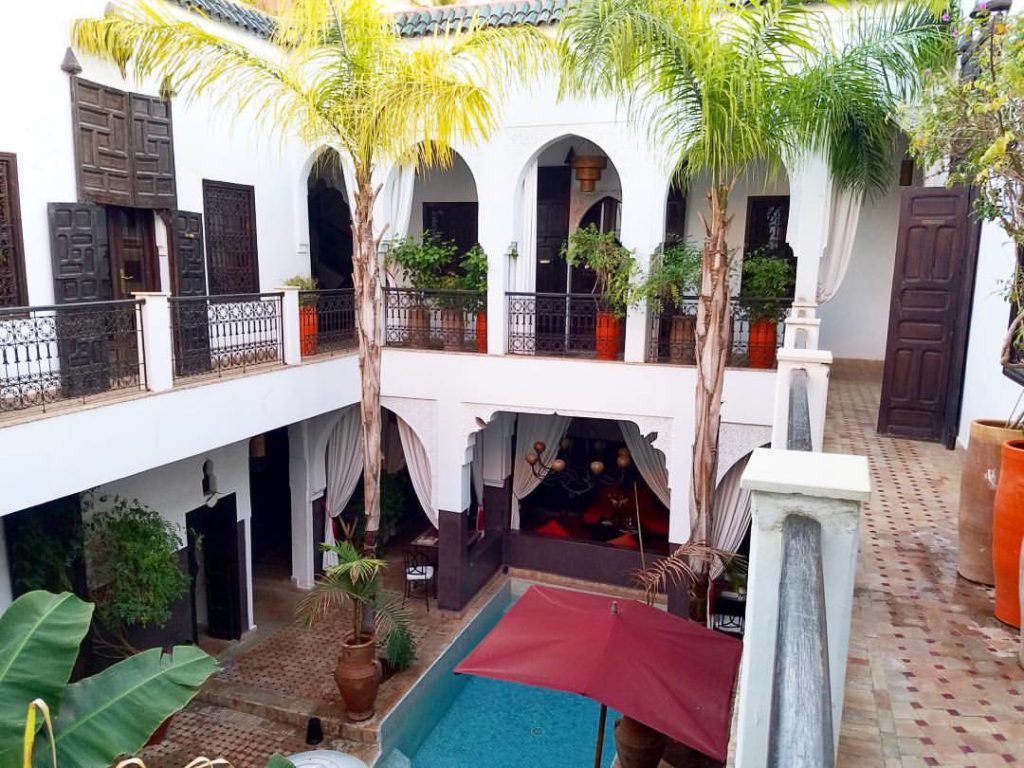 Our first stop was Jemaa el-Fnaa, the popular market you think of when you think of Marrakech. Our first challenge that day was getting a taxi. Our riad manager circled a taxi stand near our riad so we made our way there. We learned that morning that taxis could only fit 3 because you couldn't have someone sit up front. We had no choice but to grab 2 taxis and most likely paid more than we had to that morning. The price of being a tourist. After getting dropped off, we headed to a currency exchange place to get dirhams. Our riad manager also circled this on our map and told us it was near the post office. Since we were going to shop at the market, we knew we needed cash.
The market was already busy when we got there. Our goal that morning was to not get lost and to up our haggling skills. There were tons of people around and an overwhelming amount of shops to browse. Unfortunately, the snake charmers weren't out yet and we never got to see them.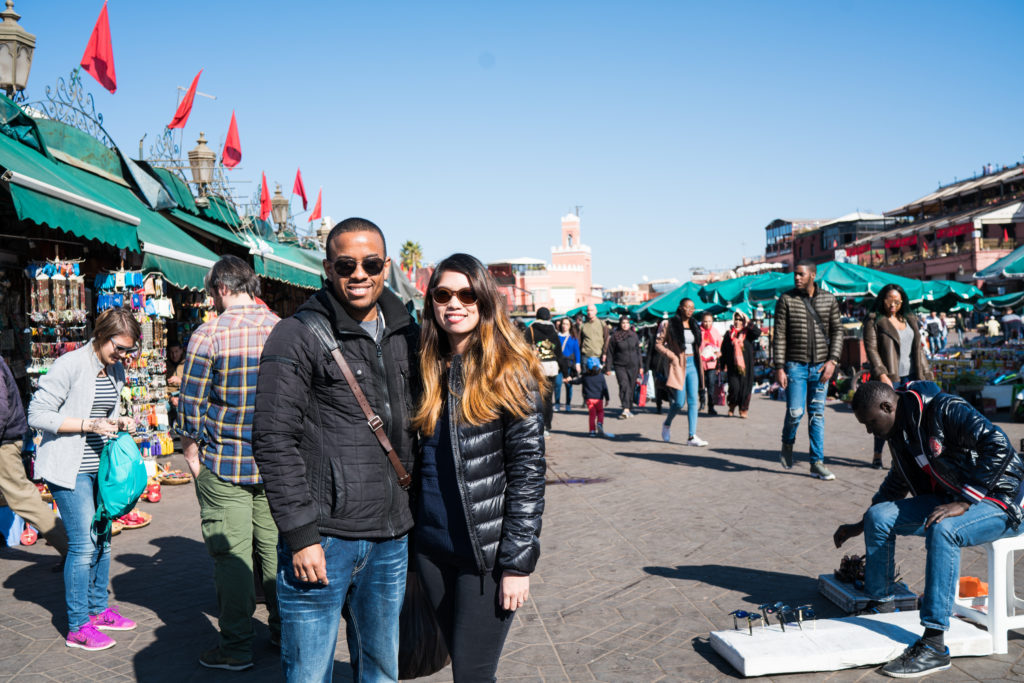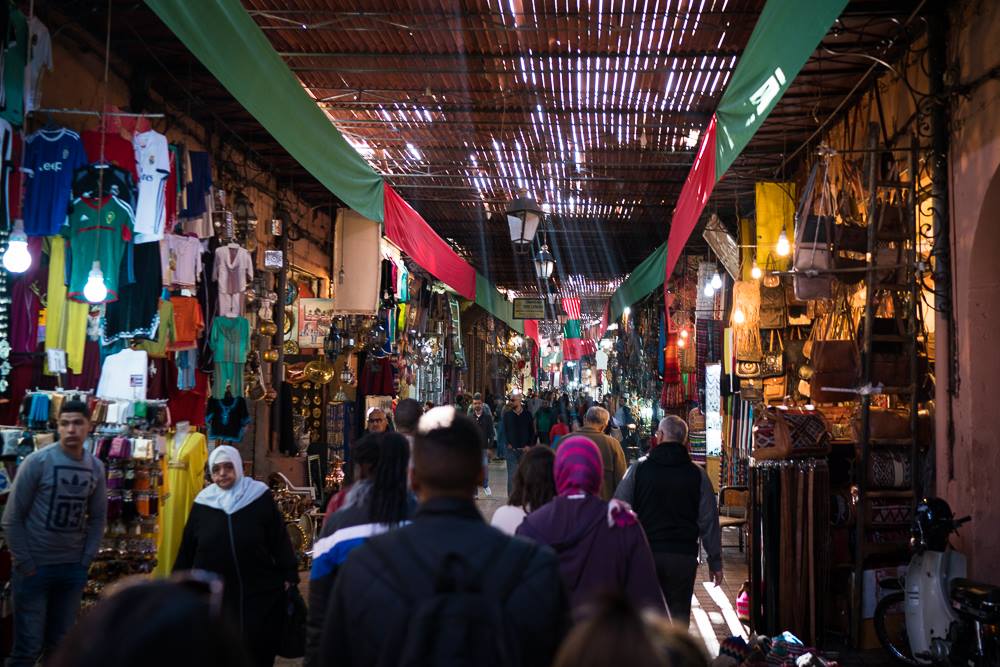 Looking back, I regret not buying a few of these bowls.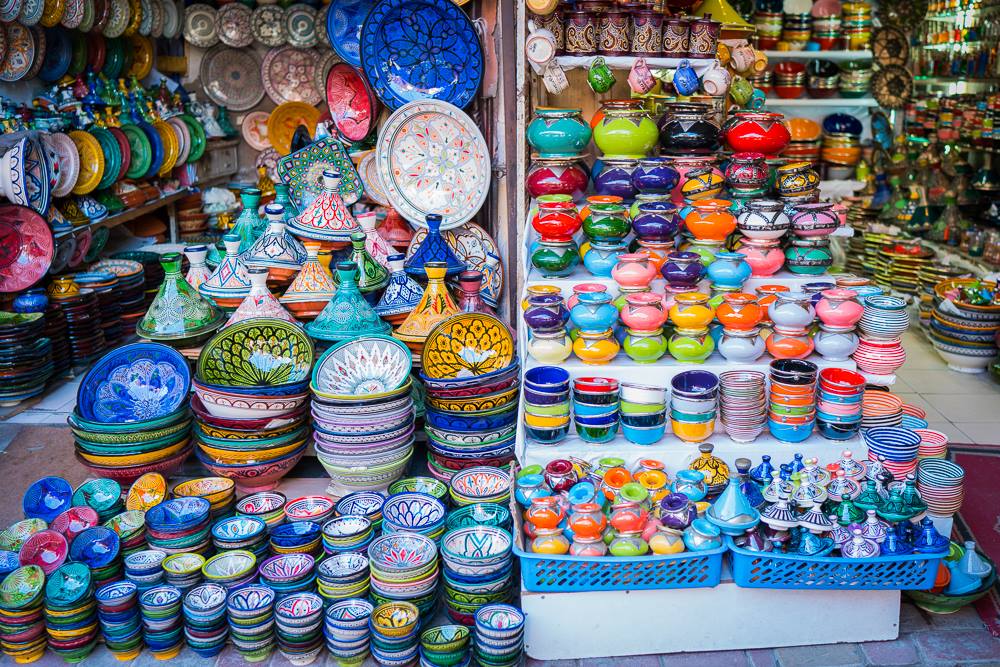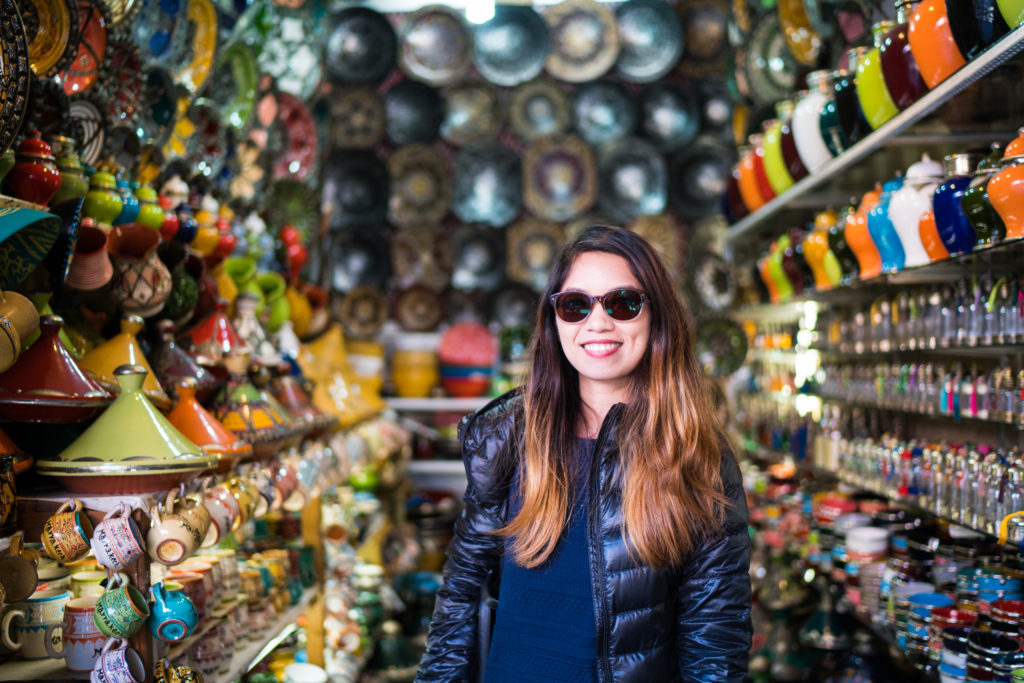 Our shopping experience was a slight success. I learned that I am better at haggling with more expensive items than $3 items. My husband and our friend were able to get djelabas for $20 a piece. They talked about wanting one ever since they saw our airport driver wearing one. They were so geeked when they got it. We were able to talk the price down a bit. We actually walked out of the store and were stopped twice before they agreed to our price. Since the boys had their djelabas, we wanted headpieces to wear. Thankfully, we were able to find some and it only cost $5 a piece. After buying a few more souvenirs, which were difficult to haggle being they were about $2 to $3 and we were trying to get them for $.50 – $1.00, we made our way to our lunch reservations.
I made reservations at Nomad a couple months before our trip. It is a really cute restaurant with a rooftop dining area that overlooks the market. I heard about Nomad from an Action Bronson Youtube episode about his travels in Marrakech.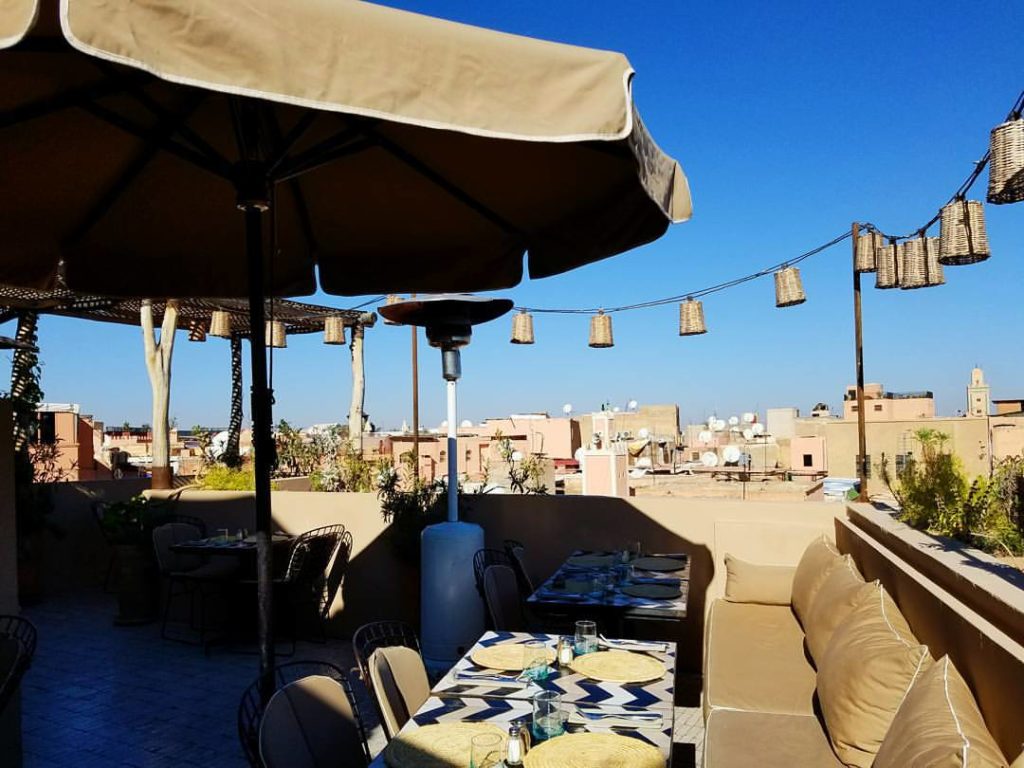 I ordered chicken tagine, a popular Moroccan dish, for lunch. It came with a side of couscous. It was so good!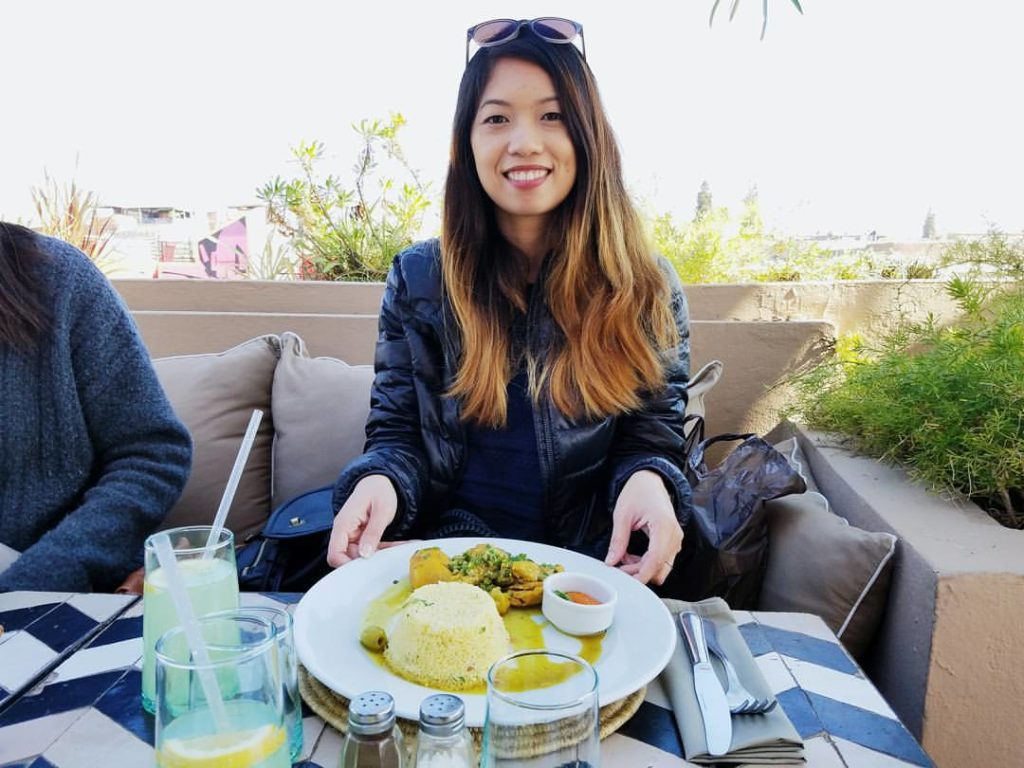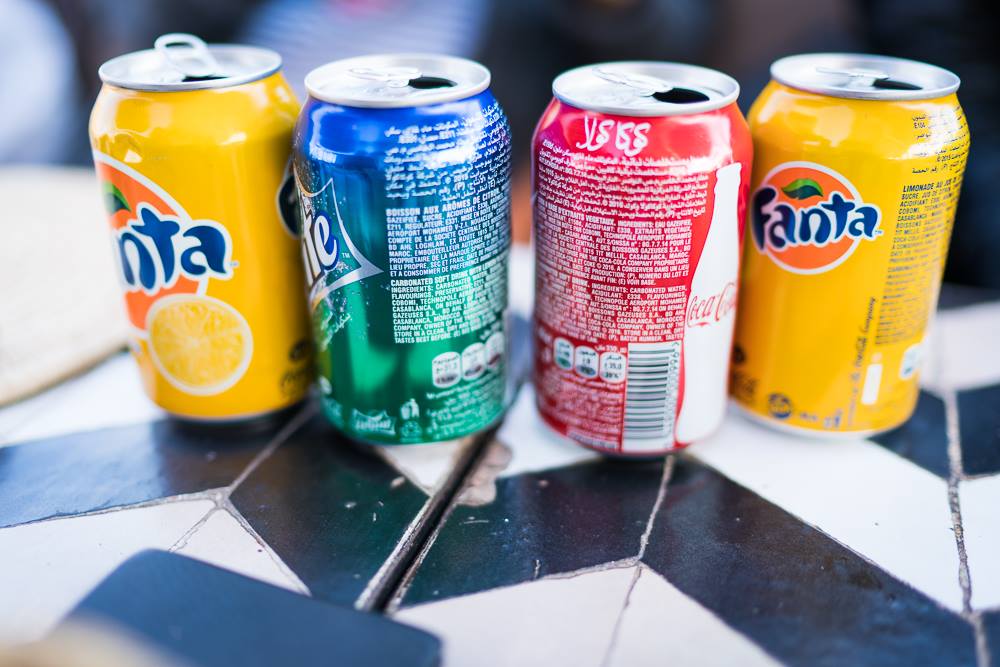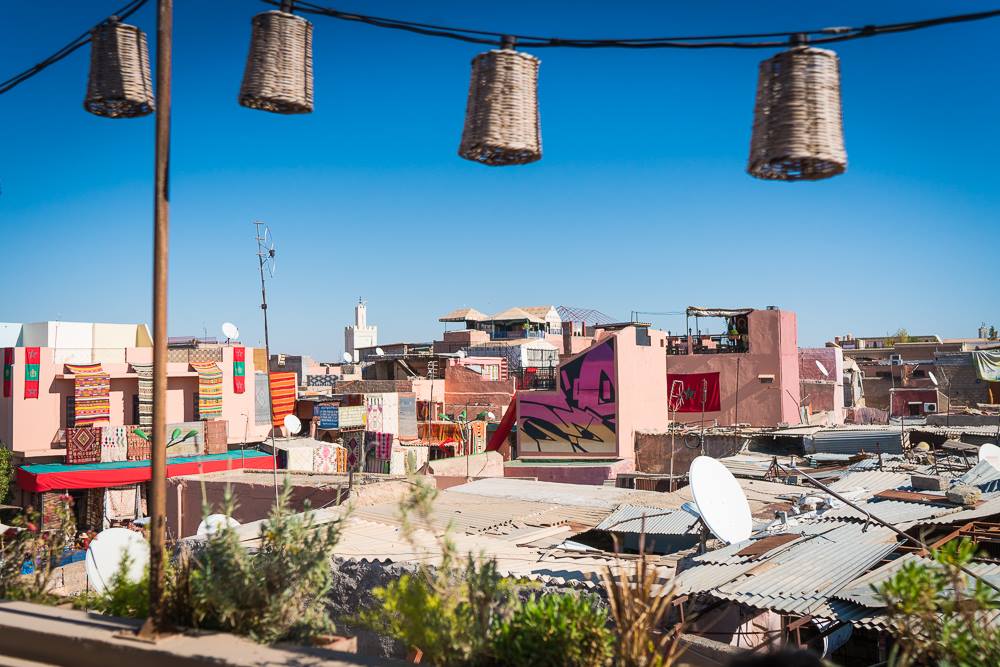 After lunch, we headed out of the market and in the direction of the Koutoubia Mosque for a quick photo.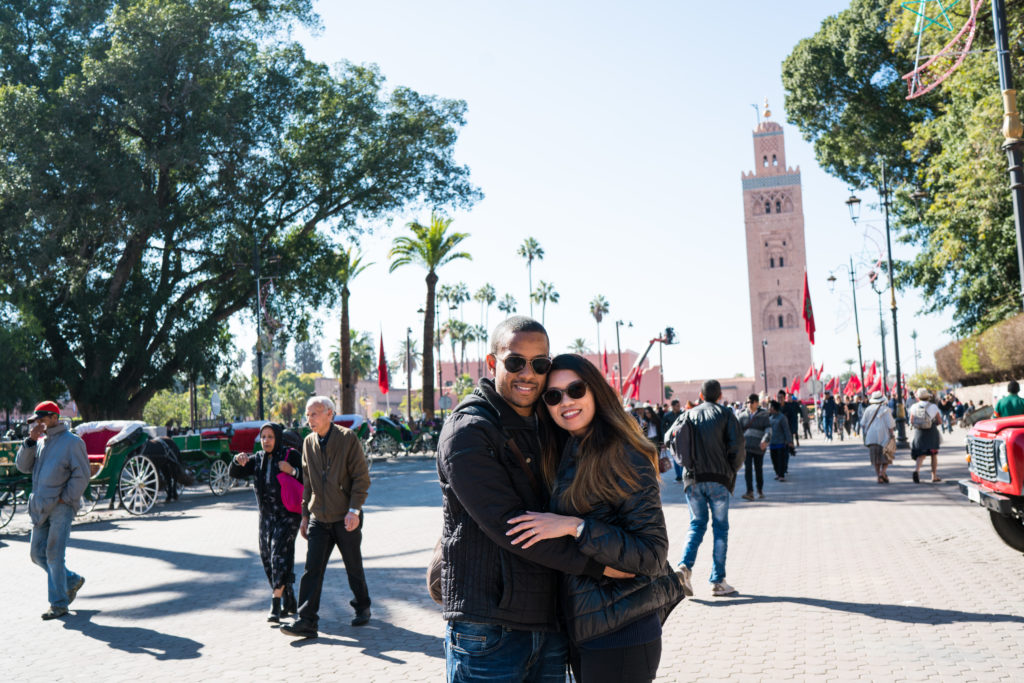 Our next stop was Jardin Majorelle. We had a tough time hailing a taxi because we needed a van to fit the 4 of us and we didn't want to take two separate taxis. When we did hail one, it was almost taken by another family. Thankfully, we were able to take it back and were finally on our way. When we arrived, the line was fairly long, but was moving. We only had to wait 30 minutes or so. Fun fact: This garden was purchased by Yves Saint-Laurent and Pierre Berge back in the 80's.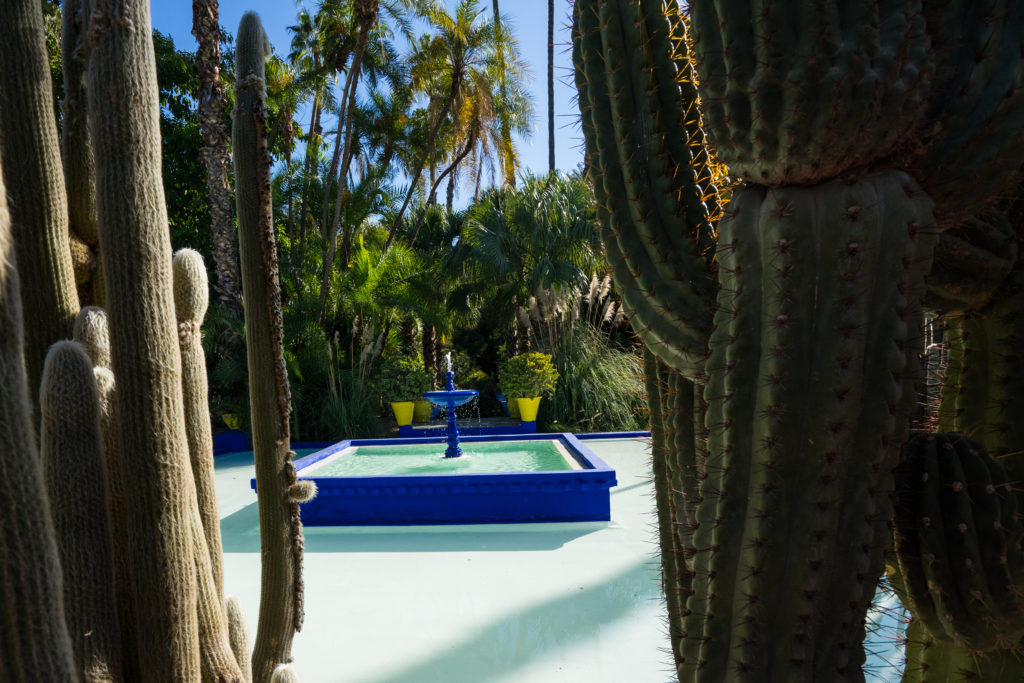 I loved the cobalt blue theme of this garden. Visiting this garden was a nice break from Jemaa el-Fnaa.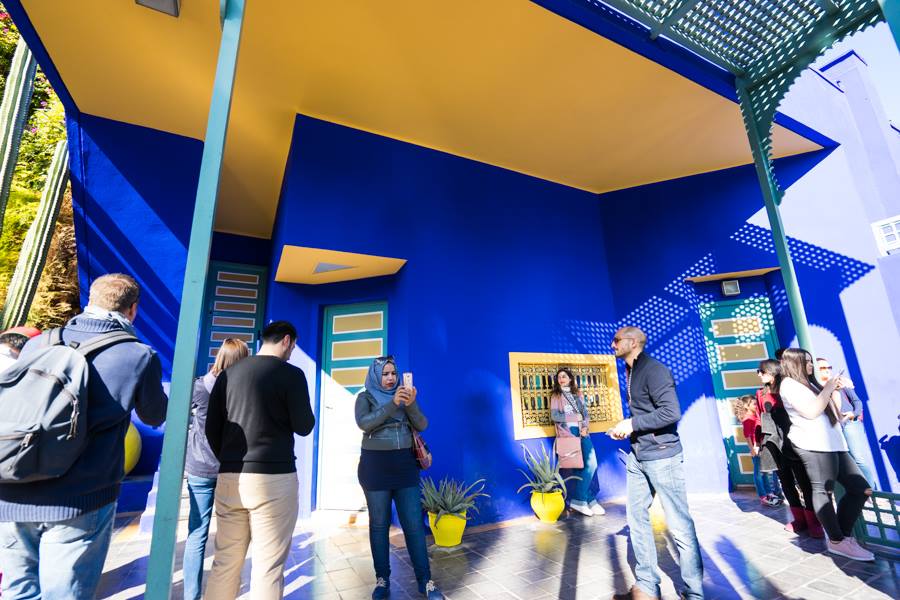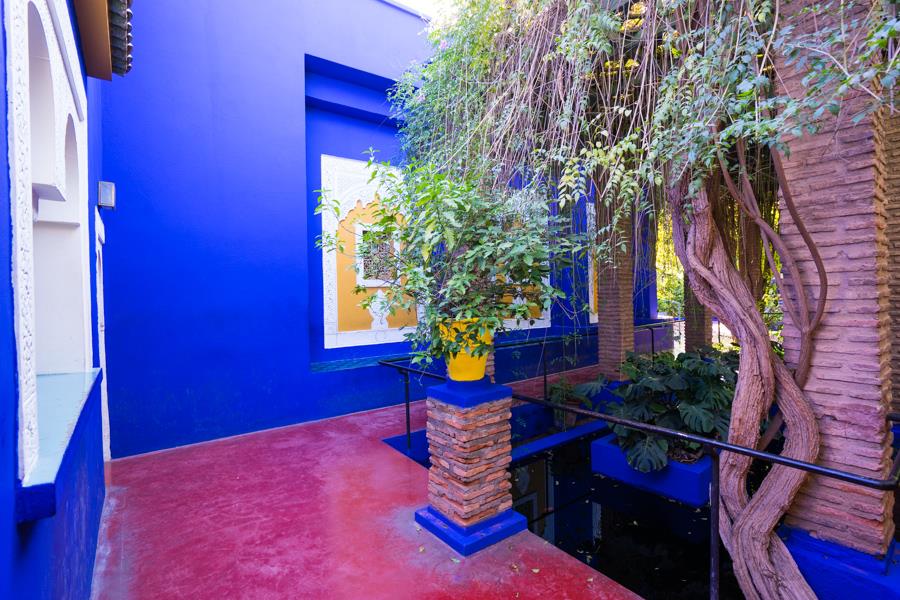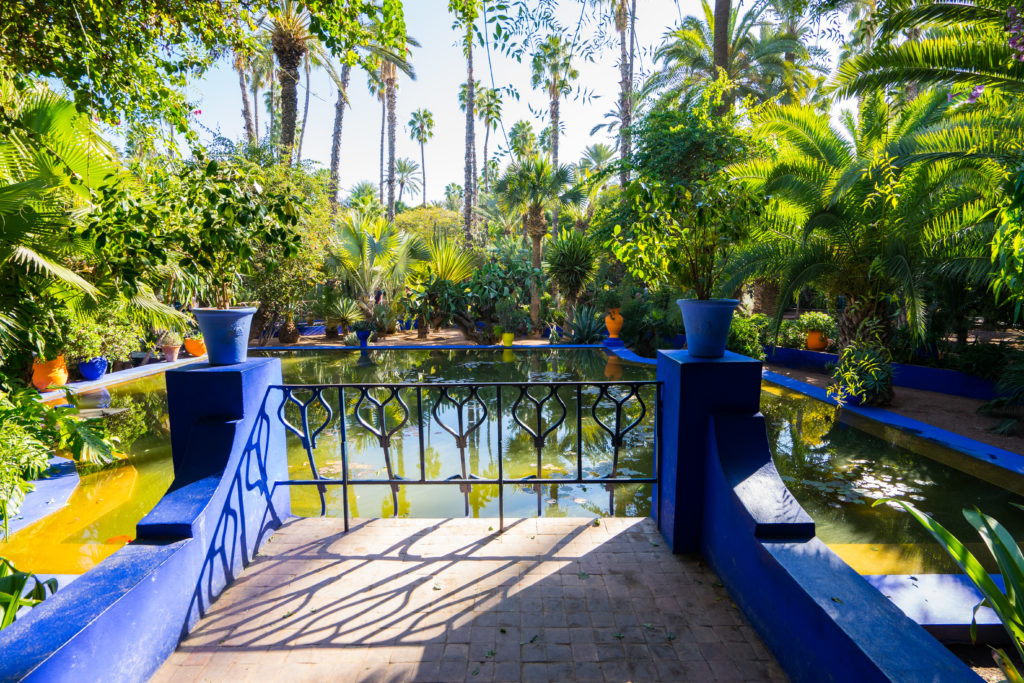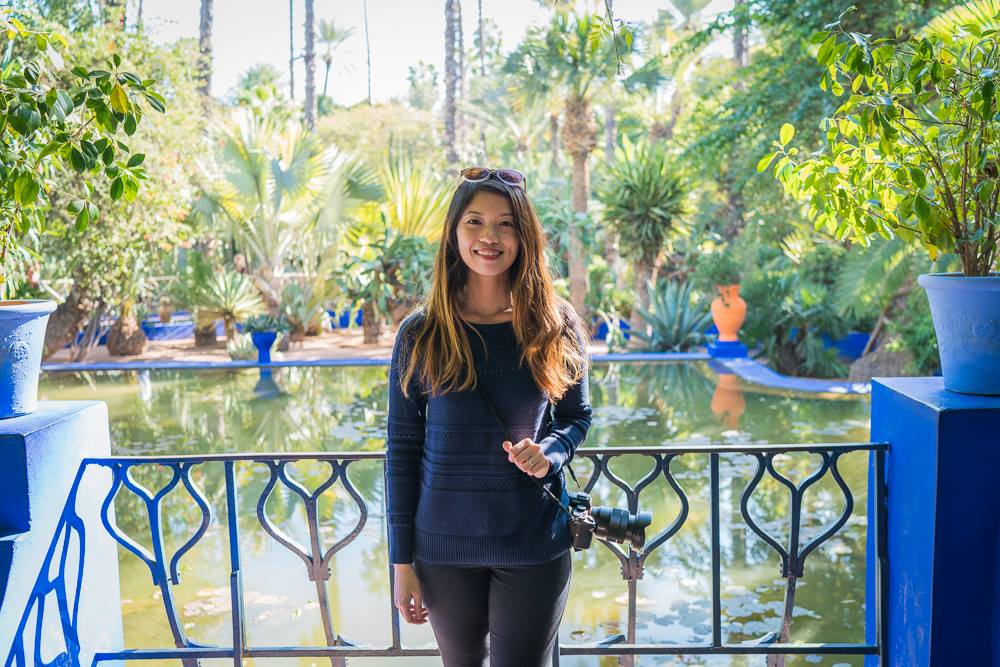 Afterwards, we headed to a taxi stand we saw earlier and found a taxi van. He was the only van there. Despite the ridiculous price he quoted us, we ended up riding with him because we were pretty tired at that point and just wanted to get back to the riad for a break. I guess you are supposed to haggle with the taxi drivers too. Back at the riad, we were able to take a really quick break before heading out again. Our friends booked a spa session while my husband and I booked an afternoon camel ride.
I actually pre-booked this activity through Viator. It was fairly cheap at about $45. However, we almost ended up not going with the company only because they were unresponsive when I tried confirming with them, via Viator. I even had our riad manager call them, but the number didn't work so I figured they just wouldn't come. We had our riad re-book with a different company to arrive at the same time. When the doorbell rang and the person told the riad staff he was with the camel riding company, but didn't say which one, we honestly didn't know who we were going with at that point. We followed him anyway. Unfortunately, the young man didn't speak English so my husband and I couldn't confirm with him and couldn't explain to him that we needed him to walk us back to our hotel afterwards. It was important for my husband and I to have the company walk us back to our riad because we had no idea how to get back even with our map and it would be night at that point, which makes it harder. Our phones didn't get data in Morocco. Thankfully, he called someone who could speak English and had us talk to him. We learned that they were our Viator booking and not our Riad's and that they would walk us back. After a huge sigh of relief, we continued following our guide who led us to an official touring company building. We were greeted in English by another staff member and my husband and I were reassured even more that we were good. We did feel bad about the other camel ride booking our riad made for us, but figured we would sort it out when we got back.
I am so happy I booked this activity. I timed it for sunset and it was beautiful! They asked us if we wanted to get dressed up when we got there. Of course we couldn't say no! The ride entailed two camels being tied together and a guide to walk us through the palm grove area for an hour. It was pretty simple and very relaxing. We just had to sit back and enjoy the view.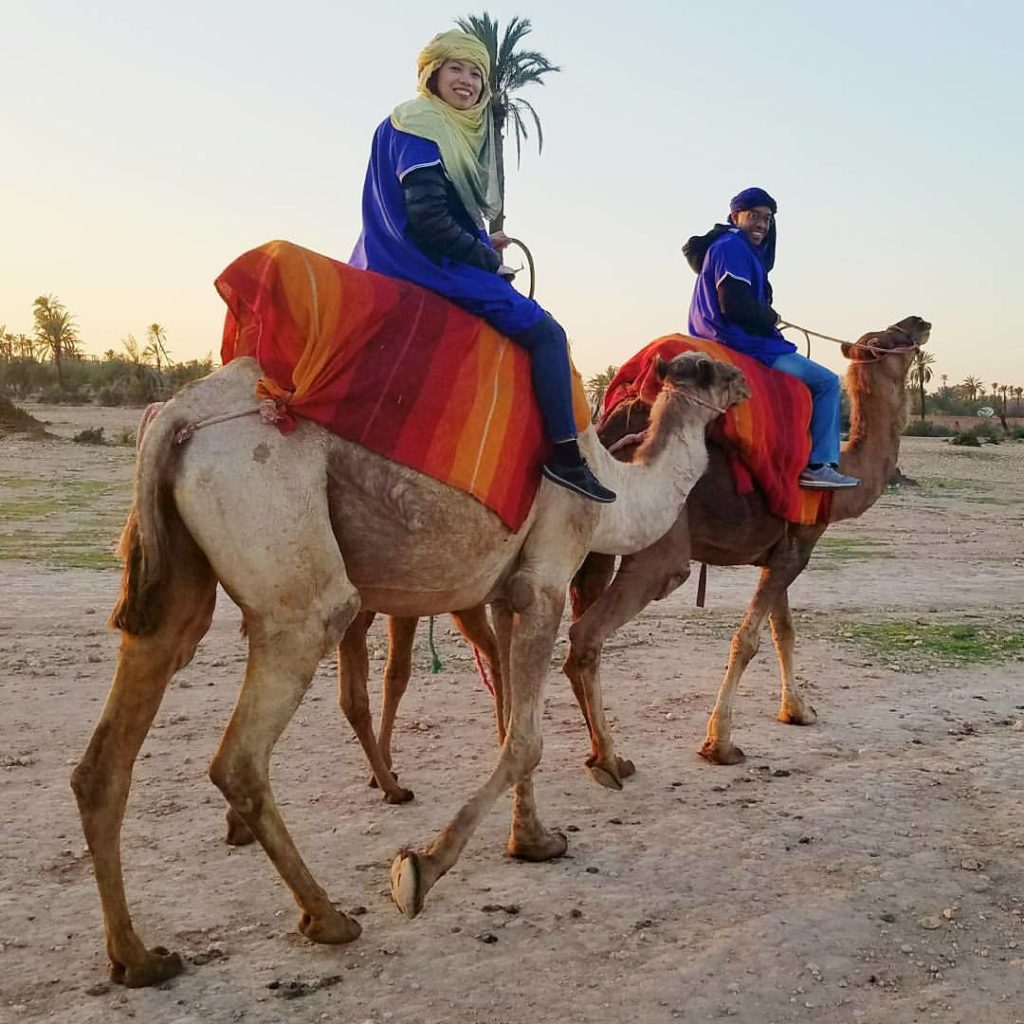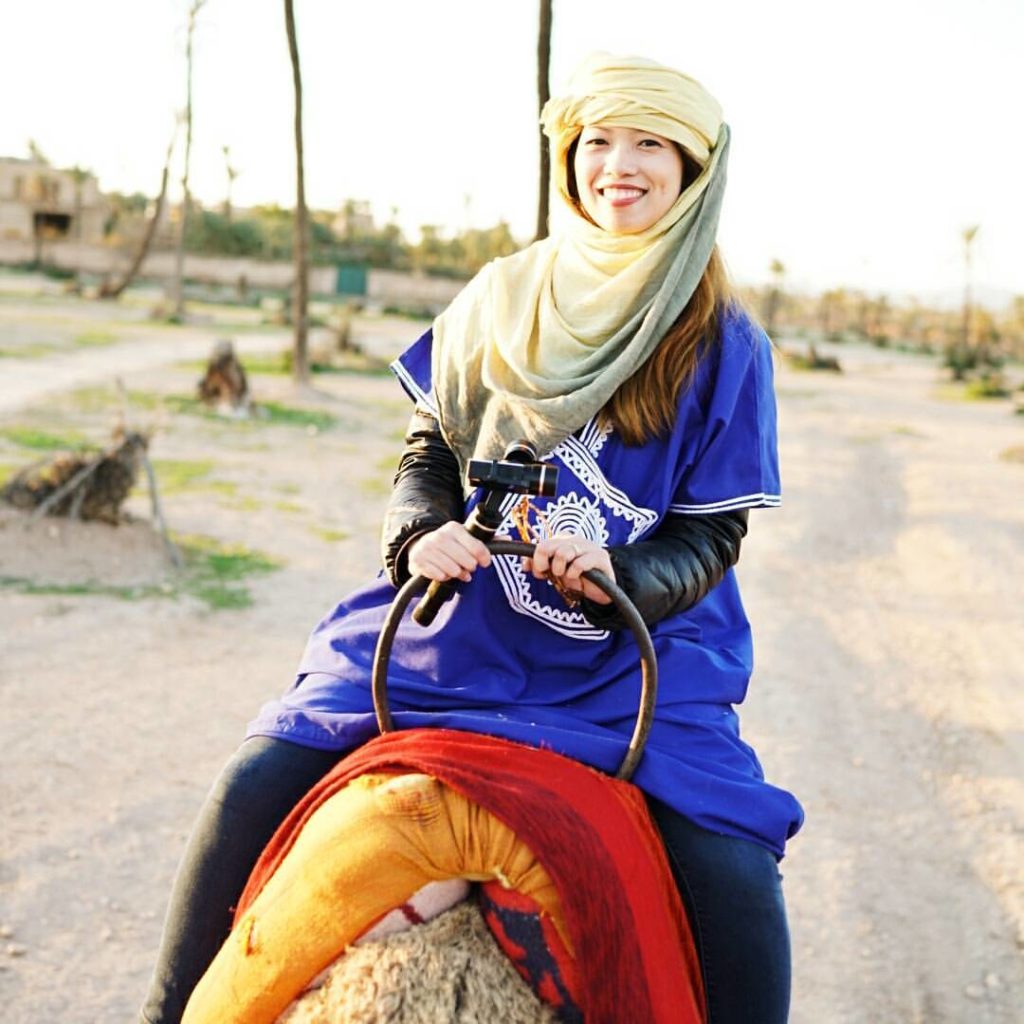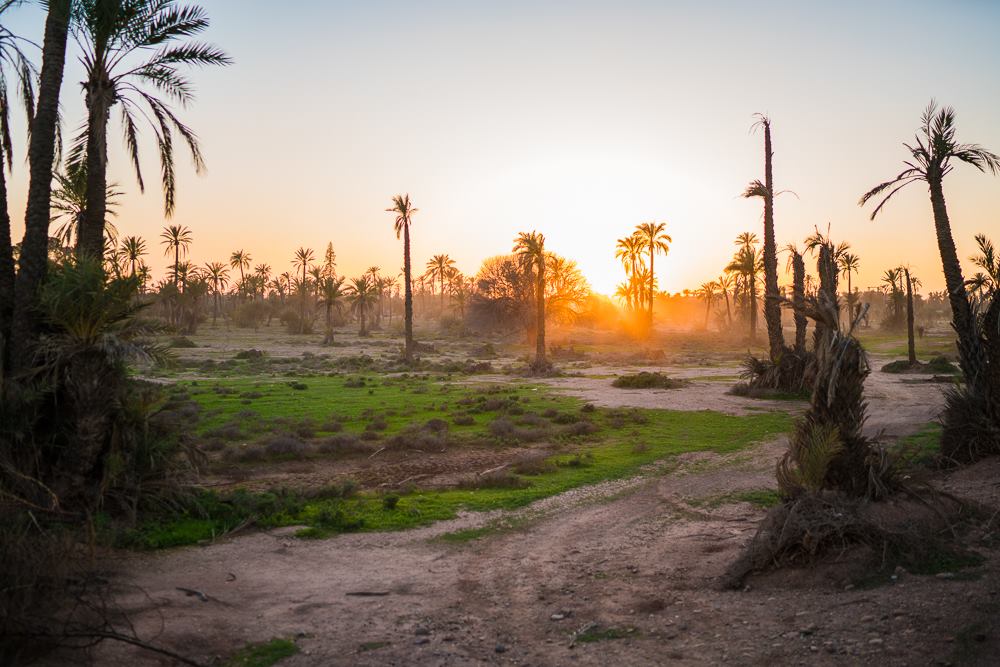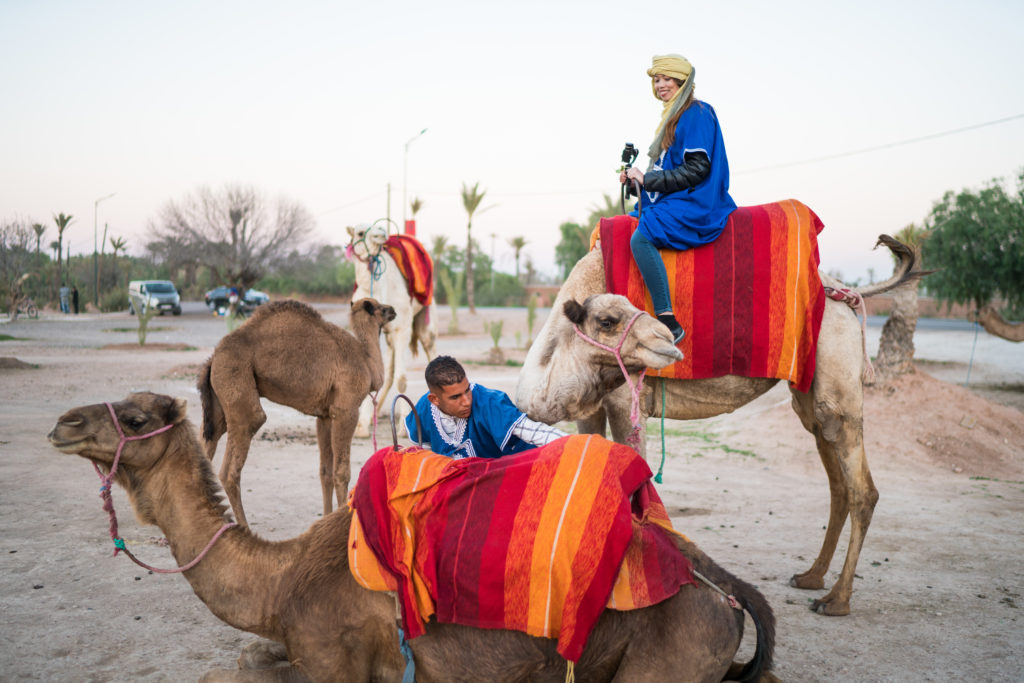 Afterwards, the same young man walked us back to our riad. This was one of the alleyways we walked through.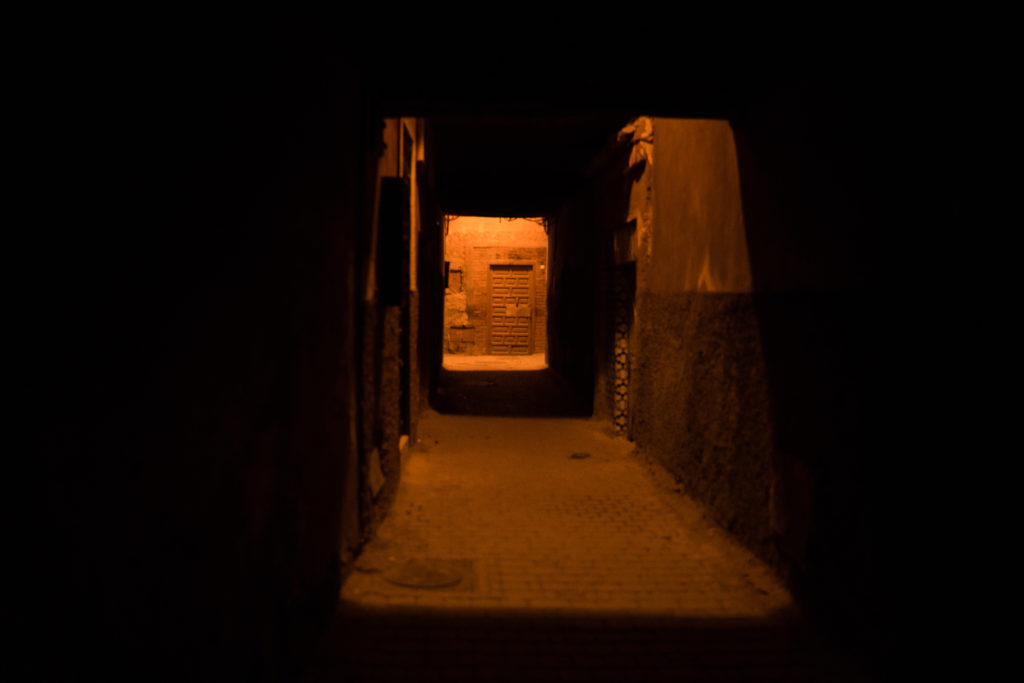 Our friends made it back the same time we did. Instead of going back to Jemaa el-Fnaa for dinner, we decided to eat at our riad instead. It was a much better idea! We really didn't want to have to deal with finding another taxi van and navigating through the market to find a place to eat. We were too beat. The next day (NYE), we dedicated our entire day to a day trip to Ouarzazate and Ait BenHaddou. I'll talk all about it in my next post.
We were so tired when we got back to the riad that night after our day trip. We actually had a NYE celebration at our riad that we paid for already so we knew we weren't quite done just yet. We arrived a bit late to the party, but just in time to see the last bit of the show. We thought we had missed dinner as well, but later learned that we walked into appetizers and cocktail time.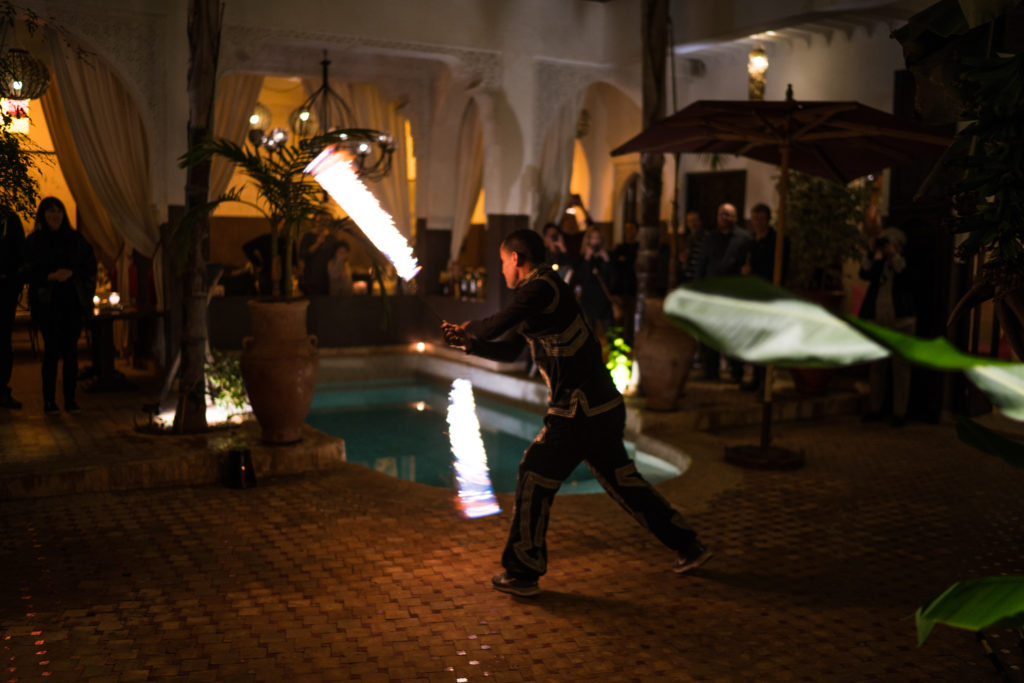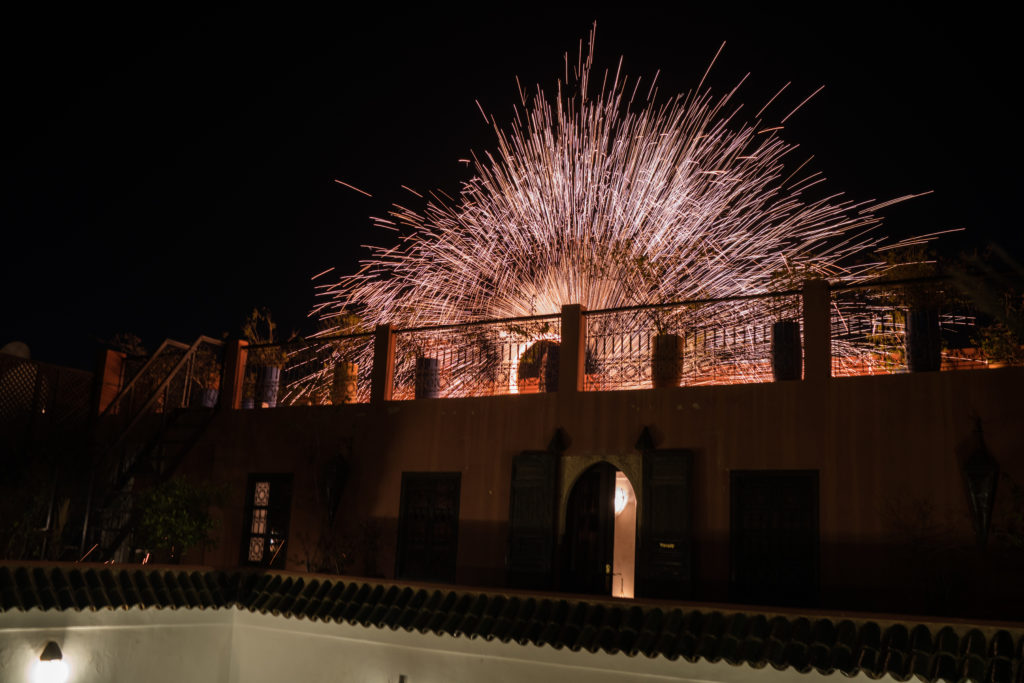 Dinner wasn't served until about 10:30 PM. I'm sure you can imagine how tired we were at that point. We honestly didn't think we would even make it to midnight for the new year. Somehow, we did. After cheering to the New Year, we all went to bed. We had to get up for a 7:25 AM flight the next day.
At the crack of dawn (felt like it), the same driver that picked us up our first night was there to drop us to the airport. We were all pretty tired still since we didn't get much sleep. When we got to the airport, our friends were told they were on standby because they were the last people to check in despite purchasing their flight several months ago. Thankfully, a couple from business class didn't check in so they were able to get on the plane with us.
Our flight back home consisted of a stop in Madrid, Chicago, and finally San Francisco. My husband and I were exhausted by the time we made it back home. Overall, it was an incredible trip and we are so thankful for the experience.
-Gretch