Sevilla is a 3 hour train ride from Madrid. Despite the distance, this city was on our list to visit because 1) scenes from Game of Thrones were filmed here and 2) it is a beautiful city.
Similar to Segovia, we purchased our roundtrip train tickets on the Renfe website. We departed from the Madrid Atocha station at 7:00 AM and arrived at Sevilla Santa Justa at 9:54 AM. From the train station, we took a cab to Alcazar de Sevilla. Our initial plan was to walk there, but it was quite the walk and would've taken away from our time. The cab dropped us off near the entrance. We were shocked at how long the line was. We figured it wouldn't be too busy with it being December and opted not to pre-purchase our entrance fees. We were so wrong. While waiting in line, my husband and I figured we had a bit of time to check out the exterior of the Sevilla Cathedral so we parted from our friends for a bit to take a few photos.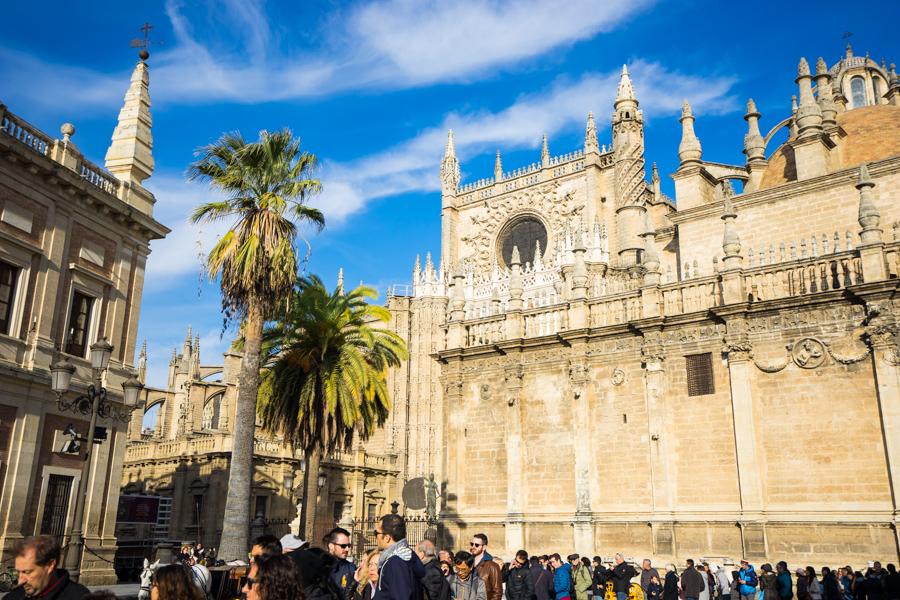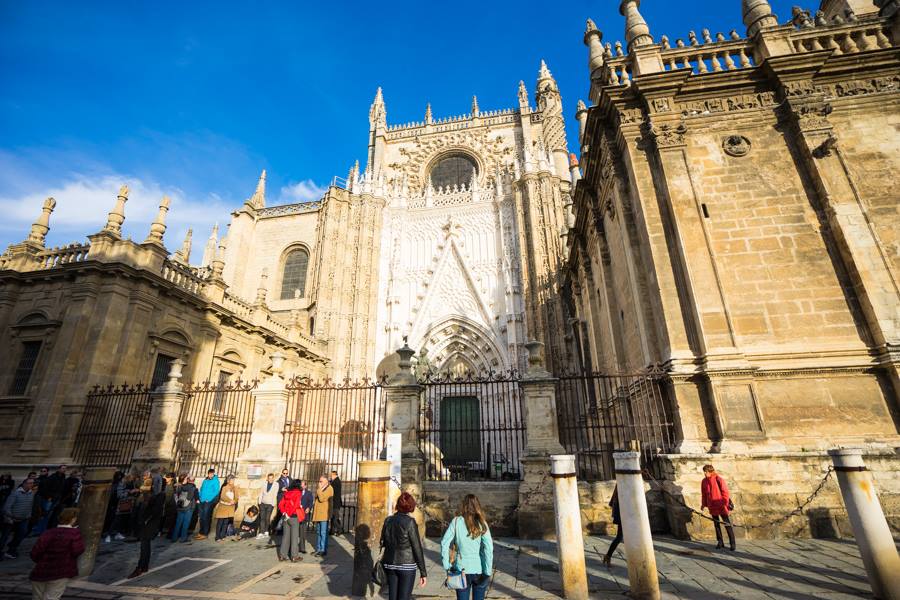 One of the things I'll always remember during our day in Sevilla is the sound of horse hooves on pavement. There were so many carriages around and that was all you heard.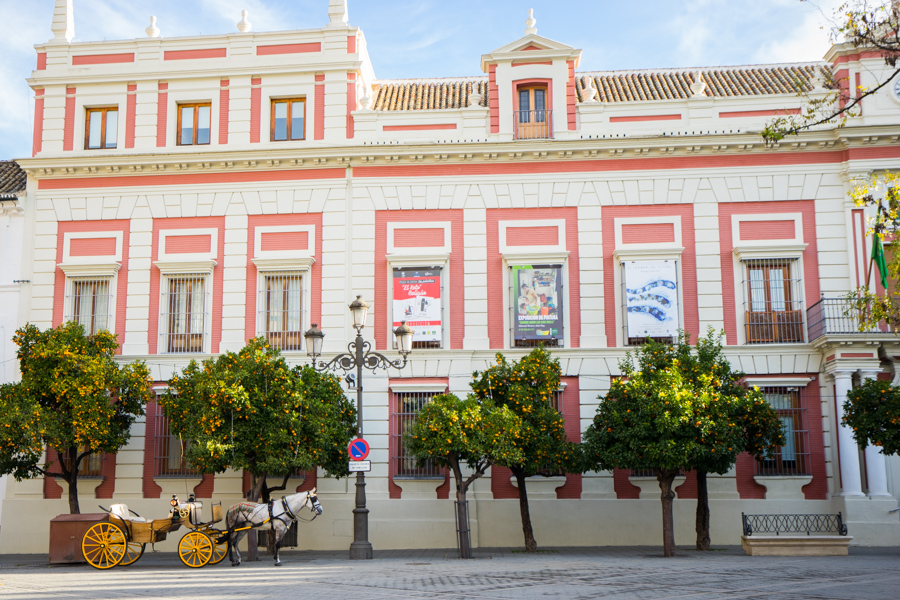 After what felt like 2 hours, we finally made it to the front and it was so worth it.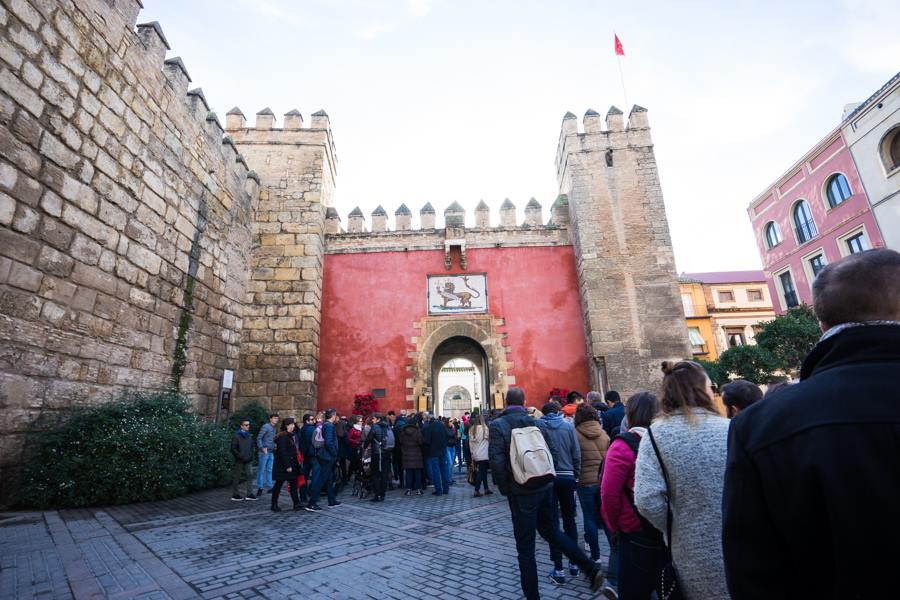 You first walk into this open courtyard.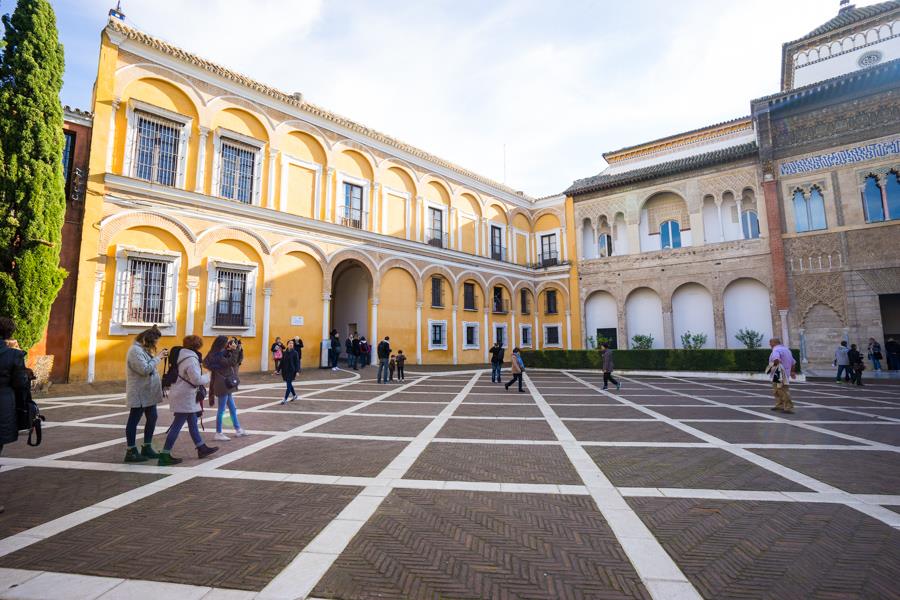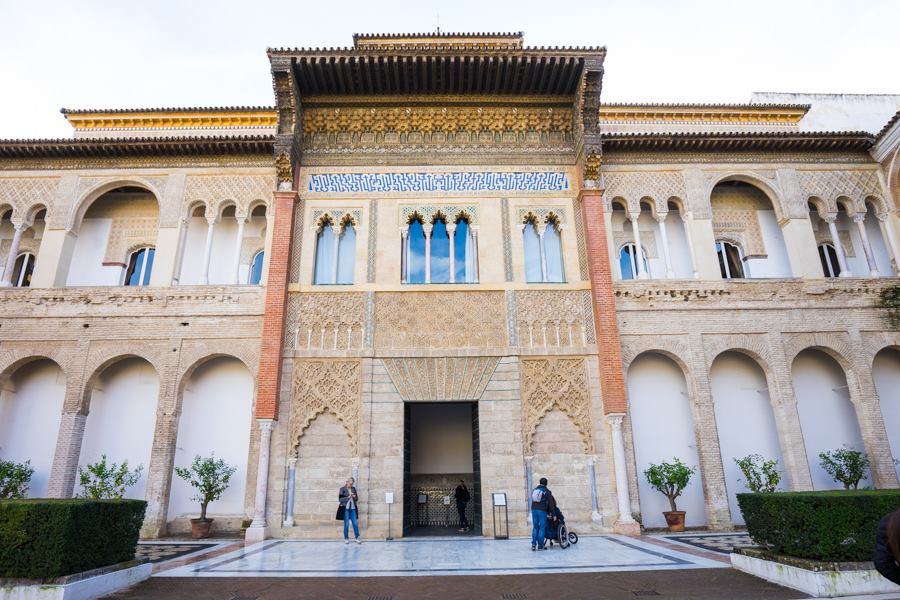 And then you see THIS after navigating through the beautiful hallways! Bucket list = check!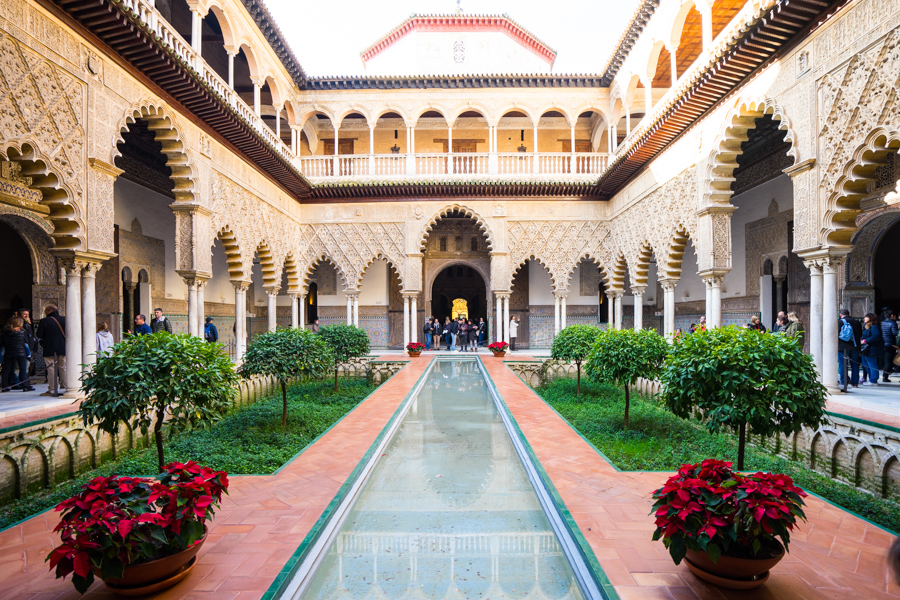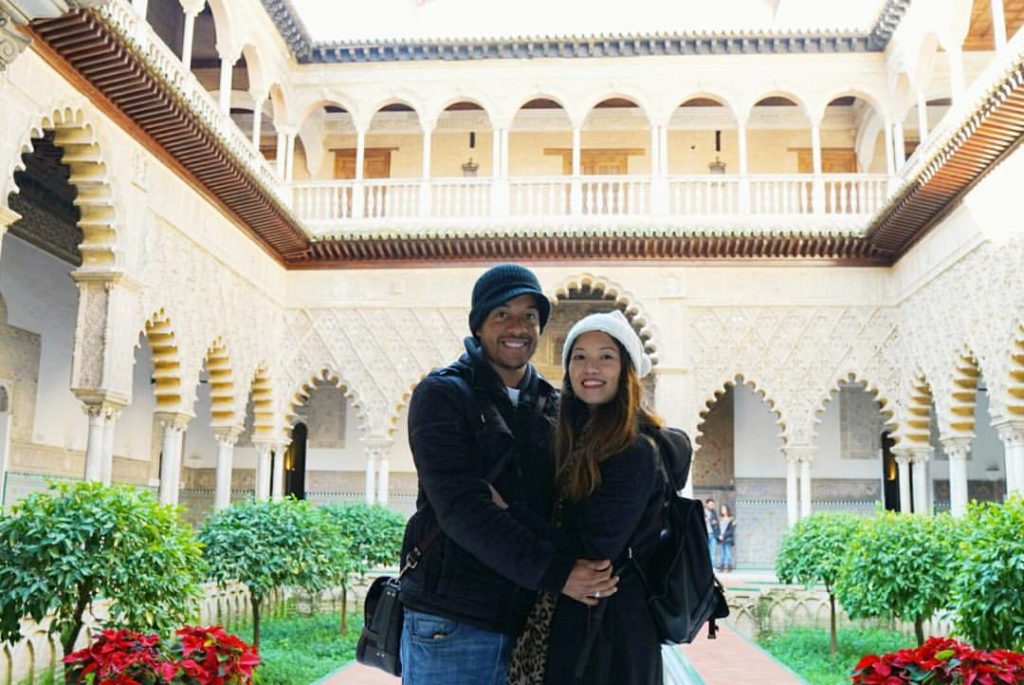 I loved the Moorish architecture of this palace. It was stunning!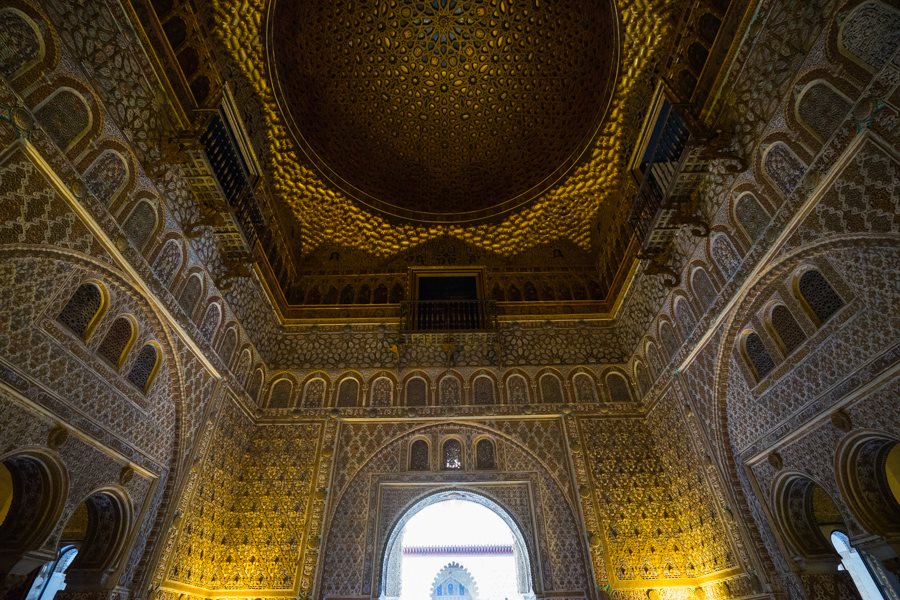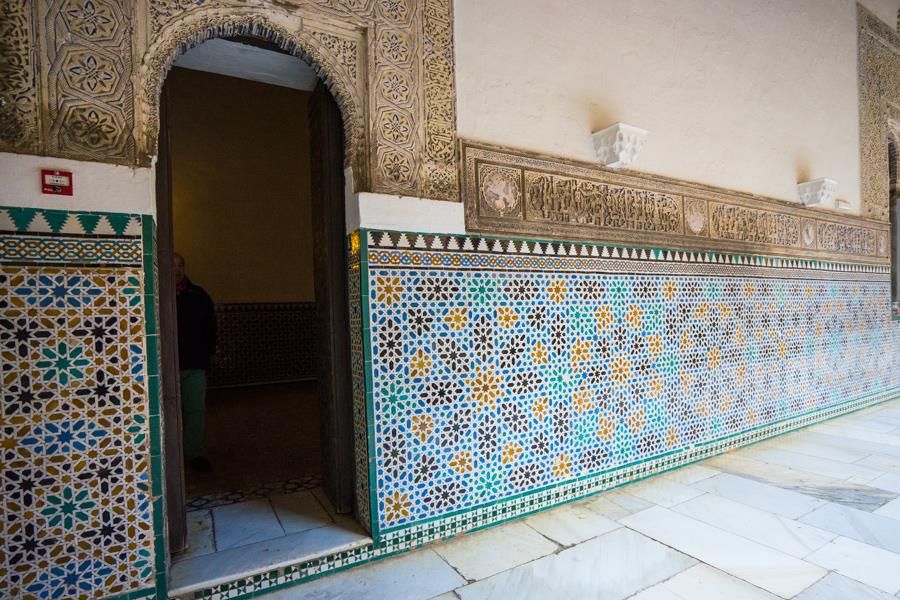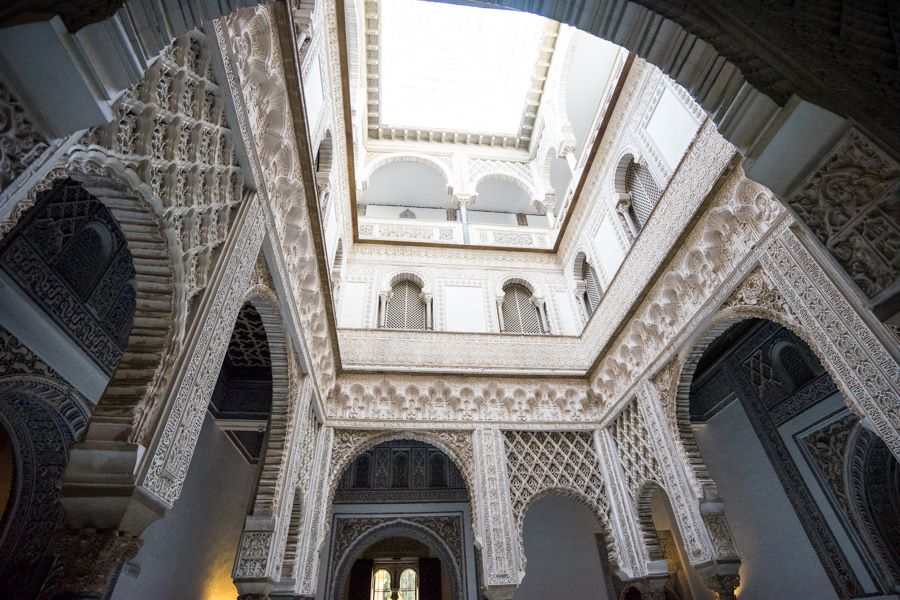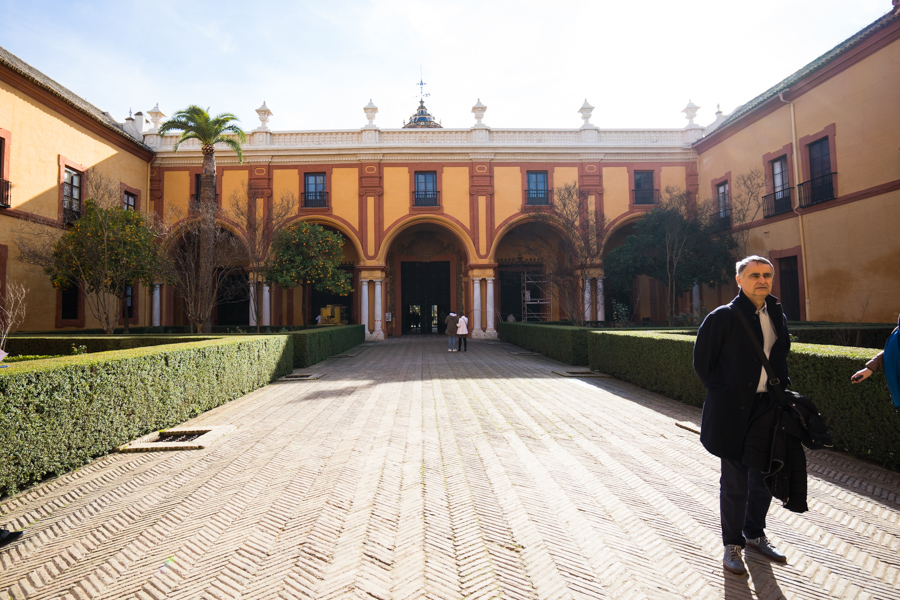 These orange trees were everywhere in the city.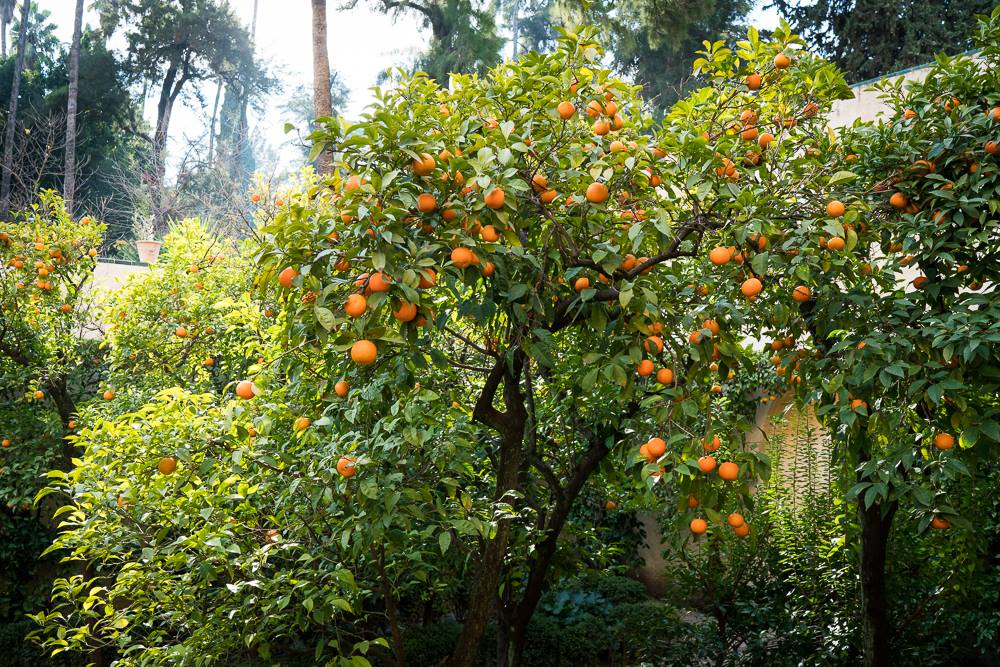 After spending time at Alcazar Sevilla, my husband and I made our way back to Sevilla Cathedral to check out the line. At that point, it was a lot longer than before so we decided to skip out on going inside. We headed to lunch and found this really cute Italian restaurant. When we walked in, we were almost turned away because we didn't have reservations, but thankfully they were able to make a table for us. We were lucky to get there early enough to be the first ones in line. Everyone else in line after us were turned away.
After lunch and a few peeks at souvenir shops, we made our way to Plaza de Espana and were blown away by its beauty! Pictures do not do this place justice. It has a strong wow factor, in my opinion.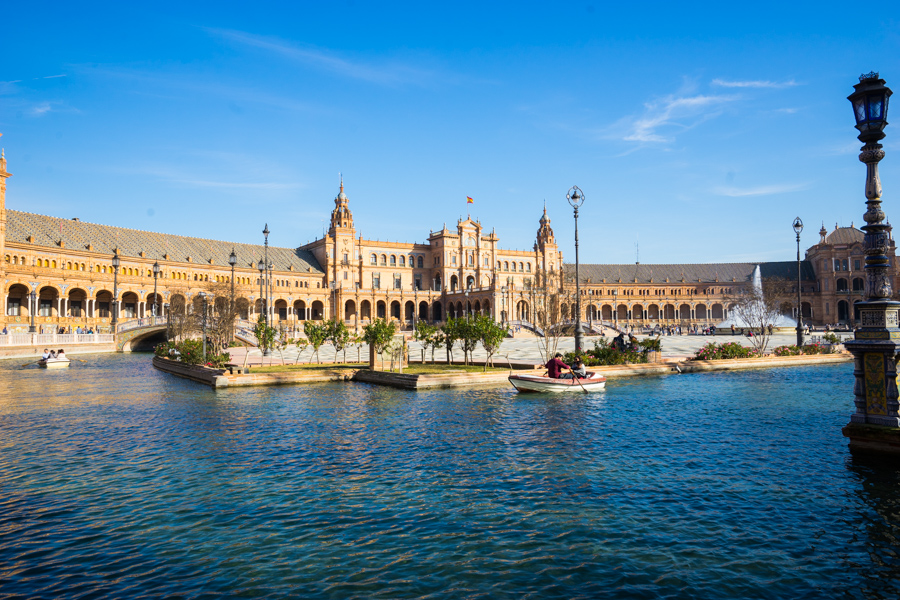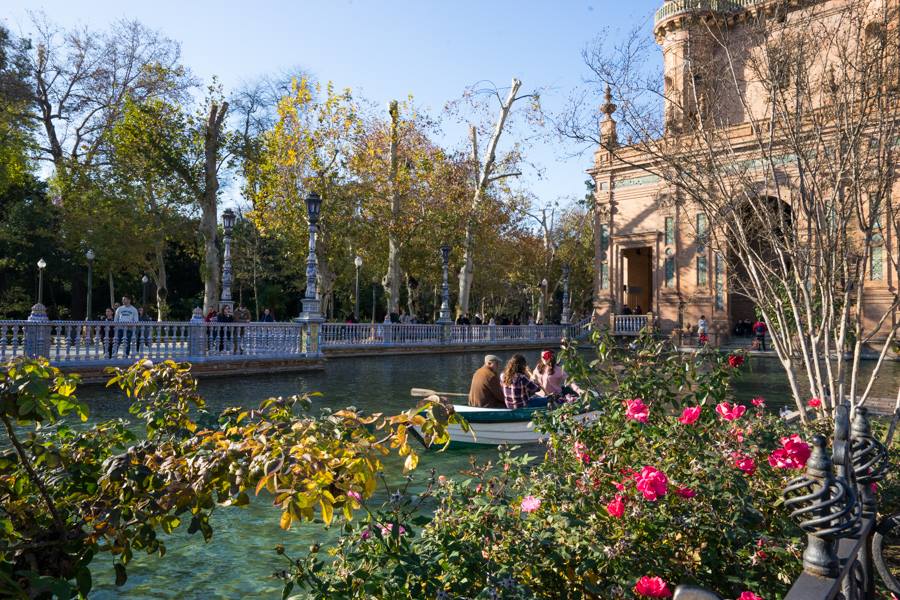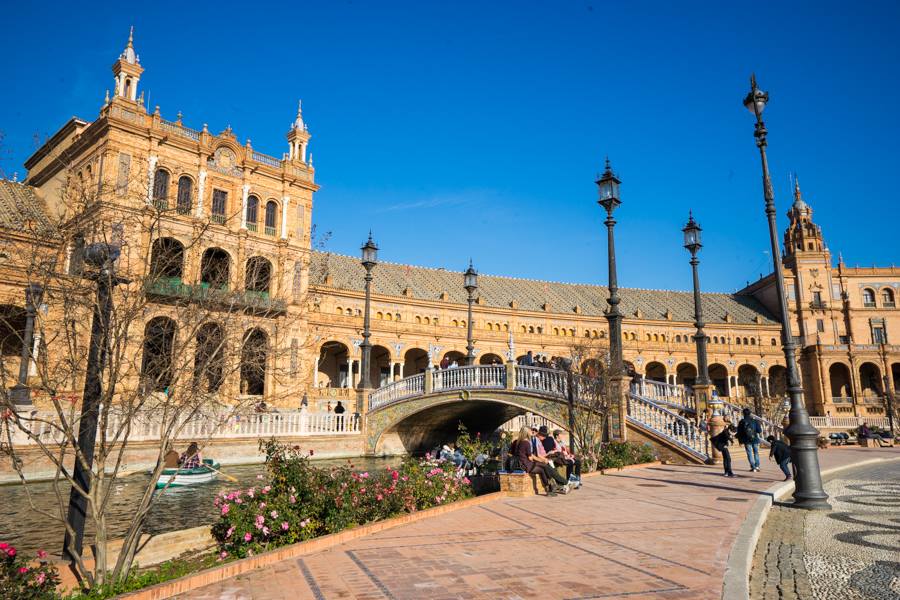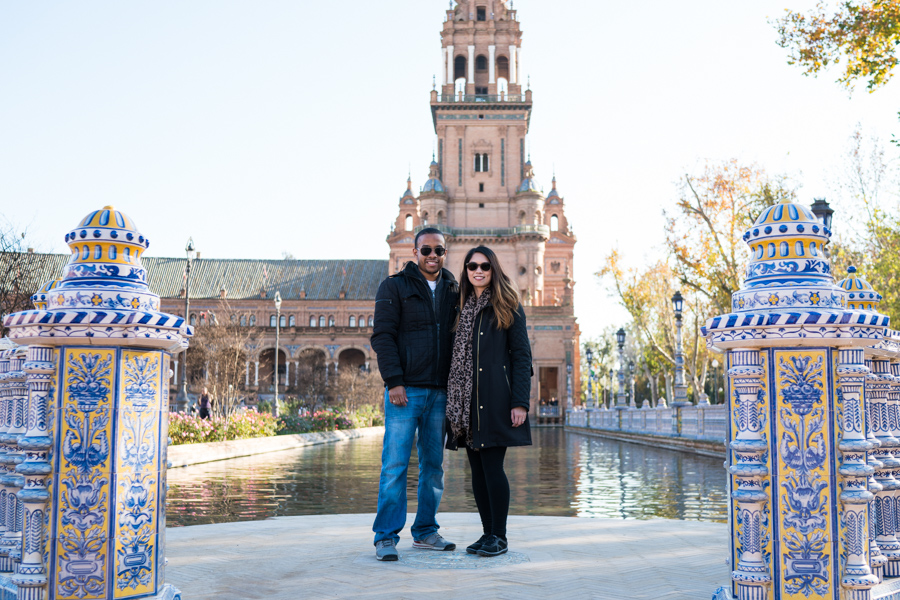 While at the plaza, we opted not to do the boating option and decided on a horse carriage ride instead. It was 45 euros for 45 minutes! We didn't have much time at that point and could only do one more activity. The line at the palace took away a lot of our exploring time. The carriage ride included a ride around the plaza, the park across the street, and through the city. It was worth it! When in Sevilla, why not do a carriage ride, right?!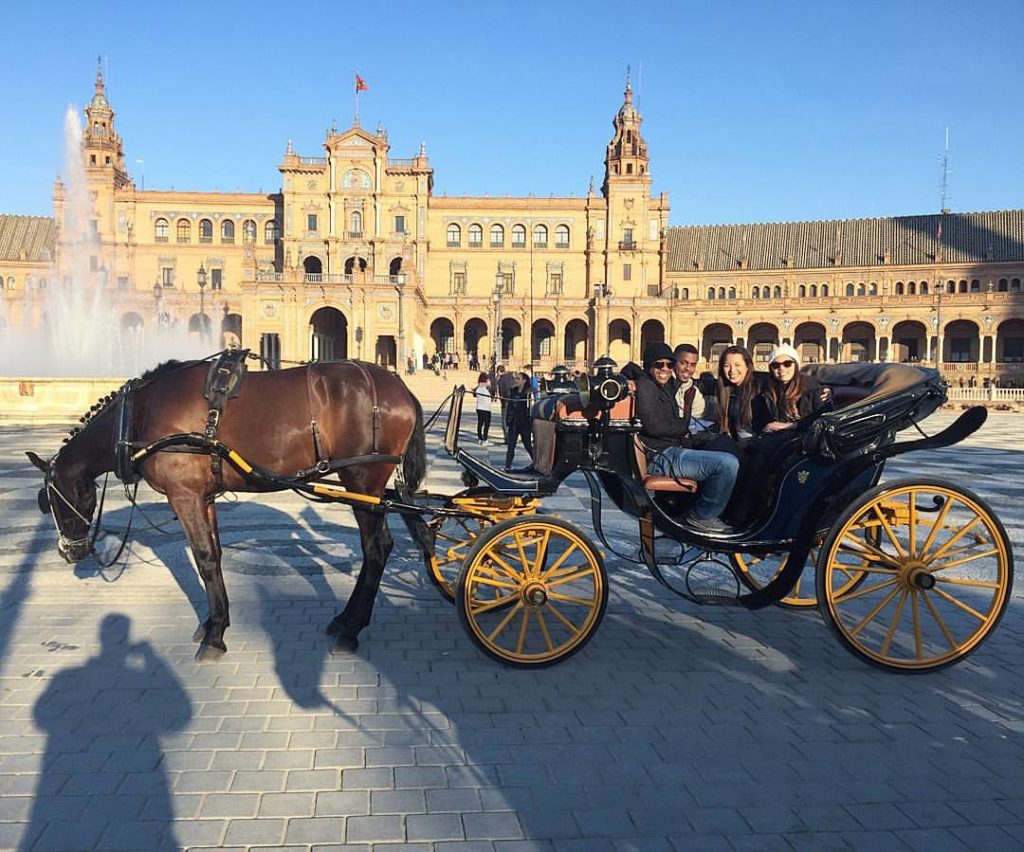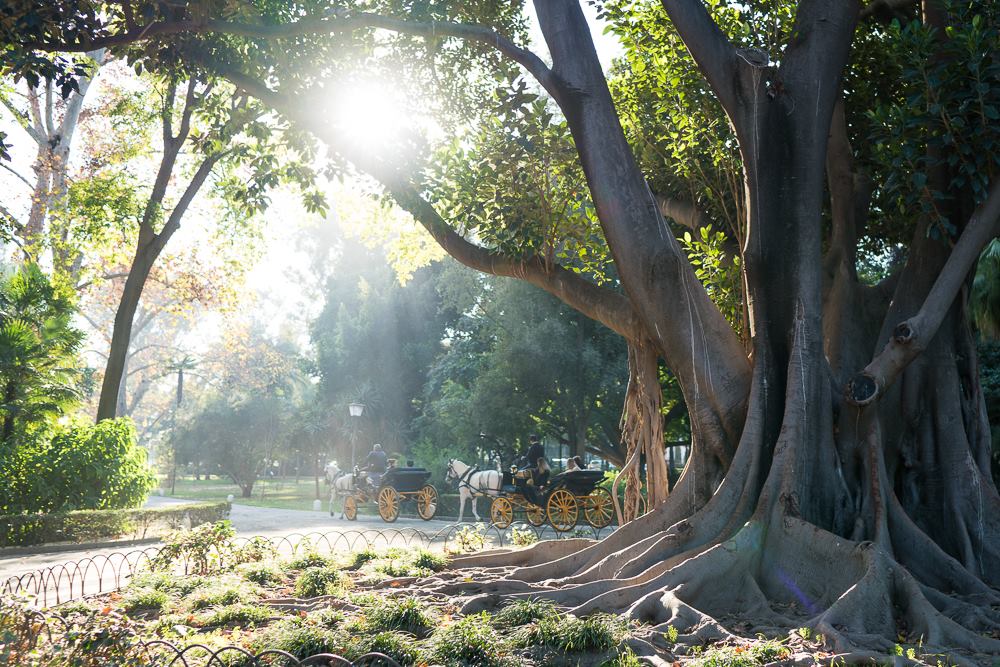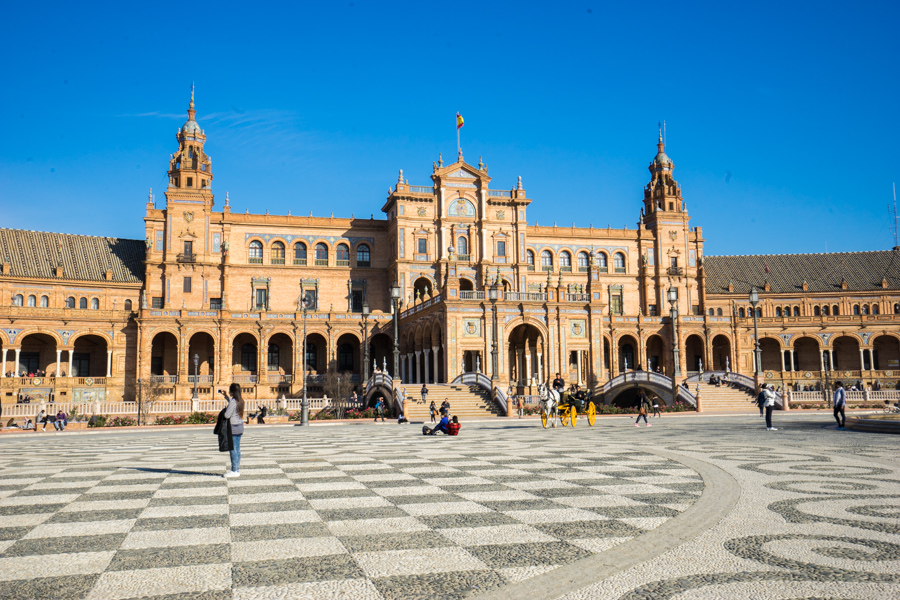 After our carriage ride, we found a cab near the plaza and headed back to the train station to catch our 5:45 PM train to Madrid. We arrived back at 8:15 PM. Overall, Sevilla can be done in a day, but to get more out of the city, I suggest 2 days.
-Gretch