We took a train from Barcelona to Madrid the day after Christmas. We bought our train tickets a couple months before on the Renfe website. It was fairly simple to book. We boarded our train from Barcelona Sants and arrived at Puerta de Atocha in Madrid. The train stopped multiple times along the way, which made our trip duration approximately 3 hours. We arrived around 11:00 AM and took a cab from the train station to our hotel.
After getting checked in and settled into our rooms, we headed out to find lunch. I guess we didn't really know what to expect from this city, but were so surprised at how busy and crowded it was.
The streets near our hotel were filled with so many cute restaurants with outdoor seating areas. This is one out of many things I love about European cities.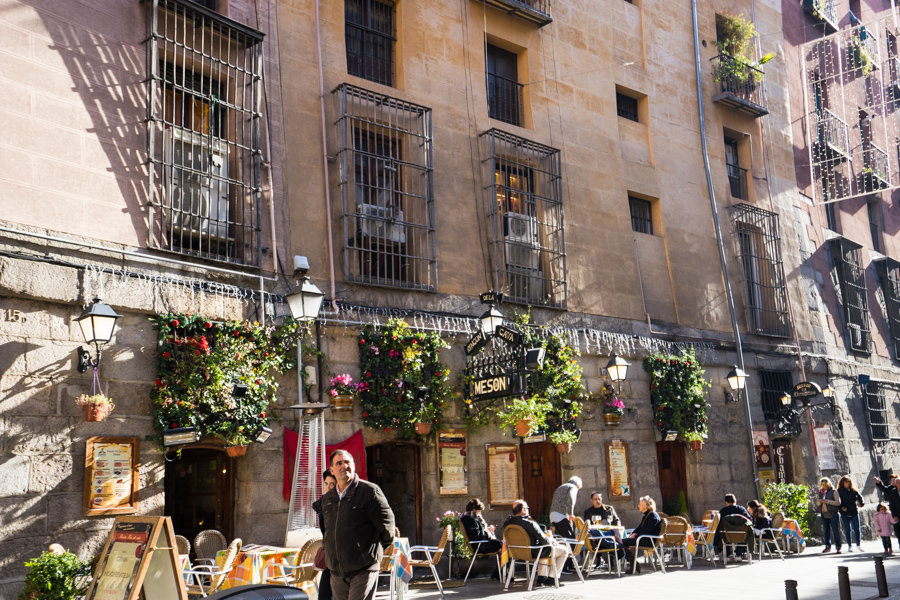 We made our way to Mercado de San Miguel thinking it would be a good spot for lunch, however, it was super crowded and packed and we decided to find somewhere else to eat.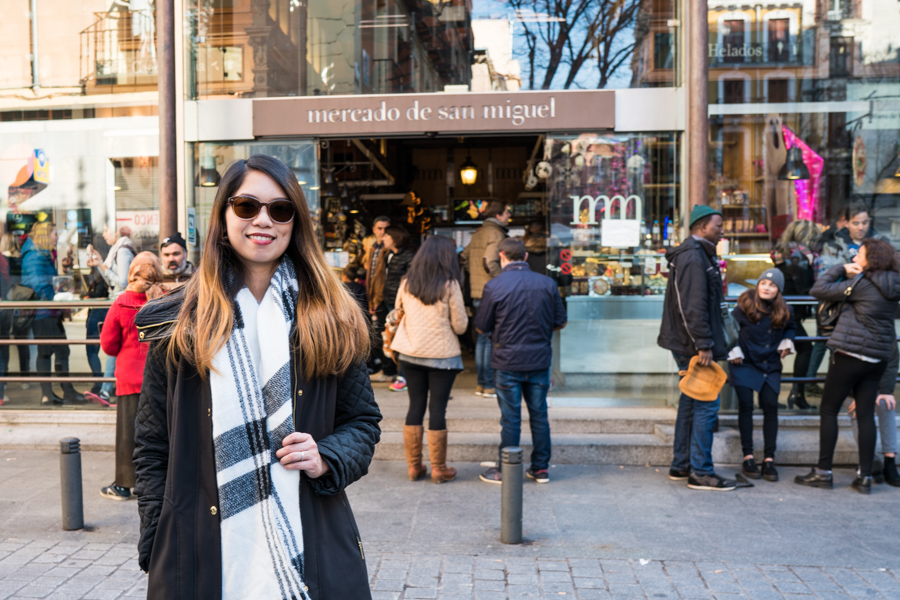 We ended up finding a spot at Plaza Mayor. It was one of those restaurants that had a cave-like setting.
After lunch, we walked around Plaza Mayor. The plaza was filled with multiple stalls and was very crowded.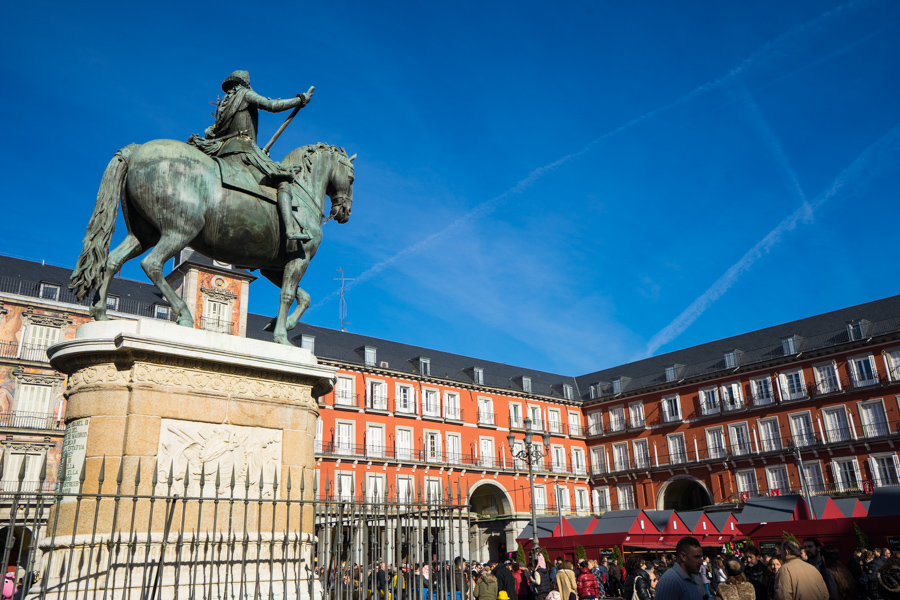 We headed towards the Royal Palace of Madrid soon after. I didn't realize that you had to pay to get through the gates. We didn't want to pay, so we took pictures through the gates. The building was really pretty.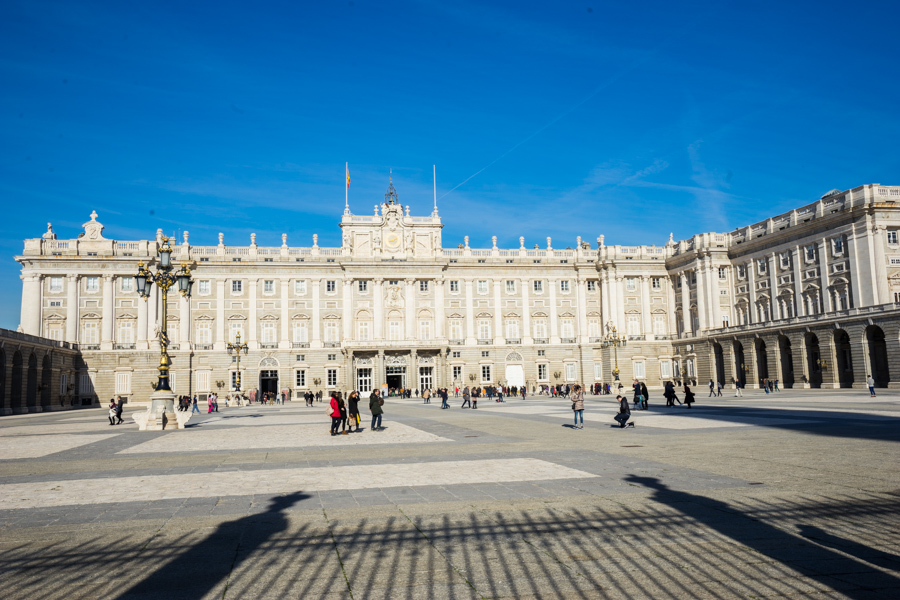 This building was right across from it, but I don't know what it is.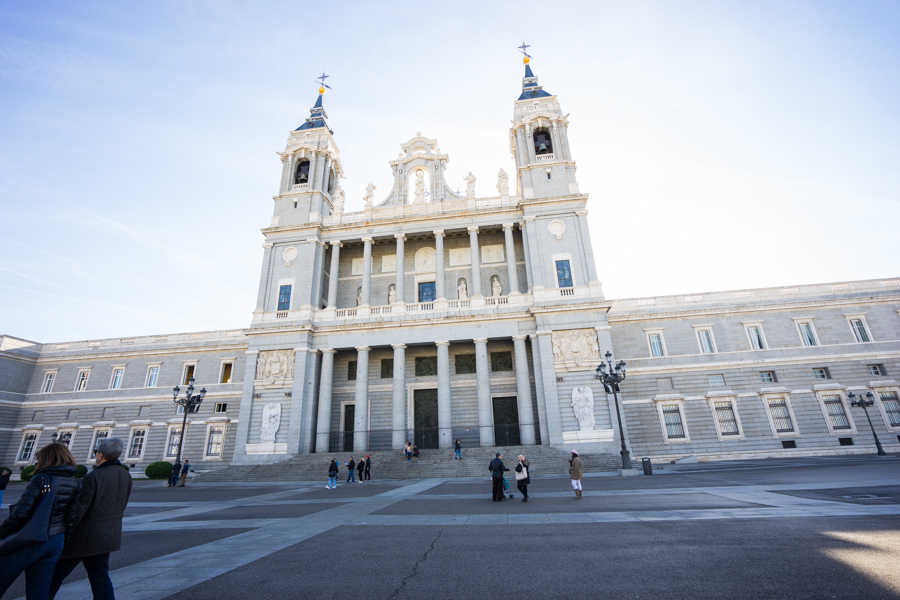 I don't know why, but I thought of the Buckingham Palace when I saw these gates. They were just as pretty.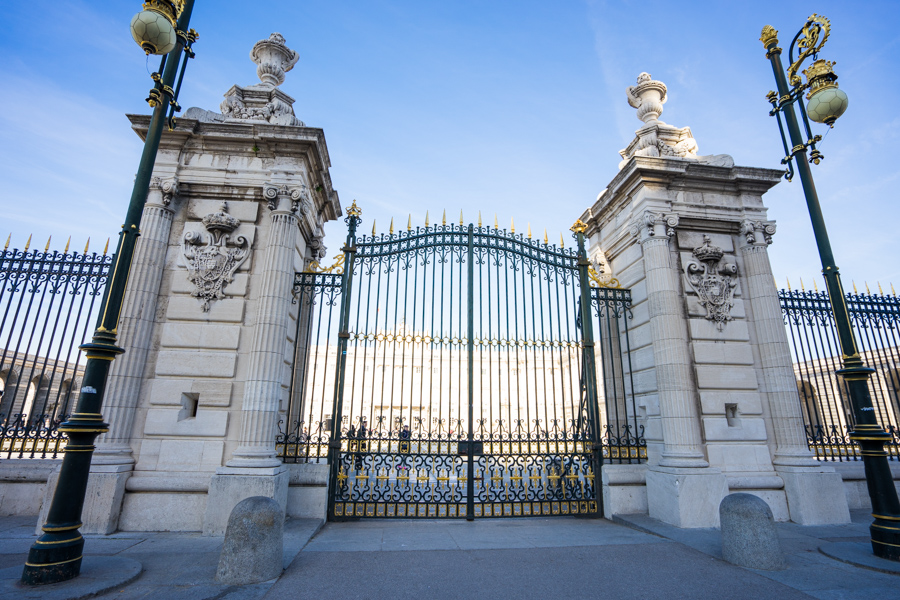 We saw this cute carousel while walking around. We thought about riding it, but then decided not to. 🙂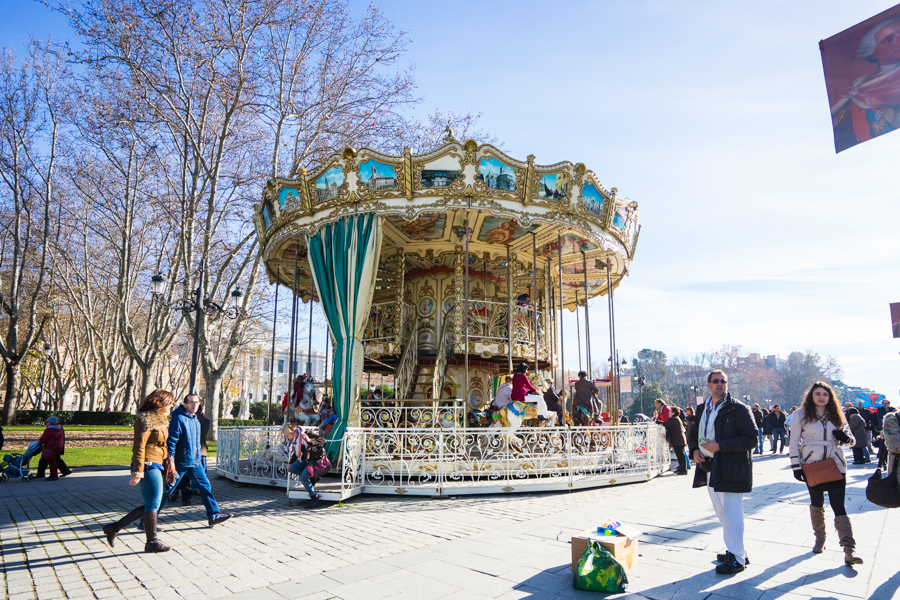 After our walk, we made our way back to the hotel to relax. However, my husband and I decided we wanted to explore some more so we headed back out to check out our surroundings more and take some pictures.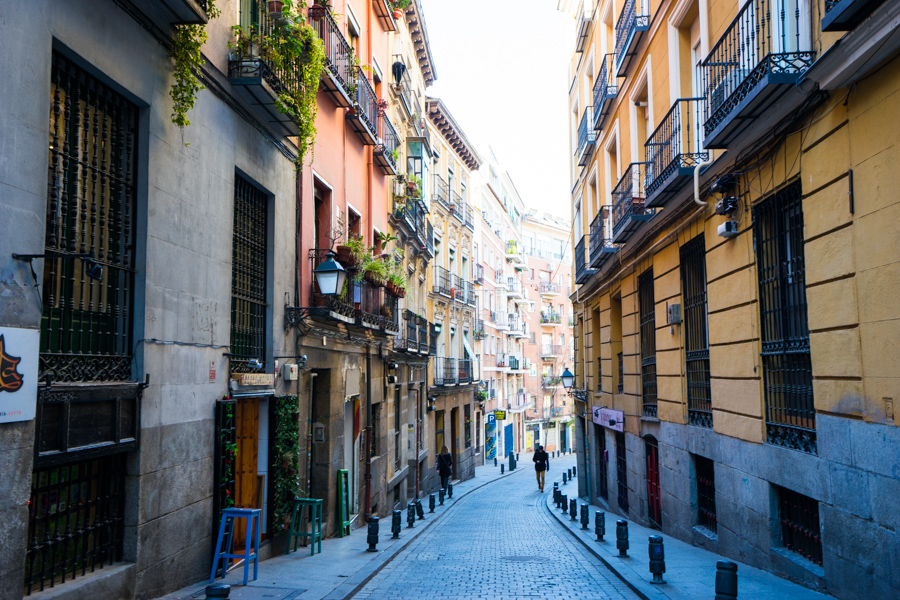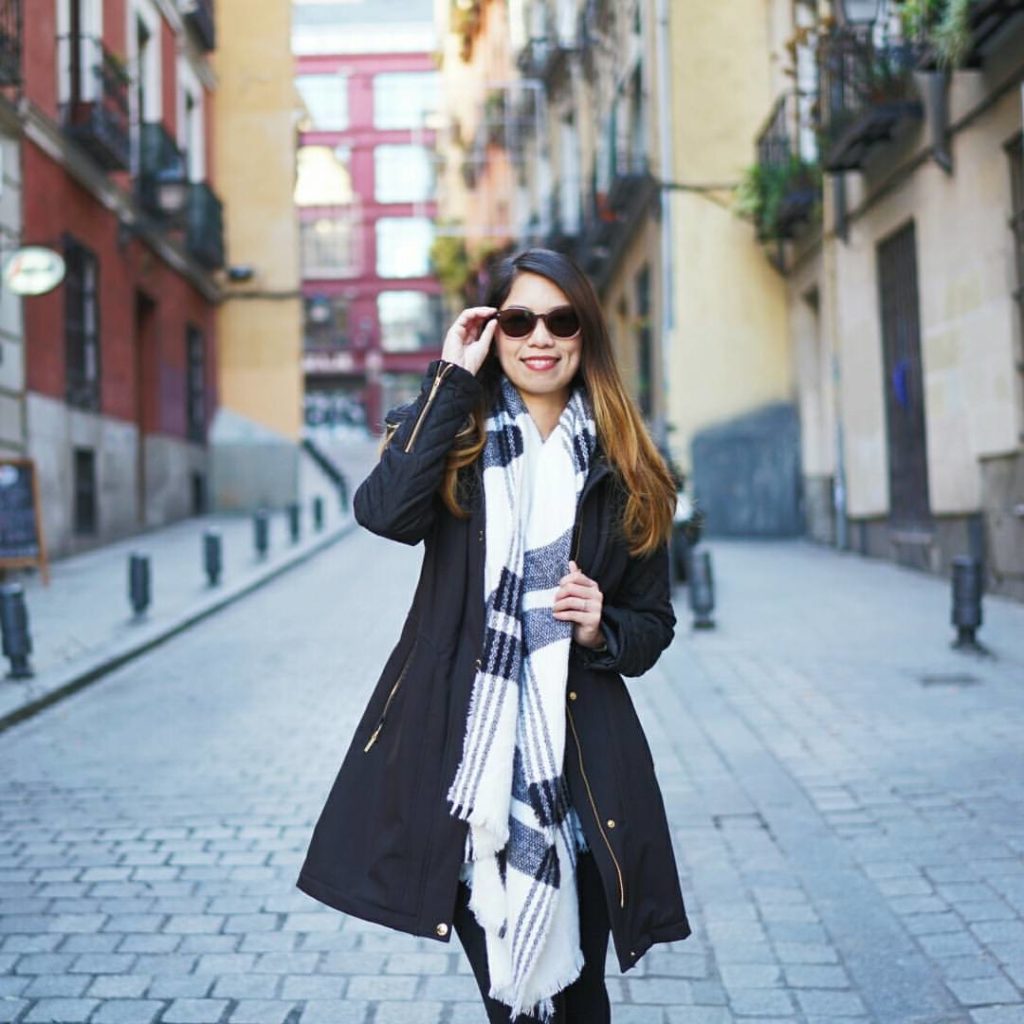 After we got our fill, we went back to the hotel for a quick 30 minute break before heading out again with our friends. We passed through Puerto Del Sol on our way to the Prado Museum. Puerto Del Sol was so crowded! We assumed it was Boxing Day, but never really found out why it was so busy. Also, it could just be the norm, but who knows! As we made our way to Prado, we stopped to take a couple more photos because the lighting and buildings were so pretty.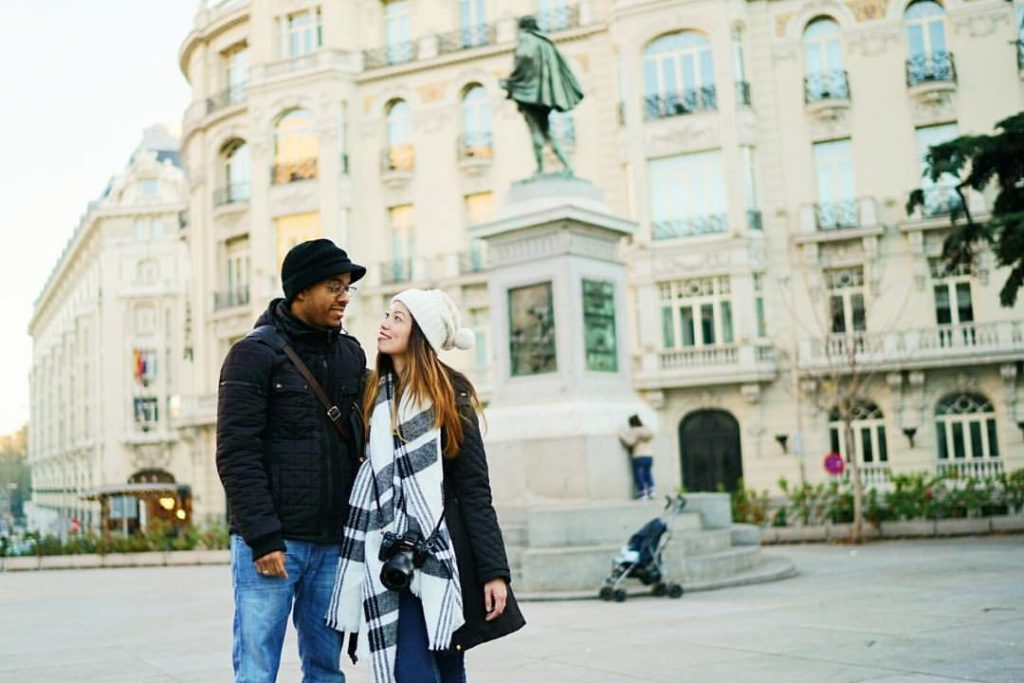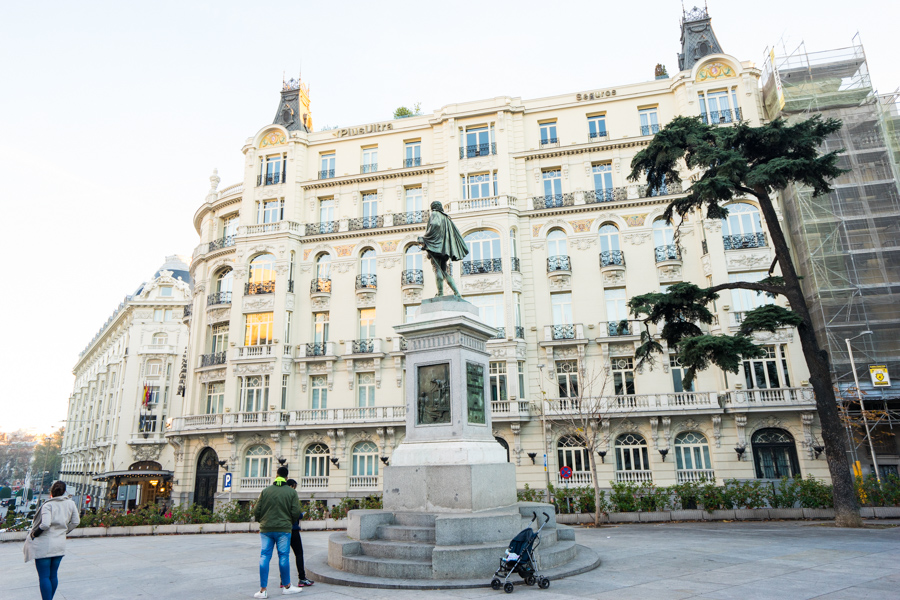 We finally made it to the Prado Museum. It was about a 20-25 minute walk from our hotel. We made sure to get there later on in the afternoon because we knew the entrance fee would be free. The line to get in didn't take long. We spent a good hour inside, but got tired and wanted dinner.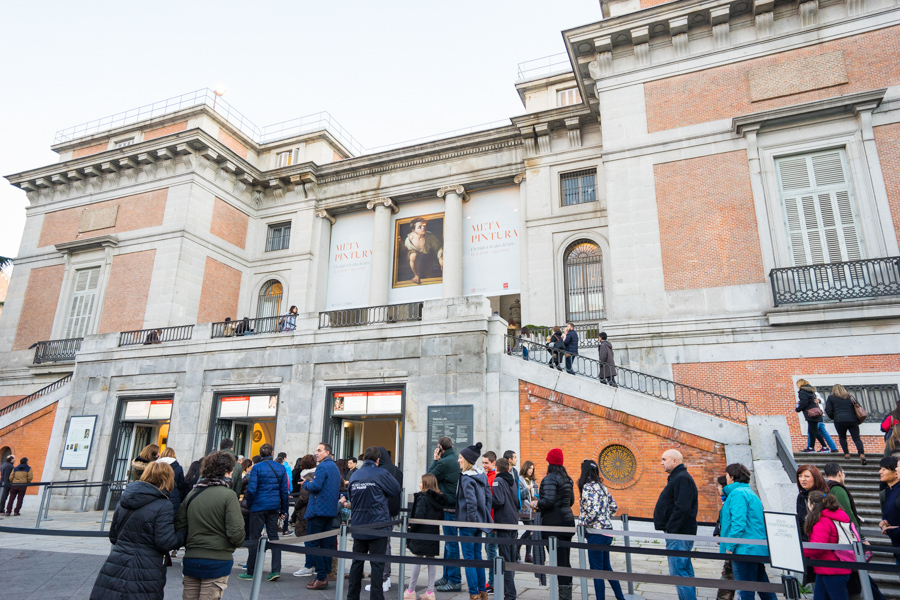 We also decided to walk back to our hotel and made our way through Puerto Del Sol again. Since it was night at that point, we got to see all of the pretty lights and this beautiful Christmas tree.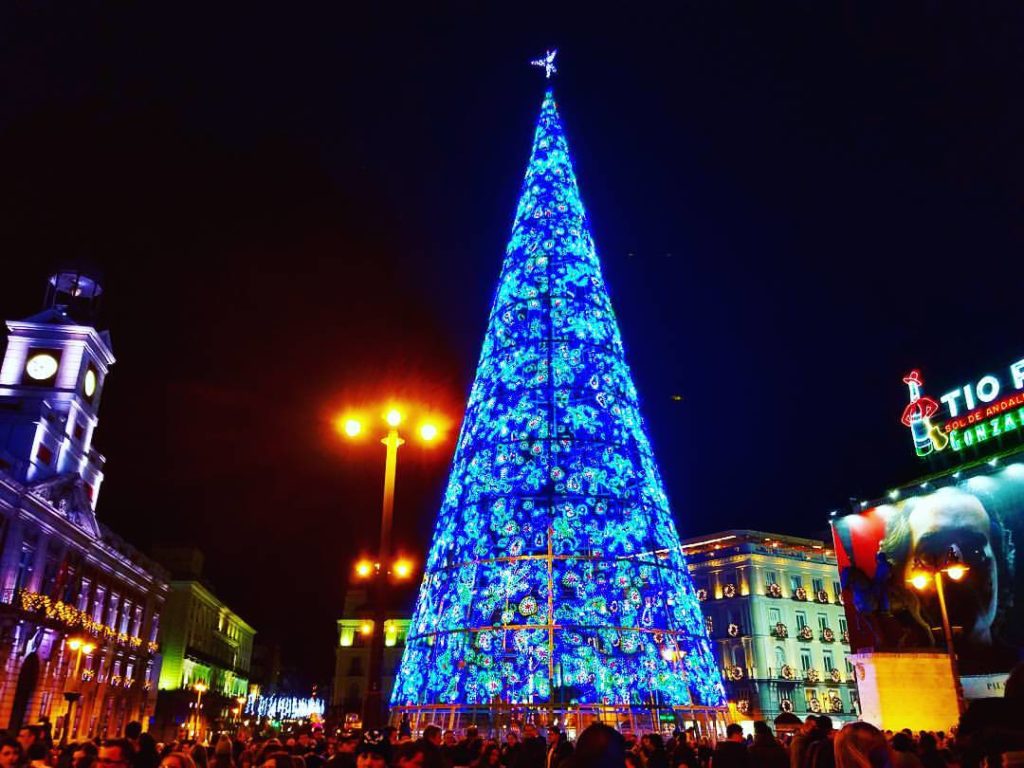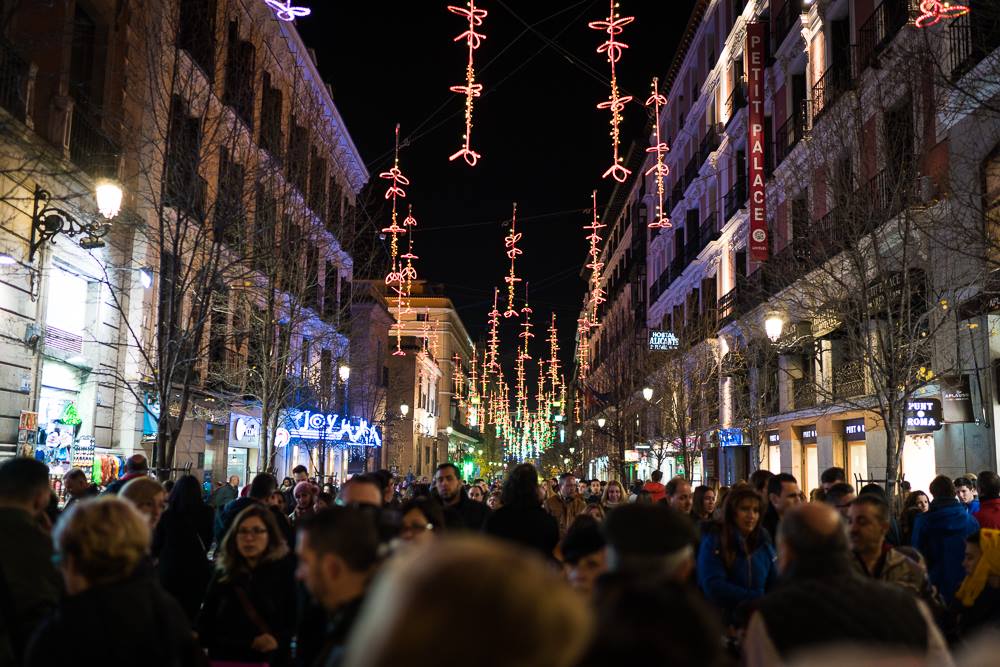 Later that evening, we went to a Flamenco show at Tablao Flamenco La Quimera. It was rated #2 for Flamenco shows on Trip Advisor and so we booked it a couple months back. We only did the drinks option, but ended up ordering a plate of cheese and bread to snack on. The show was very interesting. We really didn't know what to expect. The energy was great!
After the show, it was close to midnight and we were in a more quiet part of the city and there weren't that many cabs around. We had to walk a bit to get down to a main street to hail a cab. As soon as we got to our hotel, we crashed. It was a very long day, but totally worth seeing all the places we saw.
The next morning we took a train to Segovia for a day trip. I will have a separate post for Segovia soon. We made it back from Segovia later on in the afternoon. On our way back to the hotel, my husband asked the cab driver to swing by the Santiago Bernabeu stadium so he could take a few photos. Later that evening, we headed out closer to 8 PM to make it to our dinner reservations at Botin. I booked reservations for Botin about 3 months before. Botin is known for being the earliest restaurant in the world, which is super cool! We even got to keep our menus as a souvenir.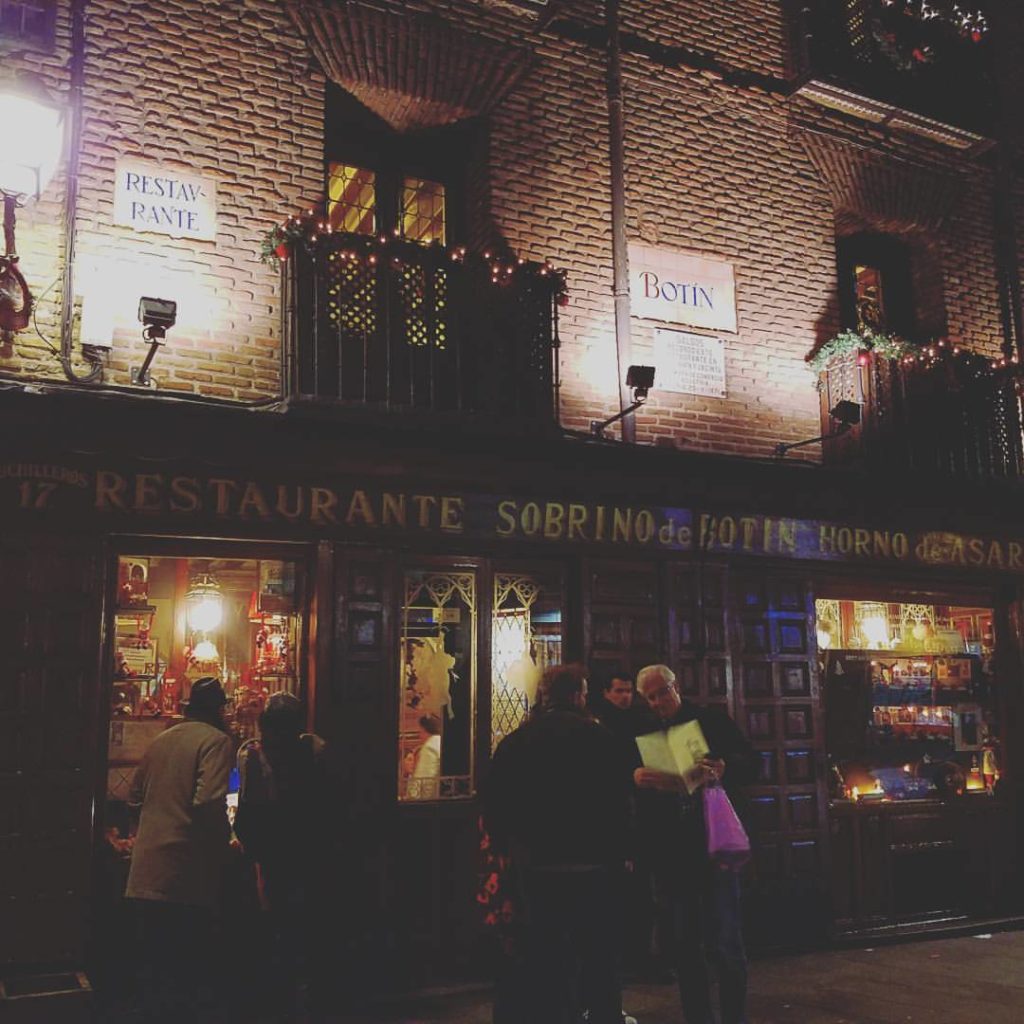 I thoroughly enjoyed my food, but I know not everyone at the table did. Haha! After dinner, we went back to our hotel to sleep.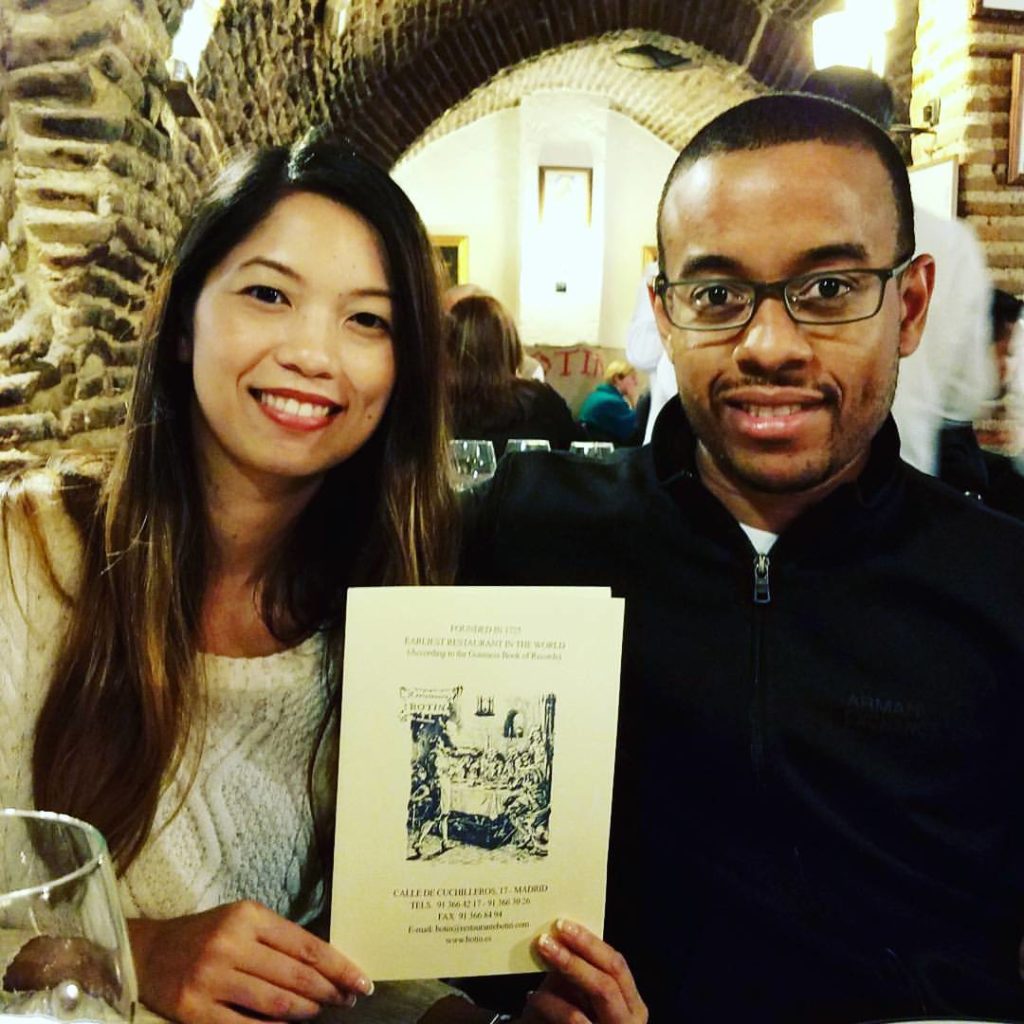 The following morning, we took another day trip to Sevilla, which I will also share in a separate post. That day trip took all day, so we basically returned to Madrid and went to bed that night.
The next morning was our last day in Madrid. We had a flight to catch at 9 PM that night to Marrakech. While our friends slept in, my husband and I decided to hit up a few more spots on our list. We headed to Parque El Retiro. It was so cold that morning! I was afraid I wouldn't make it. Haha.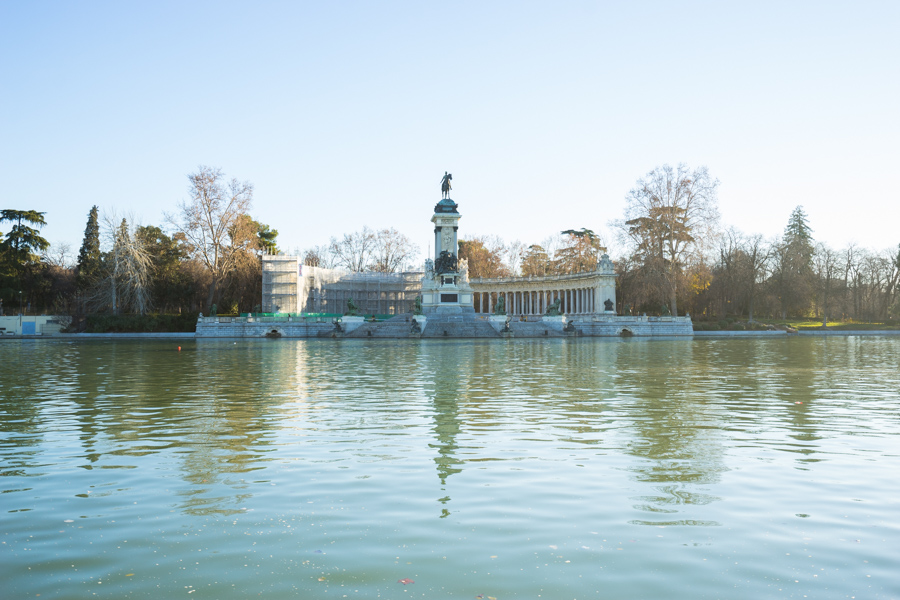 We got to Palacio de Cristal as soon as it opened, which was at 10 AM. Great timing on our end. 🙂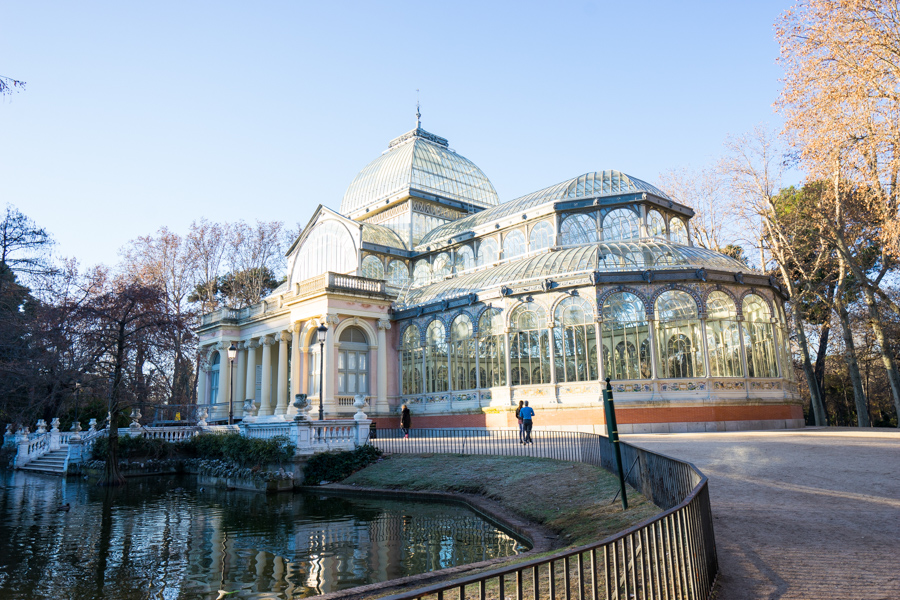 This place was absolutely beautiful! This would definitely be an awesome wedding ceremony/reception venue. Haha!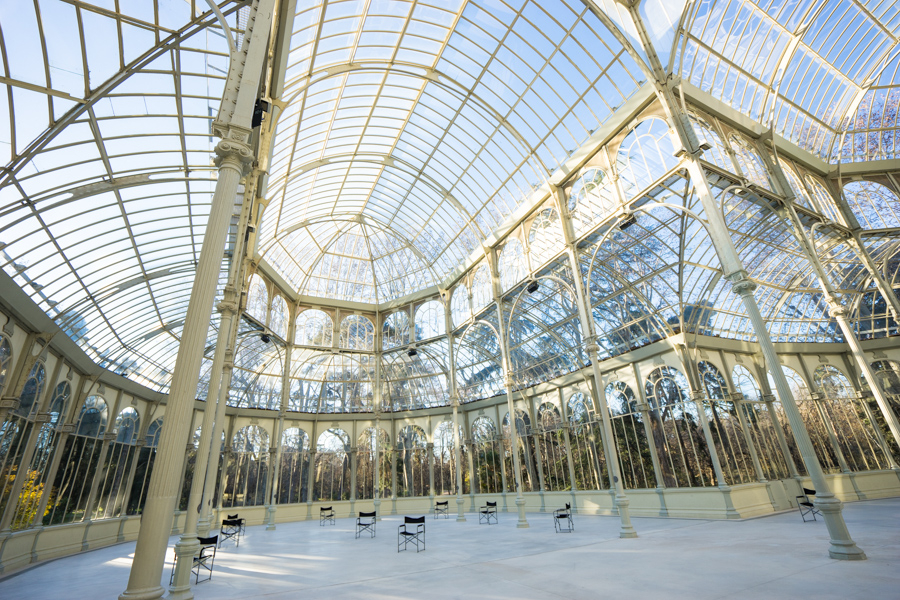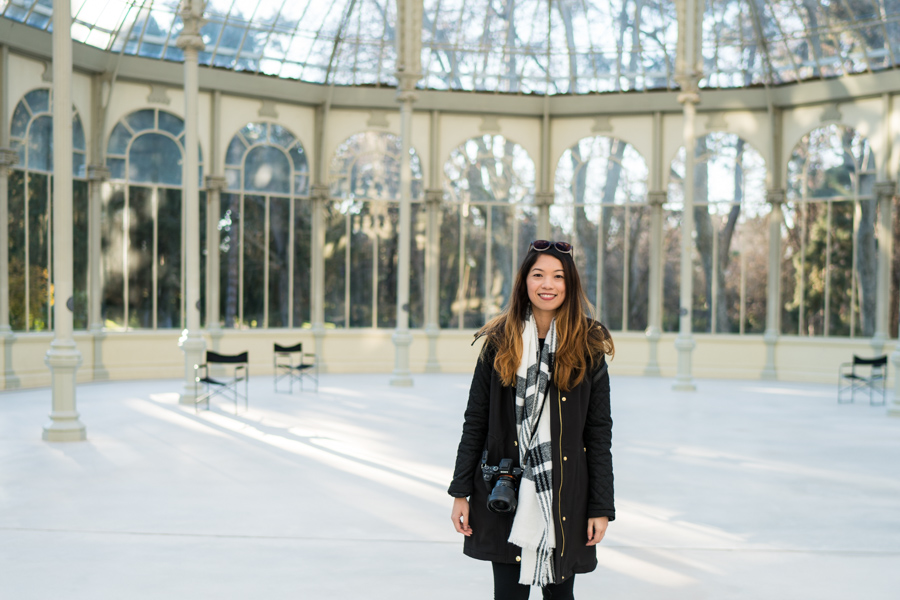 After the park, we headed to Temple of Debod for a few quick photos. We were so cold at that point and just wanted to get back to our hotel, but glad we took the time to check this spot out.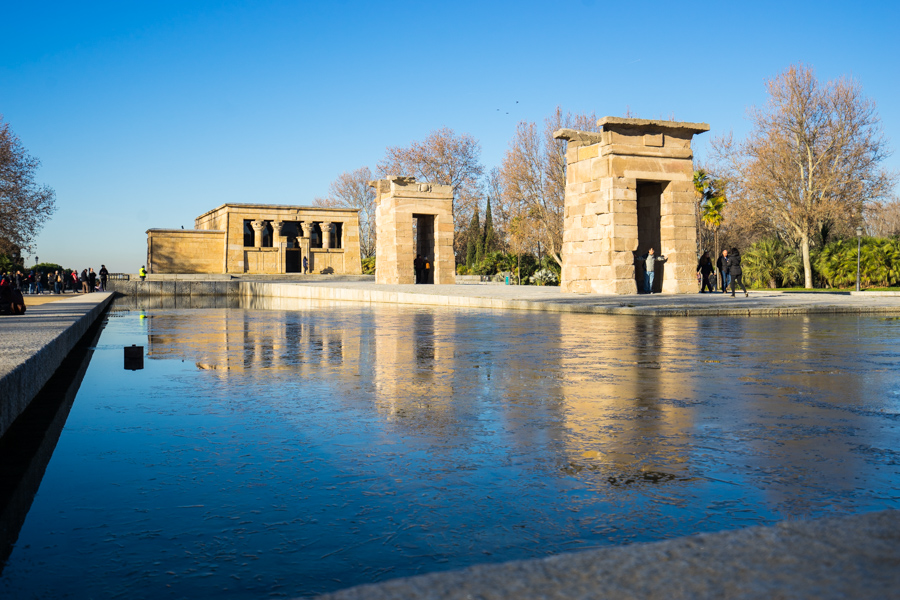 We finally made it back to our hotel and checked out at noon. Since our flight wasn't until 9 PM that night and our shuttle to the airport wasn't going to get us until 6 PM, we allocated the remainder of our time to shopping! We went to the El Corte Ingles shopping center at Castellana, Calle de Raimundo. This location had all of the luxury stores except Chanel. I made a couple purchases here. We headed to the Chanel store a couple miles away afterwards. By the time we were done shopping, it was just about time to go back to our hotel to pick up our luggage and make our way to the airport.
At the airport, we got our stamps for our VAT refund prior to checking into the Ryanair counter. After security, as we were making our way to find the Global Blue counter to get our VAT refund, my husband made a comment that he felt light, as if we were missing something. Sure enough, we left our carry on luggage at security. I panicked and ran back to where we went through and found our luggage at the end of the conveyor belt. I was so relieved, but one of the security guys stopped me from grabbing it because he wanted to go through it since it was technically left as unattended. He searched everywhere inside in front of me, then told me I was good, obviously.
After that little panic session, we finally made our way to Global Blue to get our refund. We had enough time to eat a quick dinner before heading to our gate to board our flight. 2 hours later, we landed in Marrakech! Marrakech post to come soon.
-Gretch